fundraising
RNL Partners Join the Massive Success on #GivingTuesday
GivingTuesday, the global generosity movement, reported record-breaking giving by millions of people worldwide during the annual GivingTuesday celebration on November 30.
The GivingTuesday Data Commons, which RNL participates in, estimates that 35 million adults participated in the day; $2.7 billion was contributed, a 9 percent increase over last year and a 37 percent increase since 2019.
A ton of RNL partners participated in #GivingTuesday, with a combination of special crowdfunding projects, custom giving pages, and full giving day portals on the RNL ScaleFunder platform.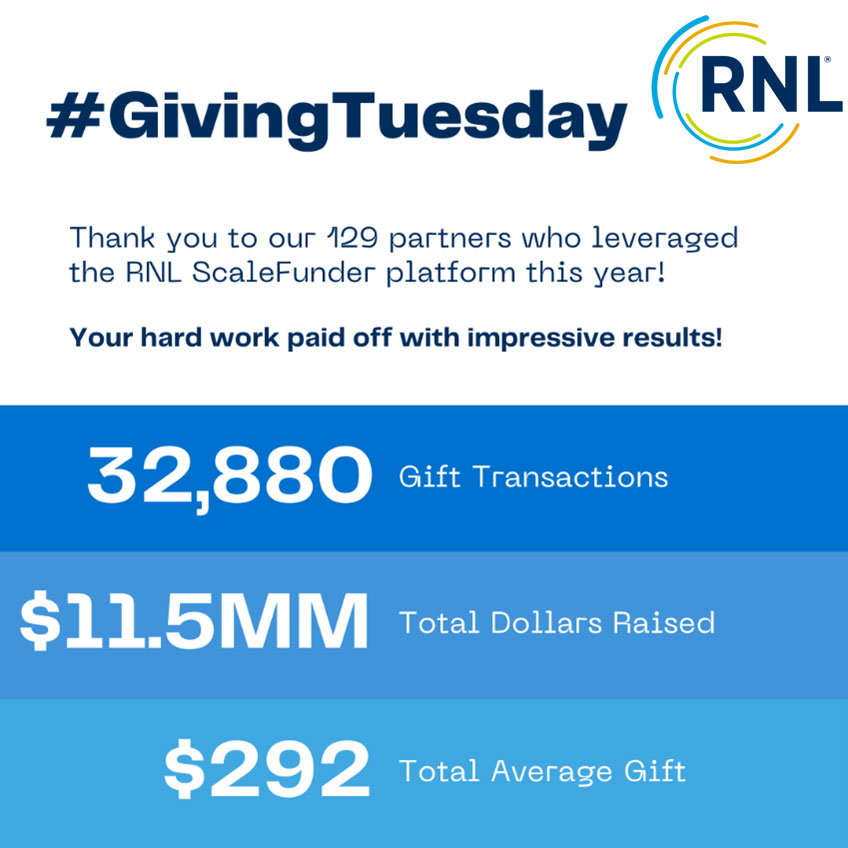 Engagement centers and outreach programs also reached out to donors with a combination of calling, texting, and personalized video. We sent over 1 million texts, and the phone response was great on this important day.
Watch our live review of #GivingTuesday
Hear RNL's Eric Billings, Josh Robertson, and Maile Juranits share great things we see from causes on this special day, and our tips to keep any giving day fresh and exciting for your donors.
5 key #GivingTuesday insights from RNL platforms
The two most common ways that RNL partners engaged donors on #GivingTuesday were with specially-themed crowdfunding campaigns, or full utilization of the RNL ScaleFunder giving day module. If you're wondering, the crowdfunding to giving day style page mix was about 4:1. Most institutions use #GivingTuesday as an addition to their broader giving day later in the year.
We're also seeing a real growth in second or even third full giving days. A second giving day is often related to a specific cause, theme, or area of support. Athletics giving days are really taking off, and we're also seeing institutions embrace key causes like social justice and the environment.
Another great way that organizations reached out to donors is through our AI-driven engagement platform, RNL QuadWrangle. We saw a 70 percent increase in giving through QuadMail-prompted solicitations on the growing platform. An awesome component to this platform is the ability to offer giving options based on AI-determined donor interest.
The most common gamification tactic was the use of challenges or matches. These really boost donor response and help donors feel like they are part of a social experience, which is a key component of #GivingTuesday. It's also a great way to get gift officers involved as they seek the matching donors.
Boosting giving days with texting is important. Add in making some calls, and you've really got an 'all hands on deck' experience in your engagement center, is a key tactic. Centers that RNL manages completed over 3,500 ambassador engagement hours just on Tuesday.
Key #GivingDay stats from RNL partners using our ScaleFunder platform
Total Online Dollars: $6,192,391.80
Total Online Transactions: 32,880
Total Online Average Gift: $188
Total Offline Dollars: $5,330,984.02
Total Offline Transactions: 6,545
Total Offline Average Gift: $815
Volunteer ambassadors using the RNL ScaleFunder platform had high effectiveness. Providing great technology to your volunteers is crucial and it pays off. Ambassadors across our partners spurred gifts of $543,780.55 from 3,163 gifts (an average gift of $172).
How to get the most out of #GivingTuesday…and any giving day
Giving days are now widely adopted, and pretty much no one questions that they will be popular in the future. As you're doing your next giving day, you'll want to do some things to keep it interesting. Gamification, through everything like leaderboards, matches, challenges, and geographic maps of donors have become very popular. And it's also clear that volunteer use is growing. Finally, making it easy to give is crucial, offering payment options like Venmo, Apple Pay, Paypal, and possibly even cryptocurrency donations.
If you see something here that sparks your interest, drop us a line and we'll set up a time to talk. We'll share examples of peer institutions that are really innovating with their giving days and let you know about the newest technology that can help make any giving day a great experience.
Congratulations on your #GivingTuesday success, and thanks to all the generous donors who have made this global movement another record-breaking year.
Find the perfect platform for your Giving Day
The RNL ScaleFunder Giving Day platform gives you all the tools you need to run your Giving Day, manage your giving ambassadors, and energize your donors.
---