fundraising
Take Donor Engagement Beyond 'Give to Get' With These Gifts and Experiences
Recently, my book club reading was a topic that is plaguing both non-profit and for-profit counterparts. The Lonely Century: How to Restore Human Connection in a World that's Pulling Apart is about how society has become less dependent on face-to-face interaction and more dependent on the digital experiences we have with businesses (and other facets of life).
Did I get my free shipping code that would justify spending $250 on a blazer? Was my complaint I posted on social media quickly and easily resolved? Did I get a "thank you for being a customer" access to a sale around Black Friday? Few consumers are focused on the experience they're having in a traditional brick-and-mortar store, and our non-profit "customers" are following that same trend.
Recreating alumni engagement in the digital age takes innovation
Alumni engagement and fundraising leaders are asking a crucial question: When every facet of life is different—spurred by busy schedules, the COVID-19 pandemic, and TikTok—how do we recreate an alumni experience in a digital age?
As fundraisers, we need to recognize the opportunity that the "digital transformation" question brings. We have a chance to expand the reach of our programming and advance our institution's mission by the thoughtful engagement, solicitation, and stewardship of our donors in a digital age. We can also rethink the way we're using our (often shrinking) budgets to invest in the right mix of outreach channels and events, which are seeing lower attendance.
Soon, half of our alumni population will be Millennials or GenZ. They've grown up and moved their lives forward as digital natives. The time is now to question traditional event engagement to drive the donor development of a donor digital base. This transformation will be highly relevant to our annual giving donors and leadership giving base.
Lean into digital engagement to transform your relationship with annual giving and leadership donors
The first step to creating this digital relationship is to engage your constituents through digital channels. A great way to do this is to use your email newsletters to give your constituents the opportunity to show their institutional pride.
Here is a great example from Cornell University, which does a fantastic job of engaging in a digital space. Cornell supporters can make t-shirts into reusable bags, download pumpkin carving stencils, and have access to regular Cornell-themed coloring pages. This approach does cost the institution some staff time, but the ability to track those who engage with downloads is priceless. Surely, these people who are showing their Cornell pride are primed for an ask and are more likely to make a gift.

Image: Cornell University welcomes supports to engage in interactive, digital-first activities.
Take donation giveaways to the next level with social media efforts to engage and delight donors
Premium campaigns get a bad rap: We're all concerned that gifts could become transactional and lack meaning for donors. When we embrace "give to get," many institutions find it difficult to retain these donors. We should think about premiums differently. These gifts are tied to getting something, but you can also see that donors who are wearing your logo not only have an affinity for your institution, they also can spur great social media engagement.
Metropolitan State University of Denver did a great premium campaign that has amazing potential for building out social media content to build awareness of those who have not yet been activated as donors. By wrapping your premium campaigns into your existing solicitations, you'll maximize response.
Double down on the social media campaigns for these gifts. For those who were activated by a premium, you can do some great, authentic, and organic social engagement. Those who post and engage are great potential volunteers or ambassadors who you could tap into as part of your Giving Day or other key initiatives.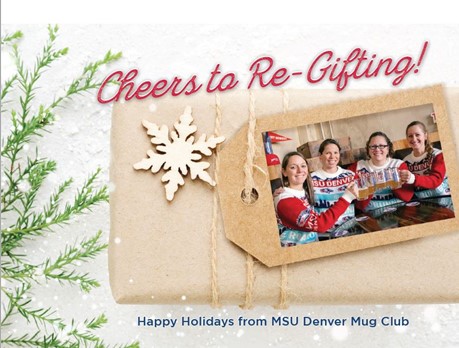 Image: MSU Denver has a long-standing mug club that encourages giving and socializing at the local Tivoli tap house, which is tied to their brewing sciences program.
MSU Denver has a great premium campaign, Mug Club, which has led to over $35,000 in gifts to other areas. Donors are being activated by the premium and the experience, but quickly finding other opportunities to support spaces on campus.
Embrace digital engagement for stewardship and recognition
There are tons of opportunities for digital stewardship and recognition. Digital backgrounds saying, "I'm a donor" and digital badges that can be sent and collected ever year are two examples. Another great tactic is video and sharing impact through the student voice. Video will always be king and will give donors a human face to connect to direct impact for their giving.
And you can take the stewardship to the next level with digital gifts. One of the most unique digital thank-you efforts I've seen is from the University of Rochester, which sends out an Annual Recipe Book to donors. Faculty and staff of the university come together to submit their recipes, and this creates a unique thank-you gift.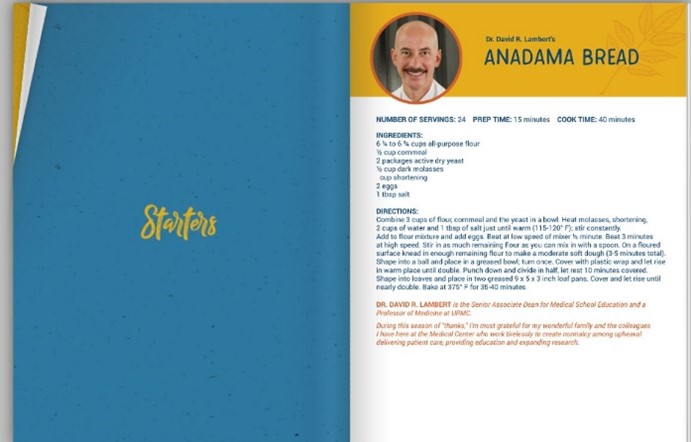 Image: The University of Rochester sends an annual digital recipe book to donors.
Boost the leadership and mid-level donors by wrapping them in digital engagement
I think it's important to recognize the elevated experience we need to give our mid-tier donors. As we develop digital relationships with our annual giving donors, we need to think about how things change as donors increase their investment. There are ways to elevate digital experiences without a large additional investment in a way that is more effective than an events-first model.
Activate your LAG donors to not only engage digitally but move the needle in the solicitation space by providing access to leaders at your institution. Recently, Elizabeth City State University hosted a night with their deans via Zoom to engage their donors. This is an incredible opportunity to showcase what's happening in academic programs and very time-effective for busy leaders.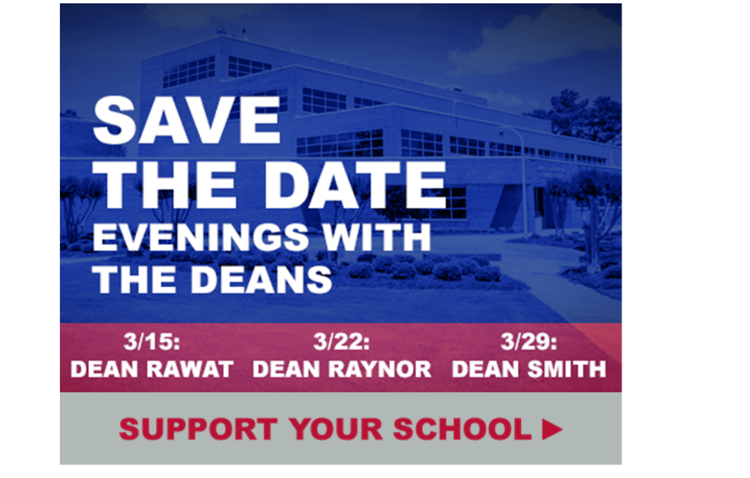 Image: Elizabeth City State held Zoom meetings for donors with school deans.
This sort of event is primed for those you're working to keep in your Leadership Annual Giving society. It's also a great opportunity seek upgrades: listen to who attends and what they say, then utilize this great engagement to move donors to the next level with personal follow up.
Digital and cost-effective engagement takes "give to get" past transaction to real donor development
There are many ways to engage donors beyond just sending them "stuff." Here are some great (and less expensive) tactics:
Recognition on a digital honor roll of donors with special mention for the leadership society.
A digital Annual Report that is posted on your website for your Leadership Giving Society. Don't forget interactive components like video and surveys.
Access to podcasts that are exclusive to your leadership donors. Focusing on areas of campus that are doing incredible things, like Cornell does.
Find prospects who are most likely to increase giving and reach them through multiple channels, —what we call omnichannel engagement, including the use of phone, text, email, and video to create a personalized relationships at scale.
A monthly Giving Society newsletter highlighting philanthropic impact and opportunities to get involved both on and off campus.
Access to students whose scholarships were supported by their LAG gift via personalized videos of students thanking their donors.
Finding opportunities through matches and challenges to secure LAG gifts utilizing gamification, led by volunteer ambassadors.
Digital engagement helps you break through the attention barrier and make giving a lifestyle
Our donors have a lot going on. We compete with family obligations, hectic work schedules, and more messages sent to us to give or buy in a day than we can even count. Creating truly unique and sustainable digital engagement opportunities are the answer. This is how we will build sustainable relationships with our alumni and ultimately increase the support for our missions.
If you'd like ideas on how to transform your engagement to a more sustainable, personal focus in the digital world, drop us a line. The RNL experts are working with institutions just like yours to build connection and engage an inclusive, purposeful donor base for fundraising success.
---