fundraising
Making Stronger Donor Connections Through Artificial Intelligence
Greta Daniels
Vice President, Fundraising
October 2, 2019
In our digital world, every action has a reaction. A click, website visit, scroll through a series of Instagram photos, or Google search yields a series of related reactions in your digital spaces. Your search for flights to Orlando yield banner ads on your Facebook profile for vacation packages to Walt Disney World. Your online "window" shopping results in strategically placed ads on your Instagram feed showcasing that jacket you've been mulling over for days, waiting for that moment when the scale for cost vs. reward tips in favor of a purchase (or your blood sugar is really low mid-afternoon) and you click to buy.
Companies and organizations draw on the data that you create through your digital actions to craft more personalized and compelling advertisements, calls to action, and opportunities to engage with their messages.
Most universities and colleges have followed suit with their student recruitment and enrollment efforts, evolving from the days when a high school junior's completion of the PSAT signaled their interest in attending college and resulted in being put on every college's informational mailing list. Modern enrollment practices engage those same prospective students using responsive digital ads and online data mining via artificial intelligence (AI) or machine learning applications to engage students who are the most interested and inclined to enroll. As prospective students have become more tech savvy, sophisticated, and discerning, recruitment and admissions practices have shifted accordingly.
AI-driven personalization is the new normal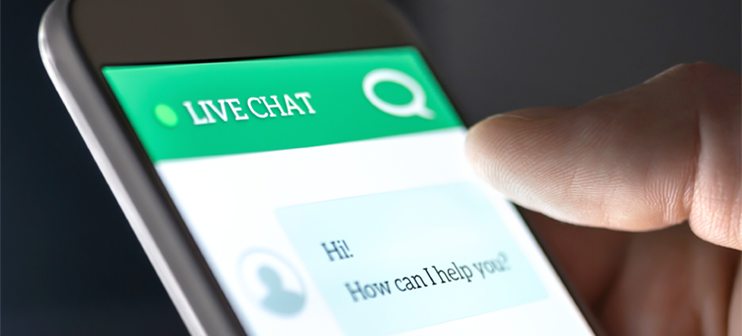 AI-driven personalization has also become the new normal because people have come to expect this high quality curation of content in their social media feeds and email inboxes. Websites collect cookies and track our clicks so that the requisite follow-up communications will be aligned with our actions and provide easier access to the topics that are of most interest to us. If I put that jacket into my online shopping cart and then close the window and abandon the cart, I fully expect an ad for that jacket to pop up at some point in one of my social media feeds. In fact, I'm way more comfortable with abandoning that cart now because I know it's going to circle back into my view at some point when I might be more interested in buying. The same goes for my engagement with news organizations, music sites like Pandora or Spotify, and the charities and causes about which I am most passionate. As I engage with their offerings, I expect that my subsequent interactions will become more personalized and easier to navigate.
Consequently, those companies, organizations, and campuses that do not collect and utilize the cues shared by their constituents in turn look antiquated, out-of-touch—perhaps even appearing not interested in being in touch with us—and a bit clunky.
Use your data to listen and drive your storytelling
Colleges and universities provide hundreds of thousands of interesting opportunities for alumni and friends to engage with their content. From cutting-edge research findings, athletic achievements, new on-campus student initiatives, continuing education offerings for alumni, or changes to the campus and infrastructure, we know there is a ton to share and it's incredibly difficult to prioritize and disseminate effectively.
Whether you are more inclined to read about advances in immunotherapy treatments for cancer patients or a recap of the weekend's football game is entirely personal, but many institutions are still relying on gut instinct to decide which stories top the news feeds of alumni and friends, rather than utilizing the data that community members share through their engagement with existing content. As your alumni expect their engagement experience (especially online) to be more responsive to their indicated interests, it is imperative that alma maters respond in kind. (My colleague Shad Hanselman discussed this hyper-personalization in an earlier blog.)
The challenge of personalization at scale
Colleges and universities have double the obligation to provide a more personalized stream of information because they should know their graduates better than Amazon, Netflix, or Spotify. After all, those grads spent half a decade on campus, taking classes, playing on teams, leading student organizations, and participating in activities. Merge all of that stored information with their online activity, and campus communications teams should have no problem creating personalized news feeds for every single alumnus/na that drives engagement in areas of interest and provides actionable means for them get involved and make a gift, right?
Every small-to-medium-sized advancement shop will immediately decry their lack of personnel or resources to make this happen—and they would be right. However, another common misconception is that large fundraising and alumni engagement shops have the expertise and capacity to take on this sort of responsive communication and content management strategy in-house. Having a larger number of employees does not equate to having more technical expertise, nor does the effort/energy required to achieve success in this type of responsive engagement make sense from a cost-benefit point of view. Institutions are better off putting their money toward hiring people who will can take the next step after AI initially cultivates interest and engagement—build lasting relationships through personal human interaction.
To give an example of how this sort of AI-driven personalization works, here's how RNL and our partner QuadWrangle use data from existing CRMs, social media, and donor behavior to curate personalized content and increase donor engagement.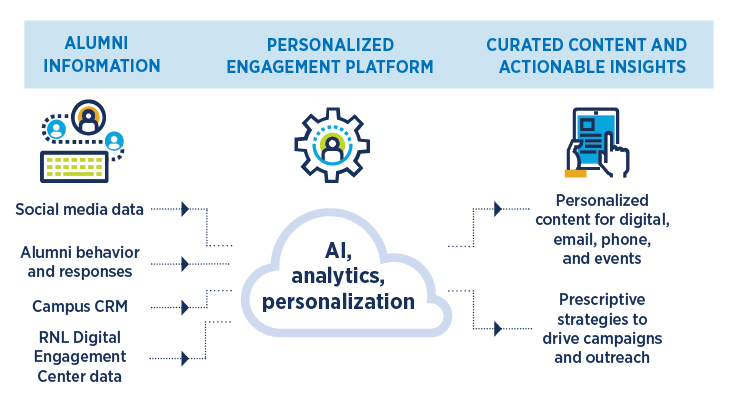 AI frees up people to talk to people
Utilizing AI as part of an omnichannel alumni engagement and development solution creates the personalized engagement experience that alumni expect and provides data insights that generate quality leads for your gift officers and alumni relations teams. AI chat bots are just one example of how AI can start a conversation with donors that produces quality leads. Quality leads then mean greater potential for good contacts which in turn yield higher value meetings, authentic and meaningful connections, and greater potential for fundraising.
Alumni receive information about the programs and news that is most important to them, gift officers glean new insights about the interests of their prospective donors, alumni relations teams gather information about how to better engage groups around university initiatives and events, and everyone feels more connected to the mission of the institution. As Michael Scott would say, win-win-win.
Talk with us about how you can take donor engagement to the next level
My RNL colleagues can help you achieve this personalization at scale with alumni, donors, and other key constituents. Ask for a free consultation and we'll discuss your current challenges and potential solutions.
---