fundraising
Keys to a Great Giving Day
This is a follow-up to our previous post, Giving Day: A 21st-Century Solution for the 21st-Century Donor
Co-Author: Quinn McGourty-Holland, Director of Campus Relations
You've decided to jump in and conduct a Giving Day. Well, you've made the right decision. RNL has found through research that Giving Days are one of the most effective ways of attracting new donors, reengaging previous donors and one of the top channels for increasing average gifts. After multiple conversations with advancement leaders from across the country, we started to hear common themes that are necessary to make giving days successful. Let's walk through a few of these themes.
Creating a giving day brand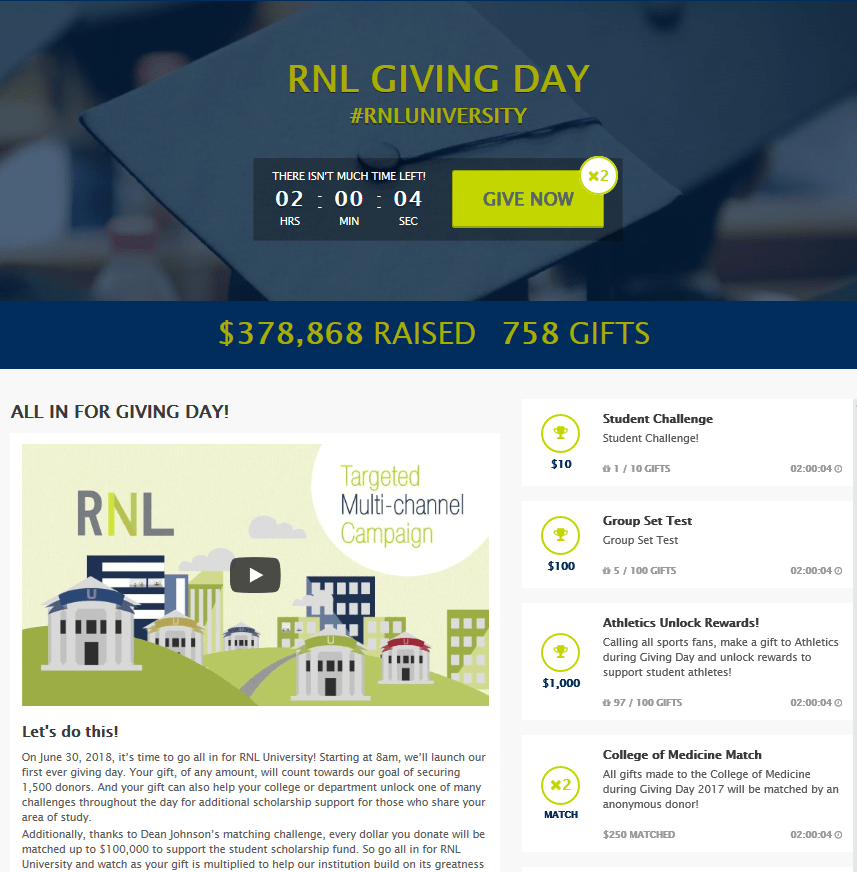 One of the first things to prepare for your giving day is to establish a brand. This includes selecting a name, establishing a message and creating compelling content. Below we'll cover how to do this to make sure you have a giving day brand that resonates across campus and in your community.
What's in a name?
Over the past several years, we have noticed that some of our best giving days started with creating a great name. Usually, the naming convention comes from something related to your campus or nonprofit. For example, Oklahoma State went with Give Orange and the University of Texas chose 40 Hours for the 40 Acres. Whatever you choose, it should feel authentic and it should resonate clearly with your target audience.
What's your real intent? Engagement on their terms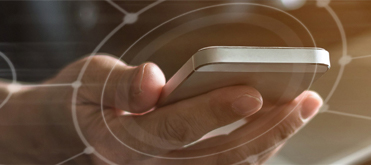 Giving Days are a great way to drive donor engagement and create enthusiasm within your community. However, as you probably already know, your alumni and community are smart and will see right through a phony campaign. On giving day, you want your donors to choose their path. The point isn't to drive participation for your president's fund or annual fund, it's to drive participation and dollars no matter what they choose to give. Your job is to make it as easy as possible for your community to find a cause that speaks to them. We would advise diving into your data and find compelling stories that your alumni can easily support.
Proactively creating compelling content
While we talk a lot about the importance of authenticity and creating organic content in annual giving circles, on your giving day you really want to show off the cool and compelling content your organization is creating every day. Whether it's a powerful video, exciting brand images, or a giving page that's built for 2019, this is the time to make your page shine. The most successful organizations start planning and creating content nine-to-12 months ahead of their giving day. You can tell when an organization plans ahead with sharp content, and most often it's reflected in their results. So please, get buy-in from your university marketing team and pick their brains on what they'd like to do for your giving day. They're in marketing for a reason so let them work their magic and watch the donations and webpage hits come in.
Giving Day Events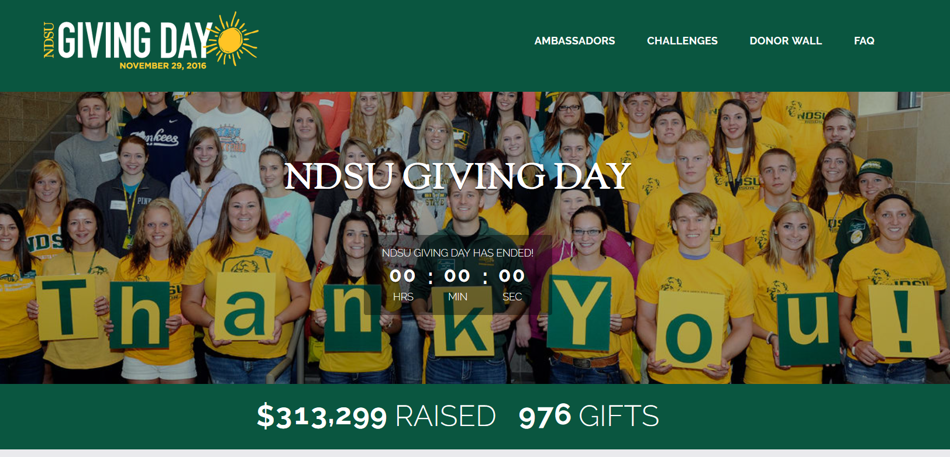 We have found that universities and colleges spend a lot of time planning and investing into matches and challenges—and for good reason. The best way to start obtaining gifts for these events is to collaborate with your major gift officers to seek donors for challenges and matches at least six to 12 months in advance. Offering a role in your giving day can further build relationships with major donors and prospects. For the best results, find individuals across the donor spectrum who will excite your diverse supporter base. This will help you find donors from all over your community and make it easy for them to become involved.
Leaderboards are a great way to drive participation as well. Having different student organizations and alumni chapters competing against one another for a match or challenge gift can create a fun sense of urgency and drive donors and dollars on giving day. Like the content, you will want to start gathering donations for potential matches and challenges at least six to 12 months before your giving day. These events and pre-planning are crucial to a successful giving day.
Strong Ambassador Program
Ambassadors are the key to the biggest giving days. You should have a platform that allows you to engage volunteers across your donor spectrum, from several decades of alumni to faculty, staff, and parents. It should also manage, track, and reward your ambassadors' impact with smart social and referral tools. Top campaigns incorporate volunteer-driven events across the nation to spotlight giving and connect their alumni communities. Through research, RNL has found that donations generated through ambassador links and social shares have a 12 percent higher average gift than a standard online gift on giving day. Your ambassadors are going to be your giving day influencers and as shown in digital marketing over the past five years, they can make or break your brand.
Cross-Campus Buy-In
Putting on a great giving day truly takes an army. Even with the best software and the most well designed page imaginable, your giving day will not reach the stars without buy in from key groups and leaders in your alumni community and on campus. The first place to start is within your foundation or advancement office because that is going to be the core group that is focused on your event from start to finish. A well run giving day begins with the people you know best. We hear stories all the time of advancement offices creating 'war rooms' for the big day to ensure they are able to reach their goals. It's easy to be in a room all day with your coworkers when everyone in the room is as dedicated as you are to reaching a common goal.
Your advancement services team is also a crucial part of this puzzle. We all know how important this team is, and successful giving days are reliant on advancement services. One way to make sure they have bought in is to have a plan in place to provide the reporting and data they need to keep their database up to date throughout the day. Part of this solution is having a CRM that is capable of this work. Ensuring this group have the tools in place will be another important step toward a successful day of giving. The perfect way to do this is to involve them throughout the process of selecting a software and planning your strategy. Having an open dialogue about what you'd like to accomplish will lead to more productive conversations and a more successful giving day.
Next you'll want to engage student affairs, major gift officers, and other campus leaders to get behind the day and boost your engagement. This will help you spread the word across campus and on social media. The goal is to make sure your alumni base knows this event is happening and where they can go to make a gift. Think back to the purpose of your giving day and why you are doing it in the first place. Again, giving day helps build a culture of philanthropy on your campus. This is also the best day to educate your campus and donors about the impact of giving, and for students and faculty to thank donors.
On your giving day you want to make sure you have an efficient and effective system in place and that all of your fundraising channels are running like a well-oiled machine, which is how RNL can help. By partnering with RNL for the best and most innovative giving day solution in the market, your giving day will be a huge success. Here is what Tori Follett, director of annual giving at University of Wisconsin-Eau Claire, says about her experience: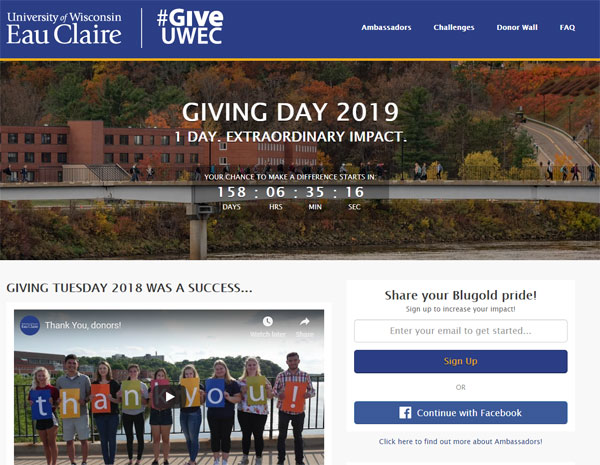 We weren't sure what to expect heading into Giving Tuesday this year, we've participated in years past but never at the level that we did this year. For the first time, we had an interactive Giving Day page through ScaleFunder's Giving Day platform that allowed us to coordinate matching challenges and social media outreach that helped us take our Giving Day efforts to a much higher level.

We went from raising around $12,500 from 86 gifts in 2017 to $96,185 with 417 gifts in 2018. I think the effectiveness of ScaleFunder's Giving Day platform speaks for itself. We couldn't be happier with the platform and the service we received from the Scalefunder staff leading up to and on our Giving Day!

– Tori Follett, Director of Annual Giving
We'll be back with another blog soon regarding Giving Day and cross channel integration. You can request a demo with RNL here or email me.