fundraising
Is Your Donor Engagement Like Amazon, Netflix, and Spotify? 
As I've shared before, offering your donors a personalized experience by using artificial intelligence-driven communications can make a big difference. It's the same technology used by the brands that provide us personalized experiences every day. It's what Amazon uses to make product suggestions to us, populates your Netflix queue, and it's the reason why all those post-rock songs show up on my Spotify.
AI personalization uses technology like natural language processing and the power of a computer's robot brain to match things. In the case of donor engagement, it's matching your great content with what a donor cares about, based on what they've actually clicked, read and viewed.
While nearly all of us experience and interact with this technology every day, it's hard for most people to understand. This infographic breaks it down into five elements to explain how it works, how you use it, and how it helps you engage donors. Take a look, and consider sharing it with your engagement team.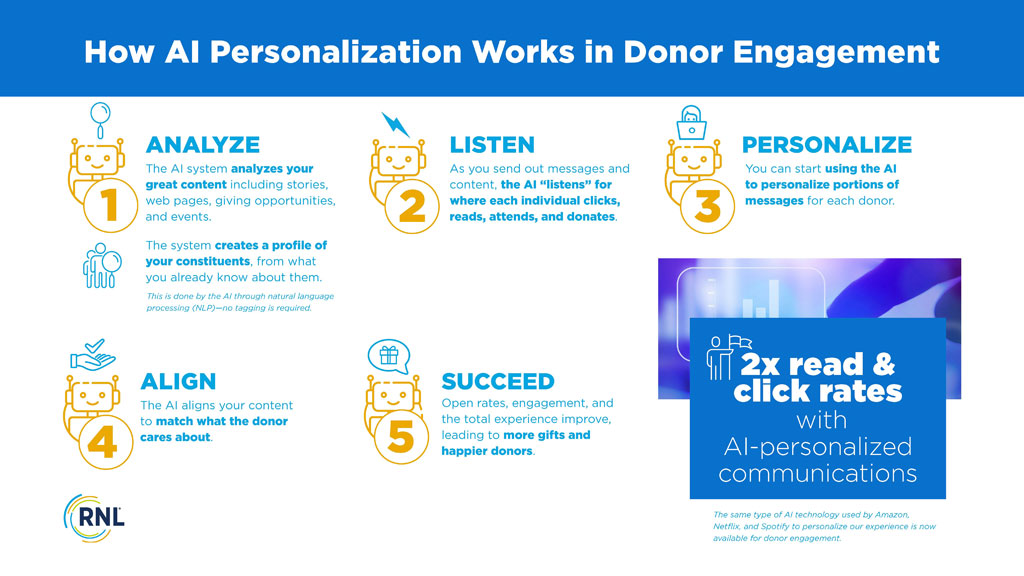 Artificial intelligence enhances donor engagement and make personalization at scale possible
I'm not talking about handing over your communications fully to a robot. You'll definitely want to get key news, announcements, and messages to everyone. But after those headlines, taking sections of your communications and letting the AI personalize the stories, events, and giving opportunities for each donor who receives them can make a huge difference with donor engagement. You could never possibly craft those thousands of personalized email versions without an AI-driven engine.
There's a key thing to realize here. While it's operated by robots, artificial intelligence provides an incredible opportunity for you to treat your constituents more personally, and as human beings with personal preferences, passions, and missions. And as the infographic shows, we've seen massive increases in clicks and action-taking when RNL partners adopt it through QuadWrangle and QuadMail.
It's never been easier to use artificial intelligence for donor engagement
I hope this explanation helps you understand AI in a more human way. It's never been easier or more cost-effective to adopt a technology we engage with every day. In fact, it's so common that your donors might be wondering why they're not receiving personalized communications.
The RNL team can demonstrate how this could work for your organization, and show you how you can better personalize your donor engagement immediately. Artificial intelligence won't replace fundraisers, but it can sure help us provide a better donor experience. We'll show you how.
See how you could engage more donors with the power of AI
Watch this overview of the RNL QuadWrangle AI-powered platform to see how you can engage donors with curated content that's more relevant, exciting, and accessible. Then ask for a walkthrough to learn more about the:
AI insights
Dynamic emails
Event management
Content curation
Giving pages
---