fundraising
How We Visualize the Impact of AI-Driven Donor Outreach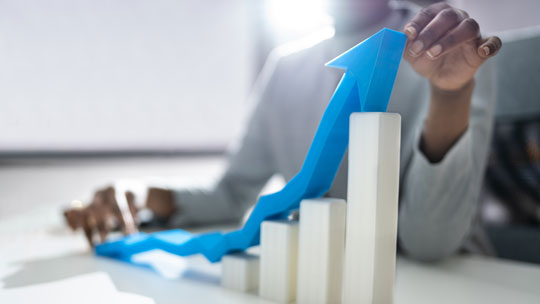 We're in the midst of a revolution. Artificial intelligence (AI) can now effectively listen to what your supporters care about, based on their activities, and help you tailor outreach to send them the things that matter. Communications to your supporters that are driven by AI can make a world of difference in providing personalized, impactful engagement. But you might be wondering, "How does that actually look to the fundraisers?"
Here are three ways that we share insights on AI-driven communications through the RNL QuadWrangle platform.
See how engaged your donors are through dynamic scoring
Engagement scoring can be a powerful way to see how you're having an impact on your audience. As supporters interact with your emails, content, and events, they "score up." In the QuadWrangle platform, you can even see where your most engaged constituents are, by City/State. This helps drive your strategy for events, content, and gift officer outreach. See an area where the scores are increasing? Maybe it's time for a special solicitation. See an area where engagement is low? Use the powerful insights an AI-driven platform provides to create and market content that reverses the trend.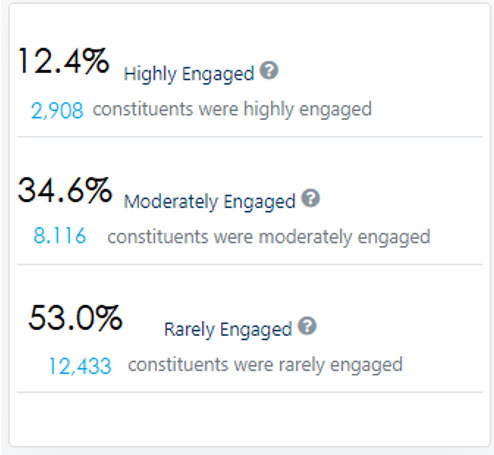 Dynamic engagement scoring shows how you've gained support attention, and identifies the supporters who are ready for more attention.
Capture top supporter interests, so you can target engagement
As QuadWrangle captures what your donors are reading, where they're clicking, and how they're exploring events and giving opportunities, it builds a profile of top interests. This creates individual profiles by supporter. You can also view groups of supporters and see the top interests for your audience. We'll even tell you those who have never donated, and you can create a campaign to reach out to this untapped audience, based on their interest. Or go straight to a list builder to further segment these constituents.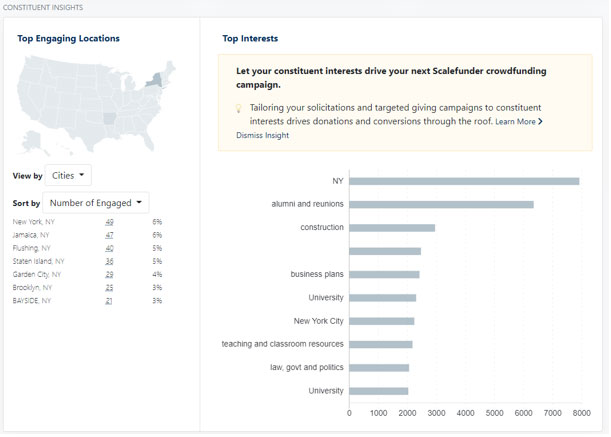 Learning where your constituent interest lies is crucial to targeting your efforts.
This is an important shift we all need to make: sending everything to everyone is just a bad idea. When you present supporters with content and giving options they've shown they care about, they are just more likely to take action and give.
Monitor how you've engaged supporters over time
Another key component is to see where you're having an impact with your communications. With QuadWrangle's email reporting, you can see how many people are engaging with emails over time. We also show you the constituents who opened the email but didn't follow through yet to register or give, so that you can retarget them with another email in the same campaign.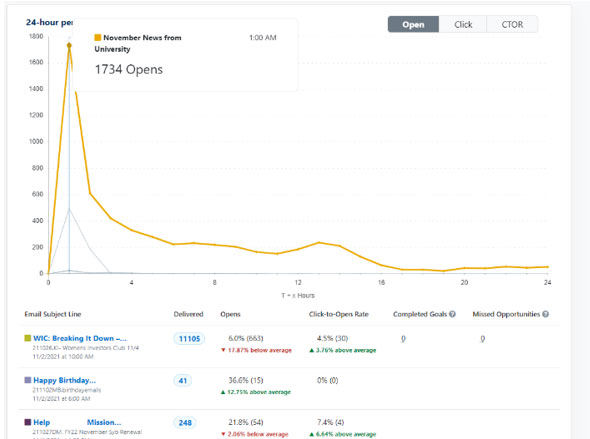 Track the effectiveness of your donor outreach with powerful, real-time reporting.
This tracking allows you to view your recent or upcoming events and see how the response rates compare to your average. See when people are responding to events and how your upcoming events' invitation campaigns are going. You can also see how things have changed over time. Compare giving results from this fiscal year to the last, compare the past 30, 60, or 90 days to the time period before it—or even set custom time periods for comparison.
Having visibility to your donor's interests, who is most engaged, and how your communications are performing is crucial to a data-driven outreach program. We've been working hard to make these insights immediate and easy to use for our QuadWrangle partners.
If you'd like to find out more about how AI-driven communications with real insights can transform your donor engagement, contact us for a walkthrough.
See how you could engage more donors with the power of AI
Watch this overview of the RNL QuadWrangle AI-powered platform to see how you can engage donors with curated content that's more relevant, exciting, and accessible. Then ask for a walkthrough to learn more about the:
AI insights
Dynamic emails
Event management
Content curation
Giving pages
---