fundraising
How RNL Innovated in 2020 to Meet the Challenges of Donor Engagement in a Pandemic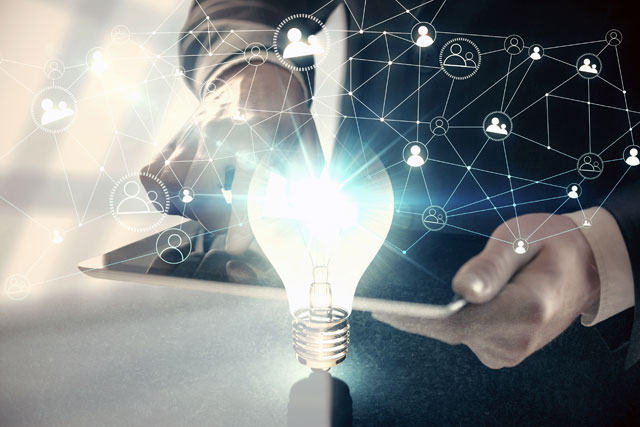 For all practical purposes, 2020 is already in the rearview, which I think everyone would agree is a good thing. Like many of you, I'm now spending the majority of my time planning for 2021 and beyond.
This year may be the most challenging year for advancement, but it forced our entire industry to digitally transform and create donor engagement innovations in 2020. Let's take one final look back to recap the positive change we've been able to drive with RNL partners through our innovations this year.
Maintaining strong relationships with donors (remotely) through RNL Engage and Digital Engagement Centers
Early in 2020 we launched RNL Engage, which replaced our CAMPUSCALL SaaS solution as an omnichannel mobile engagement platform. The platform combines remote calling, texting, and personalized video in one place so you can contact supporters where they spend their time: on mobile devices.

Soon after, we launched the RNL Digital Engagement Center, which leverages the RNL Engage platform and includes RNL strategic management. Using your management or an RNL expert—as well as your ambassadors or ours—these solutions provide an engaging personalized experience for all constituents while helping institutions deepen the level of engagement with their alumni, increasing the overall effectiveness of their outreach. It worked, and at the height of the pandemic, we saw a large increase in contact rates, and average conversation time with donors rose as much as 20 percent over 2019.
The platform didn't stand still as we all sheltered in place, however. Personalized video became an integral part of RNL Engage through our partnership with ThankView.Over the course of the year, we've made continuous advancements to data integration, personalized video campaign automation, and dashboards. We've seen strong adoption by our clients and have seen first-hand some authentic personal donor experiences created using this new capability.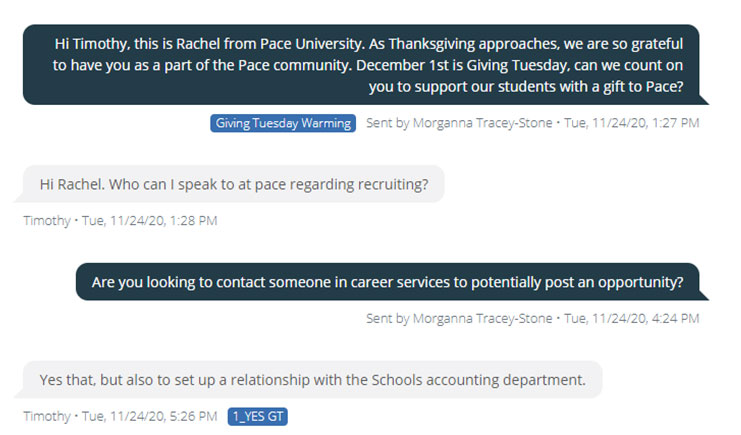 P2P texting became another core capability within RNL Engage, and much like video, we continued to evolve the data integration, campaign automation, and personalization capabilities within the platform.We've deployed recommended text conversations based on analyzing hundreds of text campaigns we've managed.Now it is easy for our fundraising clients to leverage texting as part of an engagement experience instead of using it as yet another siloed channel.
Digital advertising gives your campaigns a boost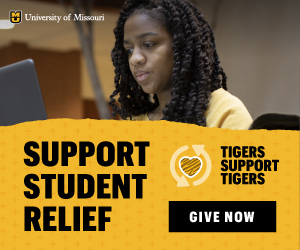 This fall we launched Digital Boost, an evolution of our Digital Dialogue product.We leveraged the digital experts and partnerships we gained through the acquisition of Converge to help us build a more flexible digital advertising solution that offers more channels, more insight, and greater impact for our institutional partners.
We've also been busy piloting new channels such as LinkedIn messaging to augment other digital advertising efforts. We will be sharing some of the exciting results early in 2021 coming out of our Digital Boost campaigns this fall.
Bite sized partner success: learn new fundraising tactics in just one minute
Video was key to our donor engagement innovations in 2020 as a core capability within RNL Engage and content component of our digital advertising. It also became a key way we shared fundraising strategies with our institutional partners so they could be more successful. 60 Seconds to Success is the weekly video series that focuses on all things digital engagement and highlights data-driven strategies and tactics you can execute within your advancement shop.
RNL's Brian Cass shares a helpful strategy for engaging donors on their birthdays.
Our Product Minute (yes they are usually a minute), series showcases how to use new and existing features to get more from our products.
If you want to receive our 60 Seconds to Success videos, please sign up here.
Remote donor engagement is now the norm, and it works
COVID-19 pressed pause on physical engagement centers on campus.We were able to quickly pivot this spring, make critical technology updates that made engaging alumni everywhere with students that were located anywhere possible.Over 140 RNL partners are now using RNL Engage or our Digital Engagement Center for remote student ambassador engagement.This fall we've continued to beef up our infrastructure and make significant technology investments to increase scalability and performance of remote engagement.Stay tuned for more news on how we are making.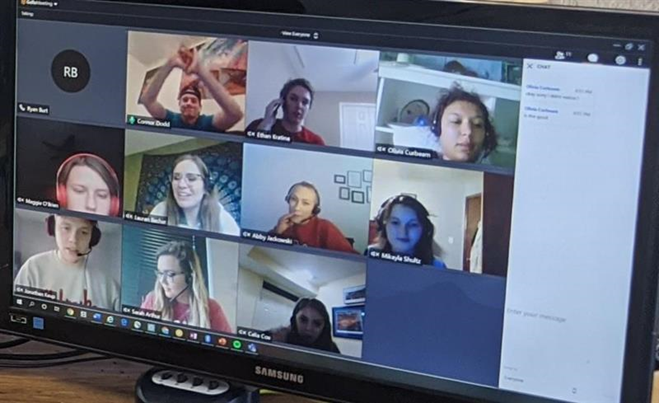 Digital giving and donor engagement made easy through AI-driven insights and key integrations
RNL ScaleFunder, our crowdfunding and giving day platform, was integrated with our AI-driven RNL QuadWrangle digital engagement platform so clients could leverage both to create more data-driven email automation. That integration also allows institutions to better understand donor interest and donor behavior which can drive digital strategies in the current year and beyond. Your communications can feature variable content based on what your supporters have clicked on and engaged with in the past.
We also partnered with a new social media aggregator that provides a more interactive social experience for donors and further integrated our AI chatbot with ScaleFunder. Plus, through additional payment intergrations we now have Venmo joining Apple Pay as yet another means to make giving easy and convenient for donors.
New donor payment options and integrations helped drive the success of RNL ScaleFunder partners in 2020, including millions of dollars given during the pandemic.
Our donor engagement innovation continues in 2021
I hope that many of you that work with RNL have been able to take advantage of some of these enhancements over the past year. While we've had to stay in our homes for much of 2020, this is not a time to stand still with innovation, and RNL partners have seen high levels of success and remained present with donors using this new technology.
Please reach out if you'd like to learn more about how these donor engagement innovations are helping institutions like yours. And as we move into a better year in 2021, let's take this innovation forward to maximize your results and bring digital donor engagement to the next level.
Talk with our fundraising experts
Let's talk about how you can level up donor engagement and connect with donors in a smartphone world. Ask for a free consultation with our experts.
---