fundraising
3 Ways to Send Better Emails to Your Donors Using the Power of Artificial Intelligence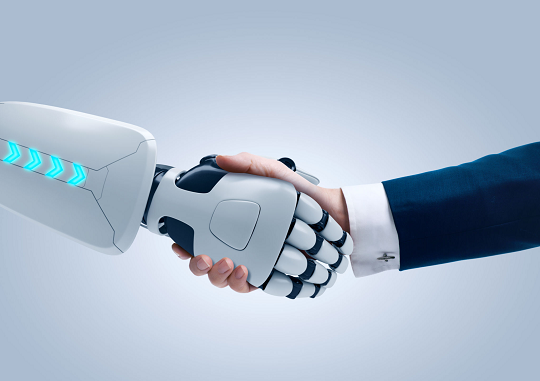 Email is a powerful tool for donor engagement. And we sure send a lot of emails to donors and potential donors. Until now, most of these have been mostly impersonal "one to many" communications.
Artificial intelligence (AI) is changing that, giving you opportunities to personalize, respond to donor behavior, and provide a better donor experience with your emails.
Here are three ways that AI can power better email communications, with examples from the RNL QuadMail platform.
Offer curated, individual content in emails to personalize the donor experience
As I've shared before, one of the best ways to maximize donor engagement is to serve up content that your constituents actually care about. AI lets you do that—automatically extracting meaning from the content you already have and then matching it to what donors have shown from previous interactions that they really want to hear about. Making this happen in personalized emails is now easy.
Here's how it works. In the following RNL QuadMail screenshot, you can see the easy drag and drop interface that allows you to add personalized sections to an email newsletter. These buckets will hold the content that the AI determines is most relevant to each donor. On the right, you can see an example of how this looks in a final email.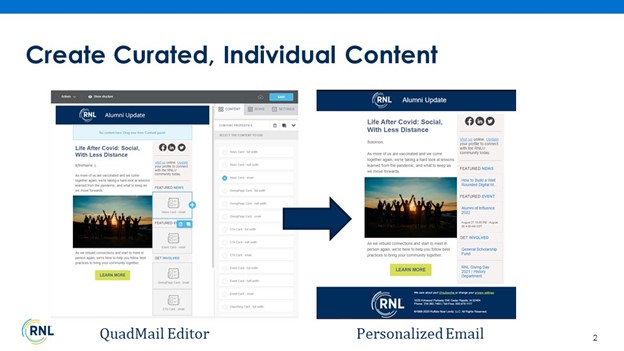 No human could individually personalize thousands of emails. This is where the power of AI really becomes a multiplier to your staff resources, automatically doing the work of both digesting your content and linking it to the donor's profile. Since the data on what a donor cares about comes from their actual behavior over time (what they click on, read, view), you're not guessing.
This is what great brands like Netflix and Spotify already do for us by serving up content we're likely to love. You'll still want to send some key feature stories to everyone. When you have a business major that also really loves the marching band, those features can both appear in their personal, customized email. An email that would be a bit different for an English major who's really into medical research. And the personalization will greatly improve open and interaction rates.
Use dynamic lists with smart stop metrics to maximize email campaign effectiveness
It's really annoying to get an email asking you to give when you've just sent in a gift. Or yet another invitation to an event that you just signed up for. You don't want to leave donors wondering: "Did my gift go through? Am I actually registered?" This is where stop metrics come in. Using AI, you can set email reminder campaigns to continue until a constituent does the thing you're hoping for. Here are a few examples of stop metrics in the QuadMail platform.

If you have the full RNL QuadWrangle platform, data on giving, event registration, or other activities can flow right from the platform. You can also create giving stop metrics from RNL ScaleFunder campaigns or upload your data on a regular basis to inform the AI.
And when you hit a "stop," in one campaign, the communication doesn't have to end. Artificial intelligence can automatically move your donors over to the stewardship stream where you can thank them for their gift and send out content emphasizing impact. This means no more going through lists by hand, delaying communications, or making errors that annoy donors.
Easy segmentation helps improve open email rates
It's time to stop sending everything to everyone. We've worked with organizations who wonder how small is too small for a segment? We've found that focused, smaller segments with tailored messages really increase open rates. Using AI, you can create these individualized segments quickly and easily push out different versions of key communications using templates. The QuadMail system tracks campaign and email performance metrics so you can really dial in key strategy.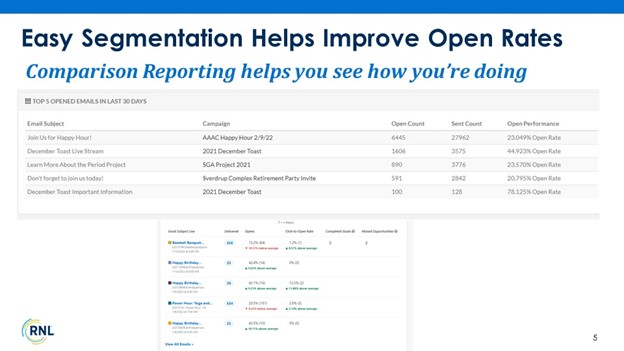 As you can see in this example, smaller, tailored messages really performed well. Segments can be created from all kinds of biographical or behavioral criteria, even from interests or engagement level. We've known that segmentation works for decades and now we've automated it.
Rather than being annoying, constant "spam," email can be a very personalized medium using these strategies. It takes the power of artificial intelligence and an integrated platform to make it work. It's now possible to easily send out communications with content that donors really care about. And see your open rates improve greatly.
If you'd like to try out this new technology and see how artificial intelligence can transform your donor outreach, contact us today. We're ready to show you how it all comes together for a better, more personal donor experience.
See how you could engage more donors with the power of AI
Watch this overview of the RNL QuadWrangle AI-powered platform to see how you can engage donors with curated content that's more relevant, exciting, and accessible. Then ask for a walkthrough to learn more about the:
AI insights
Dynamic emails
Event management
Content curation
Giving pages
---