fundraising
Crowdfunding Tips for the Small Annual Giving Shop
With budget cuts and staffing changes, many annual giving shops are feeling overwhelmed with the pressure to raise more, but with fewer resources. It can be a high-pressured task for a shop of one or two full-time staff to convert thousands of constituents into donors.
The good news is that with the ease and power of digital fundraising through RNL's ScaleFunder crowdfunding platform, our partners have come to realize this undertaking is not as daunting as it may seem. Here are some of the ways you can save energy and time to get easy wins this fiscal year through crowdfunding.
Place a deadline on your crowdfunding application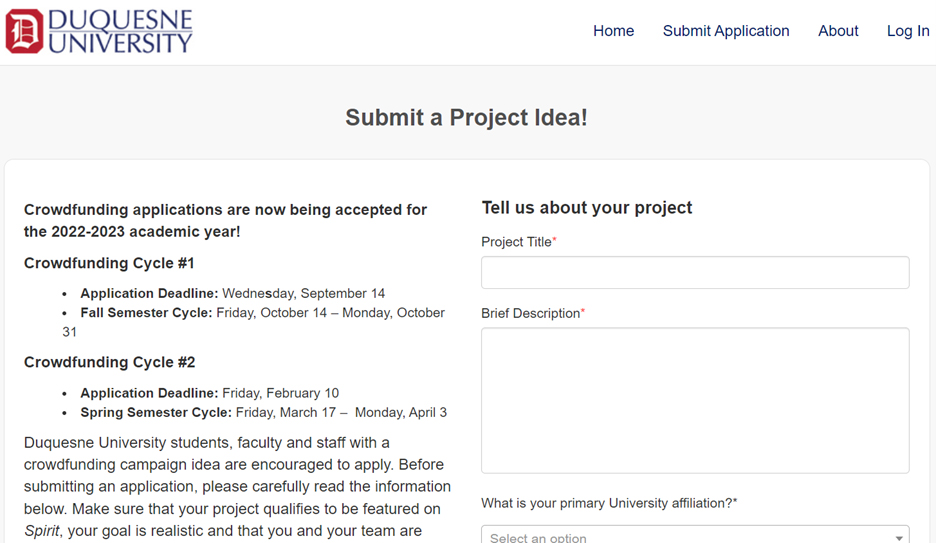 Accepting crowdfunding applications on a rolling basis can add countless hours of work to your crowdfunding efforts. As applications are submitted, you will need to review/approve the application, train the applicant, and then setup a specific timeline for that one project. This can create a chaotic work environment if you are managing multiple crowdfunding projects at the same time that are at various stages of their campaigns.
Instead, place a deadline on your crowdfunding application for the fall and spring semesters and have all of the projects work on the same timeline for your full cohort of campaigns. This will streamline the entire process so that projects are all approved, created, launched, marketed and completed at the same time.
Expand your team with collaborators and ambassadors
For any size team, getting help is crucial. The RNL ScaleFunder platform allows you to easily expand your team via the Collaborators and Ambassadors features.
Crowdfunding project owners can even be invited to serve in a Collaborators role where they have access to the administration of the platform. Collaborators can be granted special permissions so that they are able to place all of the content into their crowdfunding campaign page. This will free up your staff from having to take on what can be a time-consuming task. Instead, a staff member will only need to review and approve the crowdfunding campaign so that it's activated on the platform. Let the project owners do the work, knowing that you'll have the final say in what appears live.
Additionally, Ambassadors can sign-up directly through the platform or be invited to serve in a volunteer role. Ambassadors are encouraged to help spread the word about crowdfunding campaigns in fun and easy ways, which can help take the heavy lift off your office to be solely responsible for crowdfunding promotion. All ambassadors are also provided with their own unique, trackable URL so they can see the number of gifts and total dollars they helped secure throughout the campaign.
Feature evergreen giving pages year-round
Universities and other organizations have hundreds of areas of campus where a gift could be designated—like specific colleges, sports teams, student organizations, scholarships, student services, social justice and inclusion campaigns. Evergreen pages allow these areas of campus to come alive with their own giving page that is not limited to a specific goal or timeframe.
Rather than directing potential donors to one universal giving form, campus partners can develop specific Evergreen pages where they can dynamically tell their story on a page that can easily be shared in their marketing communications. There is also the option to feature multiple designations, which are searchable, for areas of campus with multiple gift accounts.
This idea can be taken a step further with Group sets, which showcase Evergreen and Crowdfunding pages in one convenient page.
As pictured here, the University of Hawai'i Foundation offers a great group landing page with both time-sensitive and evergreen projects for Vulcan athletics.
Host special projects on #GivingTuesday
#GivingTuesday, the global generosity movement, reported record-breaking giving by millions of people worldwide during the annual #GivingTuesday celebration in 2021.
Many of our partners participated in #GivingTuesday 2021 by featuring #GivingTuesday groups and special crowdfunding projects on the RNL ScaleFunder platform.
Capitalize off the momentum of this key day of fundraising by featuring one or more #GivingTuesday crowdfunding projects that raise funds for an effort that is unique to your institution, or consider hosting a participation drive.
Make sure it's easy to give with an integrated digital wallet
We've shared before how an integrated digital wallet that accepts key payment tech like Apple Pay, Venmo, and Paypal can let your donors give in less than a minute. And it's really working. Across all transactions on RNL ScaleFunder with the digital wallet for fundraising, institutions receive 6 percent of their online gifts with Apple Pay, 4 percent with Venmo, and 21 percent with PayPal. Read more here about why you should consider adding digital wallets to your platform this fall.
Your Annual Giving shop may not be fully staffed as the new academic year begins, but easy wins that will make your small crew shine are possible with the right crowdfunding strategies.
Want more ideas?
Reach out to us to set up a time to talk and we'll share examples of how fundraisers at organizations like yours have harnessed crowdfunding to meet key fundraising goals and to involve the entire community to give with impact.
Request a demonstration of RNL ScaleFunder for Crowdfunding and Giving Days
Find out how RNL ScaleFunder can power your crowdfunding and Giving Day campaigns to new heights. Ask for a guided demonstration and see why it is the leading crowdfunding platform for higher education fundraising.
---