fundraising
Boost Donor Response With Custom Evergreen Giving Pages
Eric Billings contributed to this blog.
As you start planning for the new fiscal year, there is no shortage of things to do. We will spend hours hiring and training new staff, writing the next batch of direct mail, crafting text messages, recording personalized videos, and building materials to create the best engagement experience possible for our constituents. These things are important, but we can't forget one key investment that can make or break donor response: fulfillment of gifts and the actual giving experience. And in 2021, that means online giving.
Too often, we see a great donor engagement fall apart at the end because of a confusing online giving form or a poorly designed giving page. Our donors expect to have great payment options and digital wallet flexibility. We're all buying everything online and completing orders, but in many cases, advancement teams lack the development bandwidth or staff to improve giving pages.
So we made it easy. RNL can help you solve these problems and create a better donor experience with an RNL ScaleFunder Evergreen Giving page! These pages, which are offered (unlimited) to every RNL digital giving partner as part of the package, provide easy-to-set-up, mobile-friendly digital wallet options, along with interactive heat maps, live donor walls, and tools to further steward your donors. Your "standard" (and maybe "clunky") giving page can be quickly transformed into a great portal with engaging images and video—and you can still use your payment provider. Plus you don't have to argue with advancement services or set anything else up.
More ways to engage donors and make it easier for them to give
RNL Evergreen Giving pages also integrate perfectly with RNL Engage, our best-in-class digital engagement center platform that is the digital successor to the traditional phonathon.
This integration provides even more ways to engage donors and make it easier for them to give:
You can use your Evergreen Giving page as your RNL Engage payment gateway.
Real-time fulfillment texts can drive people to your Evergreen Giving page; you can even text the link to donors during a call.
You can use RNL Personalized Video with Evergreen Giving pages to make your calls to action more personal and compelling.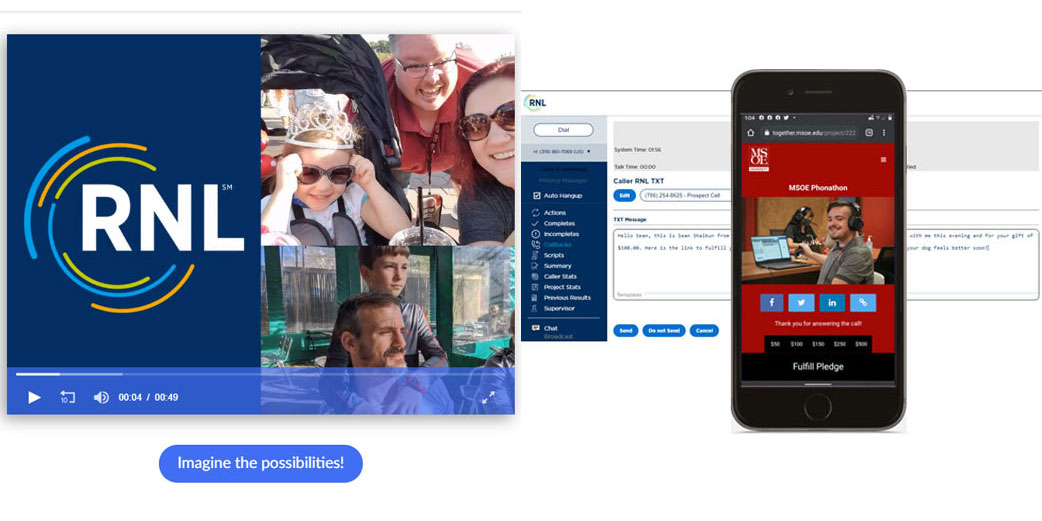 In addition to perfecting the donor experience, you also get a host of analytics to track performance. Data are crucial to refining your strategy. We're constantly surprised at how may fundraisers don't have access to critical stats that can evaluate performance and guide strategic planning. With an integrated system like this, you can quickly analyze data about gift abandonment (people who start but don't finish giving) and use that information to build retargeting campaigns. You also get detailed information with Google Analytics. Combining a better donor experience with strategic digital insights will help you improve fulfillment and maximize ROI.
Getting started is easy
Simply provide us with your branding guidelines while we also integrate your payment processor information and you'll be up and running quickly. If you've been thinking about how you can improve the final, crucial last steps in the donor experience, drop us a line. We'll show you how you can make a transformation and get more gifts, immediately.
Talk with our fundraising experts
Let's talk about how you can increase donor engagement and strengthen your donor pipeline. Ask for a free consultation with our experts.
---