fundraising
Before You Drop an Annual Giving Outreach Channel, Look at the Data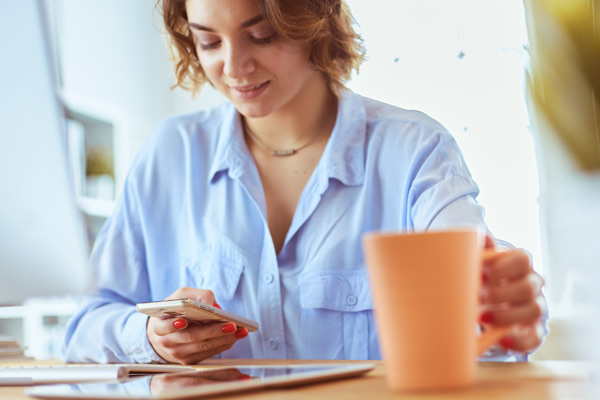 I was excited when the CASE Voluntary Support of Education (VSE) numbers came out last month. As a data nerd at heart, I always enjoy digging in to the survey. A great thing about my job is that I get to to talk to a lot of fundraising leaders each year about what they want to accomplish and how they plan to achieve their goals. Then, when I jump into the VSE survey, I can take a look at which of the interesting things I heard about worked. I can see what looked good on paper, and when put into practice didn't quite work out.
One of those decisions in particular negatively impacted the annual giving outreach of a number of institutions. But before we dive into the data of what we found, let's talk about the pitfalls of not diving into the data when making major decisions.
It might look great, but will donors actually respond?
This is a lesson I learned early in my career. As a new annual giving director, I attended a conference where vendors were sharing great samples. I saw a beautiful piece of direct mail that spoke to me. I brought it back to my design team and asked if we could do a similar piece. They designed a lovely piece, I painstakingly wrote thoughtful, compelling copy, and we mailed it out.
It bombed. I couldn't figure out what went wrong. Later, at another conference, I ran into the director from the school that mailed out the piece we emulated and told her about the one we sent out. She laughed and said that she had loved their piece as much as I did, yet theirs had also bombed.
Data, not hunches, is what needs to drive donor engagement decision making
I was particularly excited to look at the VSE this year because I know many institutions were implementing new strategies in FY2021. Some were strategies that started in 2020 and got derailed, some were strategies born out of necessity because of COVID budget constraints, and some were the inevitability of institutions chasing the new shiny thing.
The results that piqued my interest the most were those of the schools that shifted their annual giving outreach strategies around digital engagement centers. To be clear, these are schools I know made a change because I have it on paper, when they dropped RNL Engage or a Digital Engagement Center. Some shifted to less expensive software platforms that don't have text and video integrations (or less robust integrations than RNL Engage), and some decided to shutter their engagement centers totally. How did they fare?
I reviewed 2019 numbers as the baseline, because I think using 2020 numbers is unfair and too uneven. Many institutions made decisions at the tail end of the 2019 fiscal year and into the 2020 year, so a real review of their donor numbers would be from 2019 to 2021.
Less tech integration and less focus on personal outreach=16% drop in donors
Here's what I learned. Those who continued their engagement centers but with less robust outreach saw an average decline of 16 percent in alumni donor count. Only one in 20 had an increase in alumni donor count. These include institutions I know spent fewer hours and didn't integrate texting or video messages.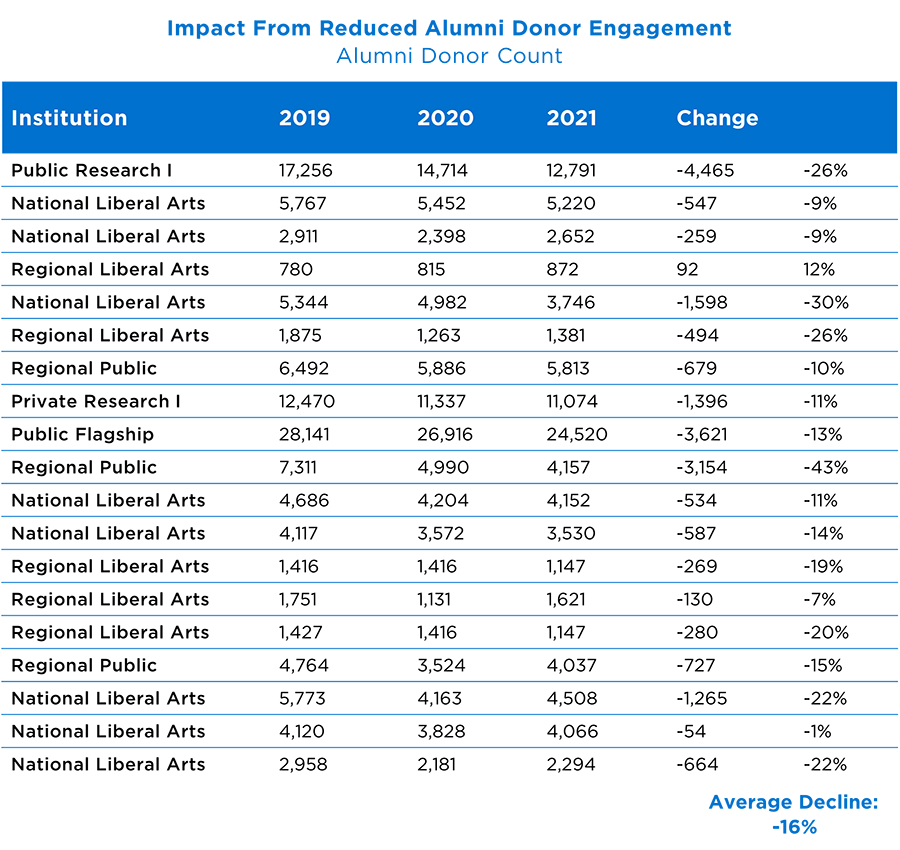 Dropping student ambassador outreach altogether=30% drop in donors
When I looked at the institutions that completely shuttered their engagement/call centers, the numbers were frightening. The average institution declined by 30 percent in alumni donors from the time they shuttered their center to 2021. The school that did the best lost 5 percent of their donors. No one went up. One university lost 64 percent! This caused their alumni participation rate, to go from 9 percent to 3 percent in two years.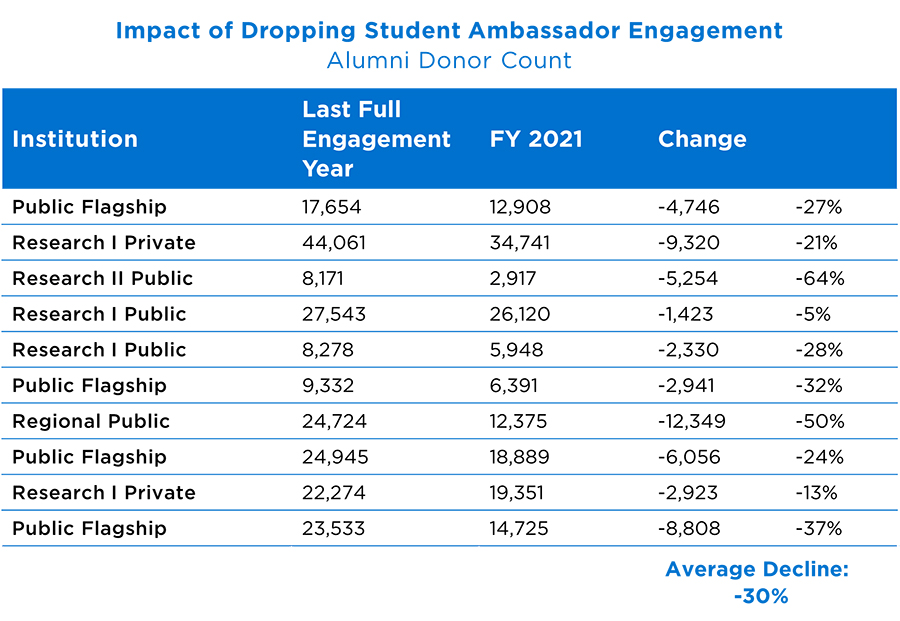 Free consultation on your fiscal year planning
Where can you have the biggest impact on donor engagement next fiscal year? What investments will produce the greatest ROI on your fundraising results? Talk with RNL's experts during a free fiscal year planning consultation.
Massive donor decline destroys your major gifts pipeline
Sometimes I hear from institutions that they want to shift their focus to major gifts—basically, hire more gift officers. Or they want to give the 2,000-3,000 donors they are focusing on more "personalized attention." I think these are all good objectives.
However, I wonder, at what cost?
It is very challenging and expensive to re-gain lost donors. Annual giving is already expensive without a self-inflicted hill to climb.
Acquiring and keeping donors is an investment in the future. Every 1,000 in new donors brings in over a $1.5 million in future gifts. There is no more efficient way to have personal contact at scale than a digital engagement center. Why can I say that confidently? Data.
What do you get when your annual giving outreach has an omnichannel engagement approach?
We work with one private institution on an engagement model that includes texting, calling, and personal video messages, across both solicitation and non-ask engagement. They are a partner who really scrutinizes what we were do and have a constant focus on ROI (which is good!). Some interesting stats:
Donors who were called and received a video were 5x more likely to give.
Those who responded to a text were 150 percent more likely to give.
And those contacted with call, video, AND text had a whopping 58 percent giving rate.
We're working on expanding this analysis to more institutions, but I didn't want to wait to share it.
Data like this should drive decisions. Balance is important in all that we do, including philanthropy. And the data tell us that phone, when combined with text and video, is still the most efficient channel for annual giving outreach and bringing in alumni gifts.
We lose more than annual donors when we shutter engagement centers.
Who will fill major gift pipelines when we turn away from effective acquisition and renewal practices? Donors who stop giving to your school don't stop being philanthropic. They just stop giving to you.
They stop mainly because you are not asking consistently in a way that they respond to. They'll give elsewhere and move from your pipeline to another organization that is effectively engaging them. Good portfolios have some churn. As you move prospects out, you move new prospects in. What do you do when you aren't engaging in activities to identify new prospects?
Young alumni are philanthropic. We know they are. We know they are responsive to coordinated omnichannel outreach. Removing a channel that garners great response from them is a tough way to bring this challenging and important constituency to the table.
Speaking of pipeline: in a time where all of us are struggling to fill vacant positions, what happens when we cut off our most effective talent pipeline? That's right, how many of you reading this were either a student caller or did similar donor engagement work as you made the decision to become a fundraiser? These ambassadors become young development officers who have loyalty to your institution because they are an alumnus/ae and have actually made an ask, hundreds of times.
Next steps for getting greater results out of your annual giving outreach
Running engagement programs across channels with students is challenging. It's expensive. It's also one reason we have seen giving grow, endowments rise, and many institutions set records for participation. In a time when budgets are tight and goals aren't going down, we have to be data driven in our decision making. So, before you drop a major channel, decide to go with the newest shiny thing, or press the easy button, let's talk. In fact, it's a great time to have a conversation about your plans for FY23. Reach out for a free consultation, and my colleagues and I can take a look at your data and peer comparisons so we can see how you can take some immediate steps as well as set up a pipeline for transformative giving down the road. Just be ready for us to share some Excel spreadsheets, not make promises that aren't based on real data.
Free consultation on your fiscal year planning
Where can you have the biggest impact on donor engagement next fiscal year? What investments will produce the greatest ROI on your fundraising results? Talk with RNL's experts during a free fiscal year planning consultation.
---