fundraising
Avoid Annoying Your Donors and Breaking Your Database with One Key Thing: Avoiding Duplicate Records 
Sometimes, the key donor engagement strategies are fundamental. You can't possibly provide a good donor experience if your constituents have duplicate records in your database. If you don't have the data right, at minimum, you'll waste effort. And worse, you could do something horrible like not recognize a donor, volunteer, or key contributor for their contributions.
This is a key issue that our RNL partners have dealt with, so I'm excited to give you an inside look at one of RNL QuadWrangle's great new features: Duplication Monitoring, and the Record Merge tool that goes with it. Because, let's face it, sometimes the data isn't perfect. AI-driven personalization can be affected when real information is split up into more than one constituent profile. Duplicate records can also totally destroy your calculations for giving participation, appeal effectiveness, and overall engagement impact.
I'll walk you through the key ways that a good engagement engine avoids this perpetual problem.
Duplicate records in donor engagement are common but can be easily avoided with the right tech
Just about all fundraising shops use connected platforms to engage donors. These are incredibly valuable, but have to produce a data flow that's accurate and feeds to the home record in your CRM. How do duplicate records get created? Sometimes, there may already be duplicate records in the data: including from everything like name changes over a donor's life to the flow of data from graduation to alumni status.
Or a duplicate record can be created when a constituent makes a gift via a ScaleFunder giving day or crowdfunding campaign with an email address that we didn't know about. Or perhaps they buy an event ticket, or sign into a donor portal. Because we don't know this new email, and it's not the same one they used ten or twenty years ago, we don't know that this is the same person. It's very common, and probably takes up a bunch of your advancement services team's time.

Let the robots get all your donor engagement noted in the right record
Our platform pays attention, though, and can help you recognize alumni when they come back with their new information, and reconcile that with what you know about them from those prior interactions.
Duplication Monitoring runs overnight to find potential duplicate records. It will then present pairs of records that it thinks might be a match, with an indicator to show how much confidence the system has that these two records are the same person based on the available data. There's also a manual record search, in case you happen to see records that you think might be the same person and want to compare them.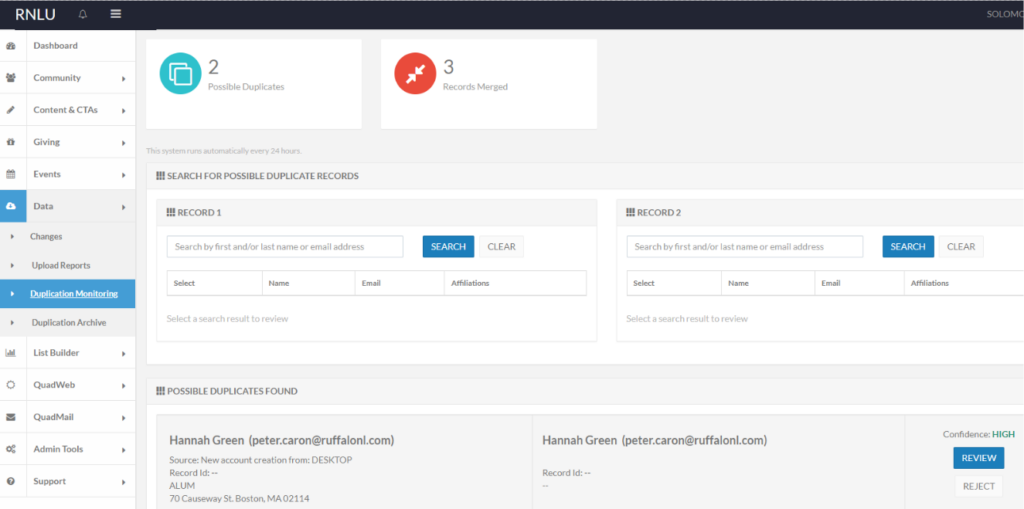 Then, the system lets you review those records side by side. If you find that they are the same person, you can use the new Record Merge tool to combine them. You can select which biographical information ends up in the final record. Don't worry; all of that behavioral information also comes over automatically, including gift history, email history, and even any interests that the system has identified for them!
If you reject a pair of records, the system learns from this, and won't present them as a match again. Over time, that confidence score may change, so if you're not sure, you can just let that record pair remain and see what happens as the system gets to know people better.
Here's why making sure you have a unique, single donor engagement record matters
Personalization is all about getting the right content to the right people. RNL QuadWrangle pays attention to each constituent to see what they're really interested in. To do that, you have to constantly be making sure that you have only one record per person, so that the system isn't missing anything when it looks at each individual to curate content just for them. With Duplication Monitoring and the Record Merge tool, you can be sure that there's only one record, with all of that person's information and interactions in it. This means the system can curate dynamic content with even more precision, and you're reaching them based on where they are now, not just on who they were in the past.
This is just one way that RNL is creating tools to make your fundraising life easier, and provide a better donor experience. If you'd like to talk about you can use easy, and donor-friendly tools like this to transform your personalized engagement, drop me a line. And yes, you'll be actually reaching me, not my alternate reality twin who got accidentally created during the last giving day.
See how you could engage more donors with the power of AI
Watch this overview of the RNL QuadWrangle AI-powered platform to see how you can engage donors with curated content that's more relevant, exciting, and accessible. Then ask for a walkthrough to learn more about the:
AI insights
Dynamic emails
Event management
Content curation
Giving pages
---