fundraising
4 Tools You Need for Crowdfunding Effectively on #GivingTuesdayNow
Co-written with Kristin DeMarco Carroll, Senior Client Solutions Consultant
Many of you have probably seen the announcement Giving Tuesday is launching #GivingTuesdayNow on May 5. The event will bring together individuals, nonprofits, communities, small businesses, brands and more for a global day of giving and unity in response to the COVID-19 crisis. There is no doubt that we have already seen an unprecedented amount of fundraising campaigns across higher ed institutions – with over $3 million in the first three weeks of student emergency fund pushes on our RNL Crowdfunding platform alone. What we've learned from this success can help you in your #GivingTuesdayNow strategy.
With other annual giving channels taking a temporary hiatus or being reduced, crowdfunding has stood strong as a viable and practical fundraising tool during these anxious times. RNL is here to help. We're waiving the onboarding and subscription fee for new users of our RNL Crowdfunding Powered by ScaleFunder platform, effective now through June 30, 2020. If you already have RNL Crowdfunding or RNL Giving Day powered by ScaleFunder, we encourage you to schedule time with our team if you need any assistance with strategizing how you move forward with your upcoming giving days or crowdfunding campaigns.
RNL Crowdfunding powered by ScaleFunder has the tools you need to not only help make an impact on your institution today, but also as you begin to plan future fundraising projects. Here are four crowdfunding features that amplify your #GivingTuesdayNow efforts:
Enhance crowdfunding with multi-gift checkout & featured projects:
Your campus may have multiple areas in need during this time – student emergency funds, faculty support funds, or campus food pantries. Each of these initiatives can be set up on your crowdfunding platform, but you'll also want to make it easy for donors to support more than one area if they'd like. Enabling crowdfunding multi-gift checkout allows donors to give to more than one fund or more than one project within a single transaction. Additionally, you can choose specific projects to highlight on the donate page that allow your donors to explore other areas with a simple click of a button AND without ever having to leave the page.
Evergreen Projects:
A static giving page may not provide the flexibility needed during this time. These unprecedented times call for unique fundraising solutions. Our Evergreen project type allows for you to launch a dynamic fundraising page while also not being confined by a time limit or goal. It also allows you to promote a specific emergency fund, or multiple funds on campus that need support. Combining this with our multi-gift checkout also allows your donors to support multiple designations in one transaction!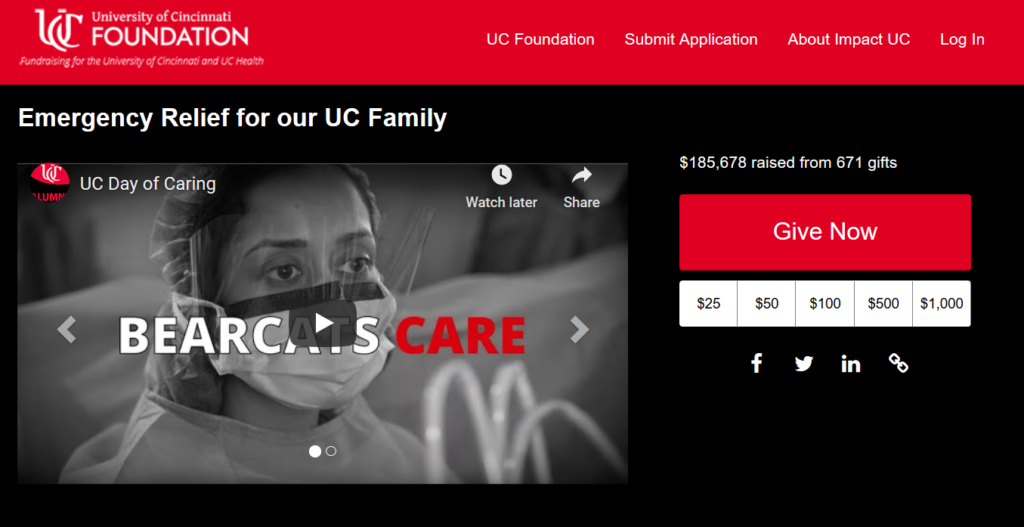 AI Chatbot Integration:
During this time, it's extremely important to communicate the needs of students and faculty while also being sensitive to the ongoing situation. Our AI Chatbot is an additional resource to communicate with individuals who land on your ScaleFunder platform. Chatbot allows you to present a welcome message addressing COVID-19 and the needs on campus, respond to questions asked by constituents, and push out updates as they come.
AI-Driven Omnichannel Integration:
Our AI-driven RNL QuadWrangle personalized communication platform integration helps you execute and manage direct email campaigns about your crowdfunding initiatives to your constituents. We've made it easy to create quick email lists based on previous crowdfunding projects and giving days in addition to the ability for you to remove donors from your future email campaigns in real time. You all have a lot going on right now and we want to make your jobs easier, not harder. We also all want to be sensitive to the ongoing situation and take care with not only who we communicate with, but how we communicate.
These key features are all part of RNL Crowdfunding powered by ScaleFunder. You still have time to set up the tools for greater success on #GivingTuesdayNow and for all your future crowdfunding, giving day and special project fundraising.
Contact us today to join the RNL ScaleFunder platform, or if you've already started, get tips on how to maximize your #GivingTuesdayNow engagement. Donors are ready to respond to the crucial needs in this crisis and the best engagement tools will make it easy and exciting for them to give.
---