enrollment
Using Advanced Enrollment Analytics to Focus Your Team's Time
We interact with analytics on a daily basis, personally and professionally. It might be your Apple Watch reminding you that it's time to stand up or telling you how many steps you have had. It could be algorithms delivering food recommendations or shows you may also like to binge. Microsoft 365, a suite many of use every day, has its MyAnalytics functionality that can help you focus your time more effectively so you can get more done. (I highly recommend checking that out if you have not already.)
Analytics are there to help us make better decisions, and one of the most important decisions they help us make is how we spend our time. Time is our greatest asset, and it's also our greatest limiter. For those of us in higher education, we almost certainly have less time than we did five or ten years ago (or longer in my case…). When it comes to enrolling your class, think of how precious your time and the time of your team is each year. You probably have more to do with each recruitment cycle, yet you are not getting more time to do it. But having the right analytics in place and using them to guide your decision making is like getting time back, because you are focusing your time on the areas that will have the greatest impact on bringing in the class you want.
This was one of the main things I talked about during a webinar I presented on Driving Enrollment Outcomes Through Strategic Analytics. At the beginning, I polled the attendees:
What best describes how the enrollment office at your institution has adopted analytics as part of their DNA?
Only one-fifth said they used analytics embedded into their work to drive decision making.
Half said they had analytics but didn't use them often enough to inform decisions.
The remaining quarter were in the early stages of using analytics of did not use them in their decision making.
This illustrates how many enrollment managers and admissions professionals are missing out on the chance to improve their enrollment yields, their ROI, and their use of time.
But what do we mean by advanced enrollment analytics? And how do they focus your time? The answer involves looking at two key parts of enrollment analytics: predictive modeling and engagement scoring.
Predictive modeling: using historical enrollment data to predict enrollment behavior
Predictive modeling for enrollment is a complex process that answers a simple question: How likely is an individual to enroll? A predictive model uses previous historical enrollment data to create a statistical profile of a student who has enrolled at your campus, then compares that profile to a prospective student to assess their enrollment probability. This modeling can be done at different enrollment stages as well, because these profiles can change drastically from inquiry to applicant and at every stage along the way.
For enrollment staff, such as an admissions counselor, knowing how likely someone is to enroll can help them focus their time. One benefit is with students who have very high enrollment probability. You may not need to spend nearly as much time on them because they may only need nudges to keep moving toward enrolling. At the other end of the model, with those students who are unlikely to enroll no matter what you do, you will still want to engage them because some of those students may progress toward enrolling, but you can use less resource-heavy ways of doing that. The biggest benefit is that it gives you the bands of students you should be trying to influence, those who are likely or somewhat likely to enroll and would benefit from your outreach.
But predictive modeling, while powerful and beneficial, does not tell the whole analytics story.
Engagement scoring: How engaged are students in your pool right now?
Because predictive modeling relies on historical data, it compares students in your pool to how students were in previous classes. But there will be students who are engaging with your institution—through your communications, your website, your campus visits and events—who may not fit the model. Or students with similar predictive modeling scores who are having very different levels of engagement with your institution.
Engagement scoring measures student interests and whether they are engaging with the marketing that you are sending to them. It is not a predictive model, but it is a strategic tool for your admissions staff to see which students appear to be showing more interest in your institution. Here's an example of how this could work (note that this is a simplified example—RNL creates much more robust and tailored engagement scoring for our campus partners).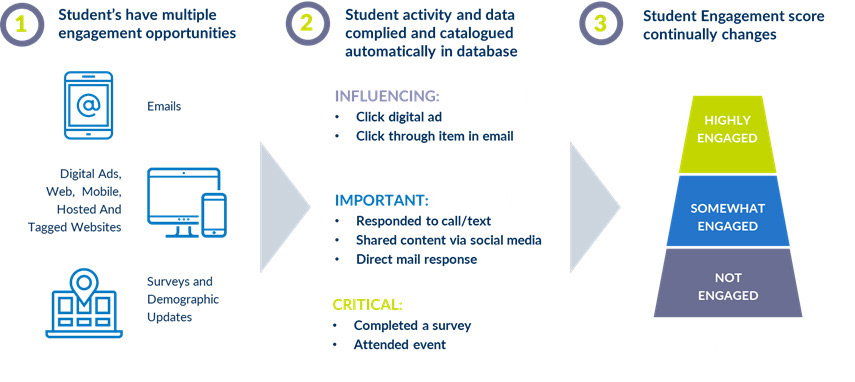 What engagement scoring does is not only measure engagement but rank intentionality. Opening an email may not be a high "intentional" action, but clicking a link is. More intensive engagement measures such as taking surveys or coming to an event are very intentional. The details on engagement scoring are beyond the scope of this blog, but it's very apparent how a continuously up-to-date engagement score for each student can providing your team with another key tactic to prioritize their outreach, resources, and time.
The real payoff, however, is when you combine the two qualifications together.
Bringing predictive modeling and engagement scoring together to optimize outreach
Let's consider your efforts to build your application pool. A predictive model will help you prioritize your outreach, but you will inevitably have students with lower model scores who are still great prospective students. Likewise, there will be students who have great model scores but who are not taking the steps you would expect to apply. That's when bringing these two qualifications together pays off.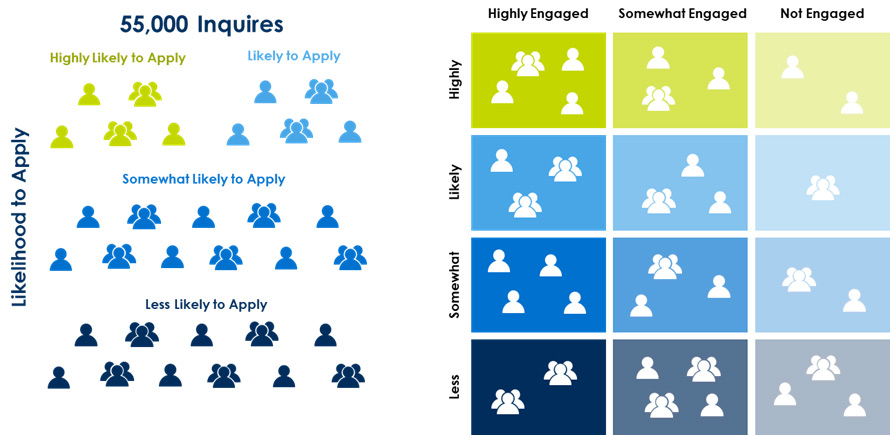 Now you can see which students are more likely to enroll and who are more engaged, allowing you to optimize the enrollment marketing journey. You can use a more cost-effective channel mix on those who are less likely to enroll and less engaged. But perhaps more importantly, you can see which higher scoring students who should be engaged are not engaging—giving you a great opportunity to ramp up their engagement. You also have a clearer idea of where to focus on the middle band, with students who have good scores plus good engagement. This frees up the resources you need to prioritize outreach and drive conversion. Plus you can do this at each funnel stage to maximize progression and yield.
Learn more about how you can embed enrollment analytics into your decisions and focus your time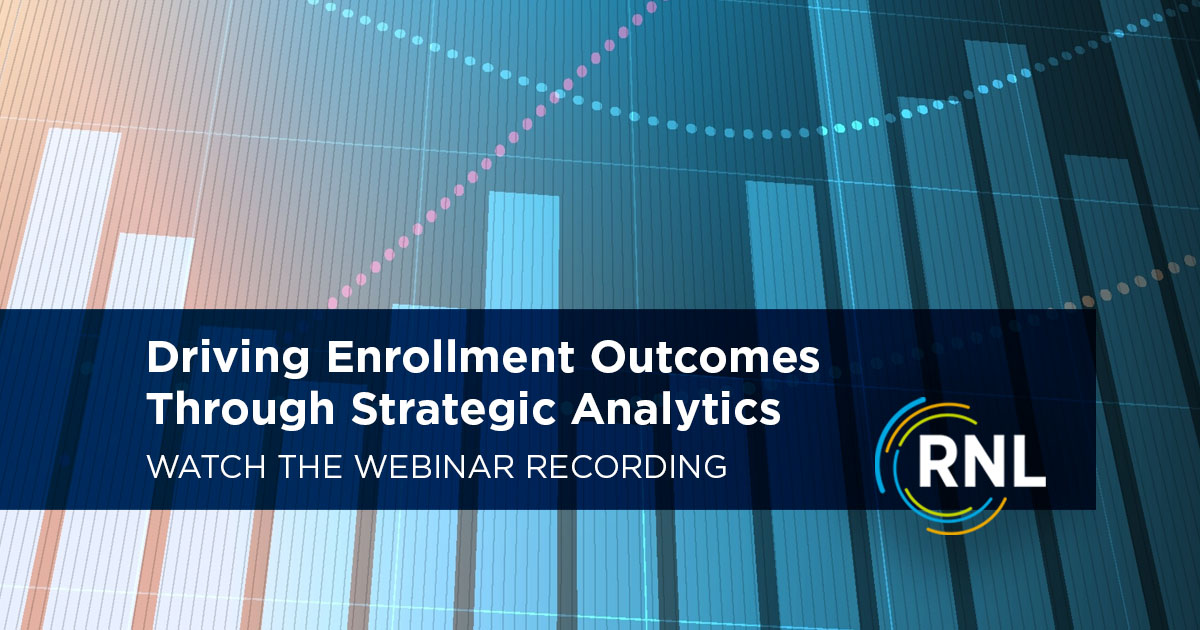 You can watch my full webinar Driving Enrollment Outcomes Through Strategic Analytics on-demand, where I go into more detail on the benefits of enrollment analytics.
But I really recommend reaching out for a free discussion with our RNL enrollment experts. We can discuss how you can take a more analytic approach to student search and enrollment to focus your time on the areas that will have the greatest impact, including:
Building more volume at the top of the funnel.
Increasing conversion and the speed of progression through each stage: application, acceptance, deposit, and enrollment.
Using analytics to inform your marketing and recruitment so that you optimize your efforts.
Engaging parents so that you can draw upon their enormous influence on enrollment.
Drive enrollment outcomes with the smartest full-funnel solution for higher ed
Ask for a free walkthrough of RNL Student Search and Engagement and see how you can increase volume at the top of the funnel, increase conversion and velocity through the funnel, and achieve your enrollment goals.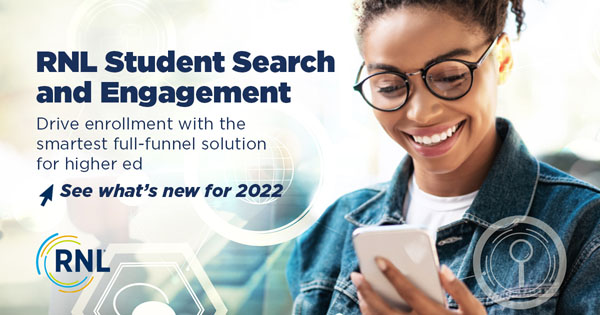 ---