enrollment
Three Nontraditional Strategies to Yield Students This Season
Currently, the FAFSA filer rate is trailing by 9.2 percent, which is three weeks behind last year's figures. As the FAFSA filling rate is historically one of the key performance indicators for enrollment, the decline in numbers could represent yet another challenging year for enrollment at colleges and universities across the country.
According to RNL's 2020 enrollment data, 90 percent of first-year enrolled students at private institutions filled a FAFSA on average. For public institutions that number was 89.8 percent for residents and 77.8 percent for non-residents. Campuses with large populations of first-generation, low income, and minority students are at most risk given last year's college enrollment results.
As I speak to colleagues at colleges and universities across the country, the general sentiment is one of concern and overwhelming pressure as applications and admitted student numbers are down compared to last year. Many of them expressed how they are running behind, how everything is taking longer, and how they are having to continuously postpone their application and decision deadlines. Even at institutions that are up in applications and admits, their enrollment managers struggle to measure the strength of their student pools.
There is no doubt colleges and universities at large will be recruiting students well into the late spring and summer months to make their class. Inevitably, this will be a long, arduous, and unlike any other yield season for most enrollment and admissions professionals across the country. However, with uncertainty and challenges comes growth and opportunities. This situation gives institutions more time to engage their prospective students and an opportunity to keep transforming the way they recruit and serve their students.
Engaging students in today's environment
Given the disruption caused by the pandemic, interacting and engaging students in the enrollment process has changed dramatically—and the need for technology and a different approach to student marketing is imperative to recruit today's students. With the amount of noise we are exposed to everyday, colleges need to creatively engage students as individuals. Understanding their preferences, interests, and motivations and engaging them on their own terms is critical. The ability to use behavioral and demographic data to create a customized and relevant experience is paramount to recruitment success.
As we consider strategies to engage students and drive them to enroll, keep in mind the following student behavior trends: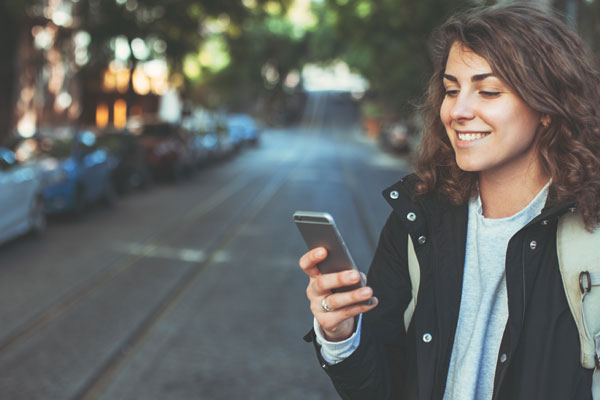 Students will unlock their phone on average of 79 times a day to review new content.
They value authenticity as a key trait.
They rate video among the most influential resources for college search.
2 out of 3 students say they click on paid ads. Engagement with online communities has never been higher.
Understanding overarching trends can help you set a framework for how you will enable and craft your engagement strategy. Below are three nontraditional engagement marketing strategies that can help you achieve your enrollment goals this yield season.
1. Increase yield with video content
Adding a video to your email can increase click rates by 300 percent according to Hubspot. The college decision process is highly influence by emotion. Videos are a great way to evoke emotion, allowing prospective students to not only connect with you, but also see themselves as part of your community. Additionally, viewers retain 95 percent of a message when they watch it in a video, compared to only 10 percent when reading it in text. As the saying goes "A picture is worth a thousand words".
Below are some tips as you work on developing your video strategy:
Do not overdo the production. Students prefer real, low production, raw videos. Prioritize authenticity when putting together your video content and context.
Personalization is key. All video content (especially at the admitted student stage) has to be relevant to that student, so arm yourself with student data and a video platform that allows for easy personalization and scalability.
Deliver videos via text and email. Video viewership rates can be 75 percent higher when the video is delivered via text compared to just sending it via email.
Utilize your student ambassadors. Gen Z is highly influenced by their peers, so match your current students' experiences to the interests of an incoming student to communicate your value proposition.
Leverage call-to-action buttons (CTAs) to drive student to next steps. Ensure call to action is customized based on admissions stage.
Check out how the University of Missouri, Kansas City is leveraging the RNL Video Engagement platform to break through the noise and connect prospective students with their current students this yield season. The platform enables personable and relevant student engagement at scale while giving your staff a powerful and easy to use video tool to connect with prospective students throughout the recruitment cycle. And it can be implemented in just two weeks!
Here's an example of using personalized video to increase yield from UMKC.
Talk with our enrollment experts
Let's talk about how you can find the optimal strategies for digital marketing, inquiry management, financial aid awarding, optimizing yield, and other key actions.
2. Meet students on their own turf
An analysis conducted by GlobalWebIndex(GWI) and Snap Inc. found students spend on average four hours and fifteen minutes on their phones, and 97 percent own a smart phone. They are true digital natives; hence your approach to connecting with them has to reflect their preferences.
Digital ads are a great way to provide relevant messages and timely next steps to your admitted students, such as completing their FAFSA, scholarship competitions, accepted student events, and submitting the enrollment deposit. Remember, two out of three students click on paid ads. Use first-party data matching to maximize your ad spend and leverage platforms such as Google, Instagram, Snapchat, YouTube, Twitter, and Spotify to broaden your reach.
Below are five key tips to maximize the impact of your digital campaigns from RNL Digital Strategist Dane Cronbaugh.
1. Have a designated landing page for your campaign based on the ad message. If encouraging a student to register for an accepted student event, drive the student directly to the specific event registration page.
2. Measure campaign effectiveness by tracking the conversion event on the landing page. Using the example above, you would want to track the number of students that complete the registration on your landing page.
3. Provide a concise message with one clear call to action.
4. Constantly optimize your campaign. Evaluate performance at the end of each campaign to find better ways to engage your audience. A/B testing can be very useful to optimize your campaigns.
5. Implement a frequency cap. Ensure that students are not exposed to more than three ads per day, and run suppression lists often so you are not serving ads to students that already took action.
Below are some examples for accepted students' digital ads.
3. Leverage online, peer to peer communities
According to RNL's National Freshman Motivation to Complete College Report, 82 percent of students want to know their peers better and making friends is the top priority for 73 percent of them. As expressed earlier, college is an emotional decision, which is highly driven by the feeling of fitting in. There is no better way to do this right now than to socially engage students via online communities that facilitate peer-to-peer engagement. The appetite for creating meaningful bonds is high and these platforms give prospective student a safe space to connect and belong.
A study done by Reddit and GWI found that in contrast to social media spaces, online communities are seen as a place where users can have meaningful and respectful conversations, build authentic connections, feel more able to be themselves, and more likely to develop a sense of belonging.
As you seek for the perfect peer to peer, online community platform look for the following:
1. Platforms that can serve the student throughout the entire recruitment process. Using one app as opposed to two or three makes it easy for the student to navigate the enrollment process.
2. Give students ability to search other students and answer the question, "Who is like me?" Being able to search for students that have similar interest will allow them to grow their connections at your institution.
3. Enable 1:1 and group messaging within the application, all in one place, so they do not feel the need to find alternate ways to connect. Plus it allows you to track level of engagement.
4. Use algorithms to automatically identify their likelihood to deposit at your institution.
Clients utilizing the RNL Digital Engagement platform have seen 3x times higher yield, strong student adoption, and melt reduction of at least half a percentage point.
What are your best yield strategies right now? Let's talk.
The enrollment cycle will be a long one this year, and based on current data, we will likely endure another enrollment decline. The good news is that there is still time to impact this year's incoming class. The colleges and universities that focus on creating meaningful and relevant interactions across their recruitment cycle by leveraging the right channels and technology will minimize the impact and come out ahead.
Talk with us and we'll share yield strategies that are working for our campus partners. Click here and we'll set up a convenient time to talk.
---