enrollment
Speed to Lead: What Do Graduate Students Expect?
It seems that every time I hear a marketing leader speak—at a conference, in a meeting, or some other place—they say that "speed to lead" may be the most important element in enrollment success. In at least some of these settings, I have also seen or felt the people around me either recoil a bit or respond with disbelief when marketers indicate that, upon the receipt of an inquiry, to goal for a personal (not automated) response should be within minutes.
While this may seem an impossible feat a many institutions, the need (and utter necessity) of a timely response has been backed up by the findings of RNL's latest survey of more than 1,500 prospective graduate students, which will be released as the 2021 Graduate Student Recruitment Report at the RNL National Conference and published later in July.
So what do graduate students expect and how do they behave? Here are a few findings.
You're competing with other programs.
Let's start with some competitive information. While a decade ago many working professionals looking for a master's program had few options that would work in their busy lives (the topic of my research over the 20 years in which I conducted more than 200 market studies of such individuals), today dozens of institutions are competing for these students in any locale. This is borne out in the number of programs to which prospective graduate students indicate they have applied. Only about one-quarter of graduate students apply to a single institution (compared with numbers as high as 60 percent over the course of my career), while about 40 percent apply to two programs, and about one-third apply to three or more.
NUMBER OF PROGRAMS PROSPECTIVE GRADUATE STUDENTS WILL APPLY TO

With nearly three-quarters of graduate students strongly considering more than one program, meeting their expectations is the surest path to "winning" them to your program.
First response really DOES have to be immediate.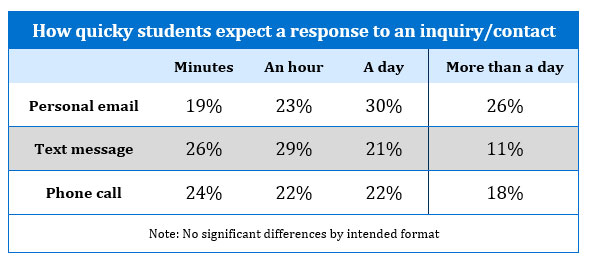 All those speakers you've heard are telling the truth. They aren't applying expectations from other industries to higher education. Whether it was their professional intuition or access to data that we now have, they've been right all along. About one-quarter of graduate students expect a personal email (not an auto-responder), text message, or phone call within minutes of submitting an inquiry (our report indicates elsewhere that they most often use an inquiry form on institutional/program websites followed by an direct email).
Another quarter of them expect one of these forms of response at least within an hour, and another 20-30 percent expect that they will hear back within the same business day. This leaves less than one-quarter who will be satisfied if it takes more than a day for you to respond.
You've got to admit them fast.
With so many more graduate students applying to more than a single institution, their expectations regarding response times includes the time it takes to notify them of admittance. Because convenience factors like having the best program "fit," having the most affordable tuition, or having multiple formats available outweigh quality factors like institutions/program reputation and specific faculty with which students want to study (the subject of next month's blog), students are more likely to also put weight on the timeliness of their admission.

Why? My own interpretation of the factors that are most important (which have been consistent in my research over the last two decades) is that many graduate students prioritize convenience and the completion of their studies over enrolling at the highest quality program with the best reputation. This is why (in it's heyday) an institution like University of Phoenix was enrolling hundreds of thousands of students—students just needed to get their programs done.
The early bird gets the worm.
All of these data are interesting, but to what extent does ensuring that enrollment practices conform with the data? Well, our last question in this set was to ask our 1,500 respondents to indicate the likelihood that they will (or did) enroll at the institution that admits them first. If there was ever a data point that raised the alarms for timely response, it is the fact that more than 80 percent of students – regardless of their format preference – indicates that they are likely to will definitely enroll at the institution from whom they hear back with an admissions offer first.
STUDENTS WHO SAID THEY WOULD BE MORE LIKELY TO ENROLL AT THE FIRST PROGRAM TO ADMIT THEM
Classroom 82%
Hybrid 89%
Online 83%
What does this all mean? I'll close where I began. I have sat in so many meetings and conference sessions over the years where either the disbelief or expressed impossibility of meeting "industry standards" regarding response times is palpable. Surely when an individual is considering an investment of thousands (or tens of thousands) of dollars, they will not have the same expectations that they have with Amazon, or their bank, or their dinner order. But the reality is that our internet-driven age has not only raised a generation (or two) of people who have grown up with the expectation of instantaneous response, but has also driven a similar expectation among older generations who didn't grow up with smartphones in our hands.
I am reminded of a recent exchange with my 80-year old father. He told me "I don't know why I haven't heard back from your nephew. I texted him 15 minutes ago about whether he got my Venmo." There were so many things in that set of sentences that blew my mind—and have application to the expectations of ALL of us today—that I didn't know where to begin my response! But if there is a lesson to be learned, it's that those who cannot provide speed will definitely not lead.
Watch my conversation with Brian Gawor for more details
I dive into more details from the forthcoming 2021 Graduate Student Recruitment Report during this episode of RNL@Home with Brian Gawor. Stay tuned for the full report in the coming weeks! And reach out if you would like to chat with our graduate enrollment experts. We can set up a time to talk strategy and how you can achieve your goals. Contact us and we'll arrange a convenient time to talk.
---