enrollment
How to increase retention and completion with a proven early-alert "trouble spotter" [Infographic]
When new students enter your institution, what if you quickly flagged their support needs using a 20-minute online assessment that captured key noncognitive indicators for retention and completion? What could you do differently? See highlights from RNL's 2017 National Freshman Motivation to Complete College Report: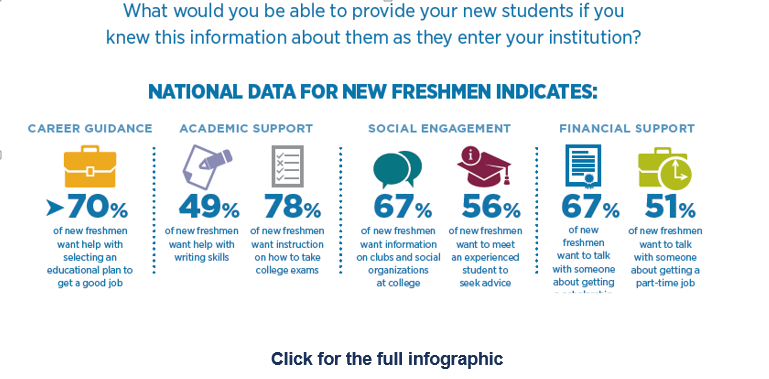 More than 400 colleges and universities use the 100-item RNL College Student Inventory to drive their early identification and early intervention strategies so they can increase retention and completion. This proven, early-alert assessment quickly spots trouble—and identifies each student's strengths—much earlier than most programs that are designed to flag at-risk students and sound off early alerts.
Example—how it works—a first-year named Sarah (not her real name)
With a 3.4 GPA in high school, first-year student Sarah didn't appear to be at risk, but even before her classes began, Sarah's advisor and student services team were alerted to a number of her motivational risks immediately following orientation when Sarah completed the RNL College Student Inventory, part of RNL Student Success.
Sarah's top 3 requests (of 25 possible)
I would like to talk with a counselor about my general attitude toward school.
I would like some training to improve my reading skills.
I would like some help selecting an educational plan that will prepare me to get a good job.
In response, Sarah's institution took appropriate steps to intervene to keep her on track to graduation.
Learn how to better serve each individual adult learner, traditional-age learner, and other groups
Using 20-minute assessments, your advisors and student services teams will be equipped to:
Move beyond mid-term appraisals and exit interviews.
Understand how to provide better, more individualized service from day one that connects with each incoming learner.
Learn what motivates each individual student and which services they are most receptive to.
Download a sample survey today
See a sample of the College Student Inventory (CSI) and learn how to improve your students' success, increase retention, and raise graduation rates by utilizing the CSI.
Questions? Request a personal consultation to discuss your early-alert and intervention strategy with an expert from Ruffalo Noel Levitz.