enrollment
How Higher Education Can Lead Ahead of the Change: A Discussion With Susan Aldridge
Over the course of the last year, an increasing number of people have asked me what data I have about the increasing demand for non-degree credentials and offerings. Recent data from National Student Clearinghouse indicate that the largest gains in both of the "pandemic semesters" (fall 2020/spring 2021) have been among graduate certificates, post-baccalaureate certificates, and undergraduate certificates—and this doesn't even document other micro-credentials.
The inquiries (and the trends) are driven by the increasing demand for upskilling and reskilling happening in nearly every industry finally reaching our institutions. There is currently a great void in the traditional data sources we use to help institutions understand market demand (but we are working on that now), so I reached out to Dr. Susan Aldridge for help. Susan has spent her career leading institutions focused on meeting the needs of the workforce—at Troy University, University of Maryland Global Campus, and Drexel University Online—and has written extensively on the issue of reskilling/upskilling in the last few years.
I asked Susan if she'd be willing to write a white paper not only about the intricate relationship between the employer talent shortage and the millions of Americans who lack the skills employers need, but also what higher education institutions are doing well to address these issues. While the paper addresses all of these issues, our interview (see below) presents even more examples of how institutions are successfully confronting this challenge.
Watch my conversation with Susan Aldridge in this episode of RNL@Home.
Here are some of the examples we talk about in our conversation:
Metropolitan State University Denver, New Skills Lab is offering free virtual training in growth fields.Participants only need to provide name and email to begin the course at any time.Regional market research identified four industries needing more qualified workers, which became skills focus areas: data science, e-commerce, health and human services, IT and cybersecurity.The courses are short, on-line labs of about 10 hours.Upon completion, students receive a digital badge.
Coding Boot Camps: Fifteen universities are now offering coding boot camps. These include University of Minnesota, Vanderbilt University, University of Wisconsin at Madison, Yale, and Dominican University to name a few. Many of these are being produced in partnership with providers outside the traditional higher education sector.
SUNY Albany has created a set of digital badges that students can earn within their degree programs in a variety of technology-related areas such as Tableau and other software packages.
Sacred Heart University in Connecticut has created certificates in radiology, CT, ultrasound, MRI technician training, training for certified nurse assistants, and (capitalizing on the regional interest in micro-brewing) a certificate in beer brewing science.
SUNY Ulster created microcredentials in computer game design, a topic that has gained increasing interest in recent years, but by starting with a micro-credential the university can make a smaller initial investment.
University of Montana has added job training in cybersecurity, data marketing, data science, and digital marketing for its bachelor's students. The university is also marketing this training to its alumni.
A few years ago, Drexel University College of Nursing and Health Professions launched an accelerated nursing program for bachelor's degree holders returning to school for a BSN degree which could be completed in 11 months of full time study.
Many years ago, University of Maryland Global Campus launched the first Cybersecurity master's program. Before the curriculum was finalized it was reviewed by a group of some of the most important leaders in that "industry" – including Admiral Mike McConnell and Melissa Hathaway who wrote the Cybersecurity White Paper for the Obama administration. The idea was to ensure that the program was infused with the skills that industry leaders identified as the most important.
Read our white paper on the skills gap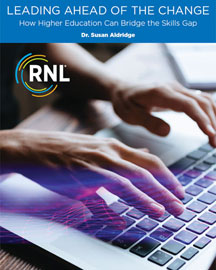 Read Leading Ahead of the Change: How Higher Education Can Bridge the Skills Gap. Authored by Dr. Susan Aldridge, this white paper looks at how campuses are addressing the need for upskilling and re-skilling through online certificate programs, micro-credentials, and other innovative solutions. Find ideas for how your institution can connect with the growing numbers of professionals looking to increase their skills and meet the demands of today's workforce.
---