enrollment
Early Data Point Toward More Graduate Enrollment Growth
The first spring 2021 enrollment snapshot from National Student Clearinghouse indicates strong growth (4.3 percent) in graduate enrollment. This compares with a decline of 4.5 percent at the undergraduate level. The report is the first in a series that the Clearinghouse initiated during the pandemic and reflects data from about 40 percent of institutions. I wanted to dive into this data and see what it tells us about graduate enrollment growth and opportunities for enrollment managers.
This RNL analysis of National Student Clearinghouse data compares spring 2021 data with spring 2020 (those data reflect pre-pandemic trends, having been reported in February 2020) and fall 2020 (reflecting the effects of the pandemic). All data compare year-over-year change for the semester profiled (e.g.: spring to spring, fall to fall).
Public institutions in the lead
When comparing graduate enrollment data by institution type, public institutions report spring-to-spring growth of 6.2 percent. This compares with 4 percent last fall and just 1.9 percent in the pre-pandemic data from spring 2020. As with past recessions, it is clear that challenging times continue to drive graduate students back to the classroom.
For-profit institutions also report considerable growth in spring 2020, although at lower rates than last fall. For-profits may have been an initial target of adults suddenly out of work (as they have been for decades), but in the longer term, most students prefer institutions they are more familiar with, and have more confidence in.
Finally, private nonprofit institutions report growth (1.5 percent) in the pandemic era after reporting modest declines (-0.9 percent) in the pre-pandemic spring 2020 data.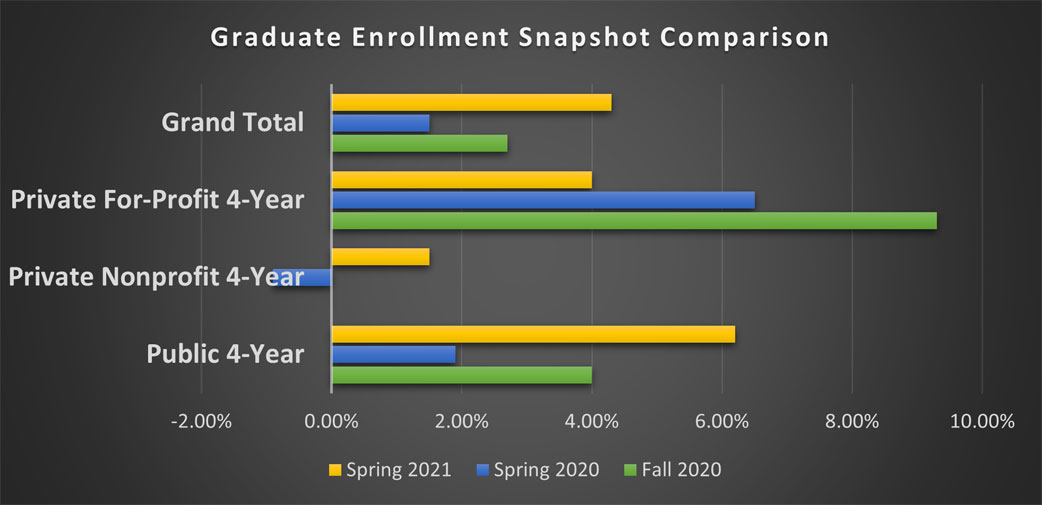 Non-degree credentials and master's are driving growth
While fall 2021 data illuminate the challenges for institutions relying on bachelor's programs—and even moreso associate degrees—to drive enrollment growth, those with a broader approach to enrollment planning are better off. Graduate certificates were growing prior to the pandemic (4.6 percent in spring 2020), but after a slight drop off in fall 2020 they are showing the strongest growth (15.4 percent) among all credential options this spring. Undergraduate certificates are also on the rise (3.3 percent). Note that post-baccalaruate certificates demonstrated strong growth in fall 2020 but data are not yet available for spring 2021. Finally, master's programs continue on a growth trajectory that began prior to the pandemic (1.6 percent in spring 2020), continued last fall (3.5 percent), and appear to be even stronger this spring (5.3 percent).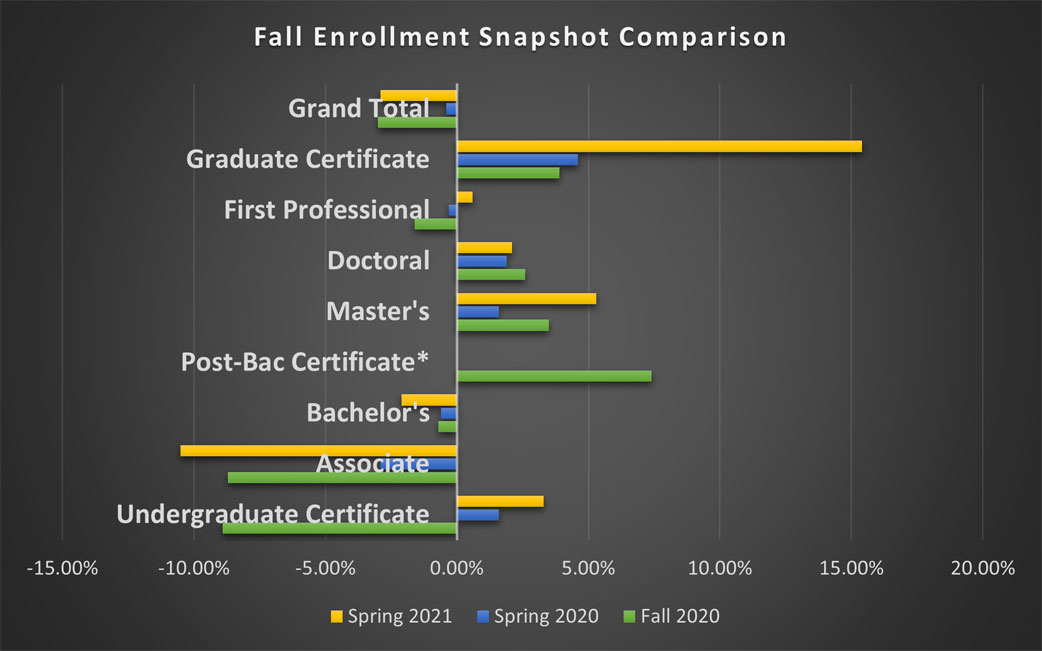 A recent RNL analysis of NCES data indicate that there are more institutions than ever seeking to serve graduate students (and online students) with incrementally more institutions each year reporting completions. This means that institutions must be savvier than they have ever been in attracting and serving these students. There are simply too many options for today's graduate and/or online students to "settle" for a program that does not match their interests/needs (the most important criteria cited by prospective graduate students in a recent RNL survey that will be released soon.)
All of this implies that institutions need to ensure that their programs match market demand, that precious marketing and outreach dollars are not spent on programs for which there is little or no interest, and that marketing and outreach initiatives reach their intended audience and engage them in ways that will advance their search process. RNL can help with all of this through its new full suite of services focused on graduate and online programs: RNL Enable. I also invite you to schedule a time to talk with our graduate and online experts about finding the enrollment strategies that work for your institution.
Transform your success with graduate and online enrollment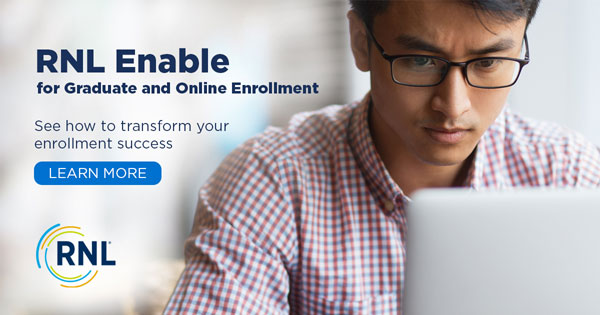 Find out how RNL Enable can support your graduate and online enrollment across the student lifecycle:
Strategy and Market Research
Teaching and Learning
Lead Generation and Conversion
Student Success and Completion
---