enrollment
Enrollment Management and the Experience Economy: Why You Need to Experience the RNL Senior Leadership Forum
How many times over the past 12 months did Amazon make a recommendation of what you should buy next? How much of your Netflix streaming has been prompted by the recommendations or "you might also like" suggestions? When you needed a boost of energy and a coffee break to combat Zoom fatigue and made a quick trip to Starbucks, how easy was it to get your customized beverage?
These brands and others, while delivering goods and services are delivering more—experiences.
It's all about experiences
Goods are tangible, services are intangible, but experiences are memorable. There is an art and science in crafting experiences; mass customization/personalization, emotional engagement, sensory engagement, storytelling, memorabilia, and creating and providing the toolkit to allow customers to create their own, stories, memories, and experiences.
Fortunately, there is a "textbook" on the theory the experience economy and best practices in creating them, The Experience Economy: Competing for Time, Attention, and Money (Harvard Business School Press) co-authored by my friend Jim Gilmore, who is also the keynote speaker at this month's RNL Senior Leadership Forum.
Time is the currency of experiences, and while the pandemic set-back destination experiences, travel, hospitality, and place-based education, it also launched advancements and new ways to deliver experiences. As we come out of the pandemic there is a "wild west" ahead of for how and where we will spend our time.
Time is at the core of the higher ed market. We want students (and their parents/families) to spend time with us a prospects, then as enrolled students, and as engaged alumni for the rest of their lives. So while you are an educator and administrator, as a higher education leader in the 21st century you are also a chief experience officer whether you are a president, provost, chief marketing officer, chief enrollment officer, chief advancement officer, or even a chief technology or chief financial officer.
Higher ed has always been a part of the experience economy
Before Disneyland, Starbucks, Build-a-Bear, Amazon, Apple and other award-winning experience stagers, higher education has been in the experience economy since 1008 when the world's first university, University of Bologna, Italy was founded.
Fast forward to now.
"I visited campus and it just felt right." That is the overall most common answer I've heard over the years when working with 10,000+ tour guides/ambassadors when asking, "Why did you choose to attend this school?"
And while the pandemic closed campuses and crashed the campus tour, we pivoted to virtual, remote and online visit experiences of all types. As we exit out of the pandemic, we'll be hosting both online and on-campus campus visits of all types, with technology in the background (just like Amazon, Netflix, and Starbuck) in crafting this post-pandemic experience.
But that experience starts at your website and continues through your marketing, social media, and every touch point that reveals your brand. Remember a brand is a promise of the experience your college or university delivers. However, your brand isn't owned by you—it is owned by your constituents. They define your brand.
Let's talk about those constituents. Traditional students are now in the meaty middle of Gen Z with predominantly Gen X parents. But there are less of them than their older siblings of the Millennial generation (remember those good old days of 1995-2010 when there were more students graduating from college then the year before?) Layer on their lack of trust and decreasing perceived value of higher education and this is a tough sell (our research shows 1 in 4 first-year students question whether college is worth the time, money, and effort). They are tech-savvy, connected, and they search for your institution in stealth ways without letting you know they are interested in you—but then when they do connect with you, they expect that you should know everything you need to know about them already.
You see, this group isn't just comparing you to other colleges and universities, they are comparing you to all the brands that stage experiences and ask for their time and money. Gen Z also doesn't delineate between online and in-person experiences. They are all one-in-the-same, and each should support the other and connect seamlessly.
Adult and graduate students are also predominantly Millennials, and after educating them as undergrads we need to learn from what connects with them: technology, mission/values, teamwork, and mentoring. The pandemic has proven that technology, connectivity, apps, and screens can now deliver these transformative experiences.
There is a post-pandemic future ahead with opportunities to keep the best of the past but forge new experiences to recruit, retain, and engage students/graduates. It is both now and next.
Dive into the Experience Economy at our online experience: The RNL Senior Leadership Forum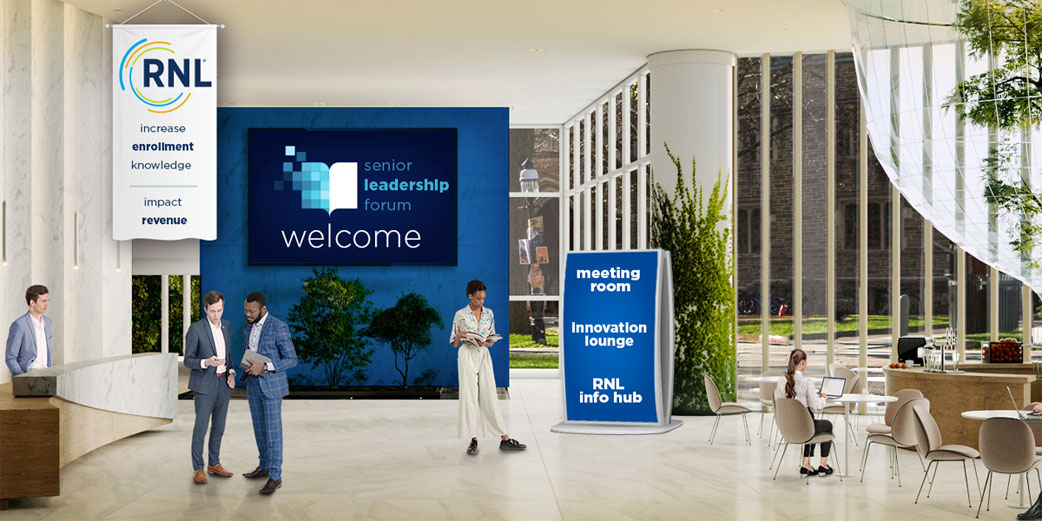 I'm inviting you and your cabinet colleagues to attend the April 21 RNL Senior Leadership Forum to help you develop an action plan for this future.
This virtual experience will start with high level thinking about the kinds of issues I just discussed.
We'll then shift to various strategies to impact enrollment and revenue.
Finally, you'll have a capstone, guided session to develop the action plan and tactics for both now and next.
Already hundreds of other higher education leaders have chosen to register for this one-of-a-kind, fast and furious forum designed for forward thinking leaders like you. And as I mentioned, Jim Gilmore, the man who literally wrote the book on the Experience Economy, will be our keynote.
Sign up today and join us on April 21. It will be a worthwhile experience.
---