enrollment
Educating the Next-Generation Workforce: Insights From Dr. Susan Aldridge on Online, Adult, and Re-Skilling Students
Scott Jeffe
Vice President, Research (Graduate and Online)
June 26, 2020
A few years ago, I was sitting in a conference session listening to Dr. Susan Aldridge talk about how important it is for institutions to continuously adapt to the evolving needs of students. She described all the ways that she had infused market data—gathered from prospective and enrolled students, from regional employers, from other market drivers—into decision making about strategic enrollment planning. She made it all not only vital, but obvious (if not easy to do)!
In her presentation, she went on to say that she believes we need to rethink the concept of lifelong learning. First, she said we need to redefine what this means in an economy where professionals will be re-/upskilling more regularly than ever before.
Second, we need to add an additional concept in these highly competitive times: lifelong relationships. What she meant was that we need to do all we can to create a lifelong relationship with our students, so that each time they are in need of additional education and training, they think of us first. They will only come back if what you have to offer is relevant, convenient, and of a quality that they know through experience. In a matter of minutes, she gave new life to an old expression.
Watch our RNL@Home video interview with Dr. Aldridge previewing her RNL National Conference presentation
.
Dr. Aldridge has spent her career championing the needs of adult undergraduate, graduate, and online students, and this focus on data served her well. She recently retired as president of Drexel University Online, where she expanded and oversaw the university's virtual presence with more than 100 online programs and over 9,000 online students. During her six-year tenure as president of the University of Maryland University College (UMUC), she doubled the university's enrollment to 97,000—to become the nation's largest public university. Prior to that, she served 10 years at Troy University in Alabama, leaving as vice chancellor for the Global Campus where she managed online programs and negotiated contracts for and managed satellite campuses in 12 countries and 17 U.S. states.
When I came upon her recent white paper, Educating the Next Generation Workforce, I knew that she had to be a cornerstone of the new graduate and online track at the virtual RNL National Conference. In that paper, Susan wrote:
"…it has become crucial for higher education to evolve, to ensure that their students are leaving with the knowledge, skillsets, and experiences necessary to meet the needs and expectations of today's employers."
Dr. Susan Aldridge joins us at the virtual RNL National Conference to share online student recruitment best practices
Dr. Aldridge will give a presentation built around these themes that would speak to the priorities of the enrollment and marketing leadership that attend the conference. Some key takeaways from her upcoming presentation are:
Institutions need to constantly track the emerging demands of employers—often focused on new technologies—and incorporate appropriate skills into existing programs and build new ones that match the new needs.
There is a huge market emerging for up-/re-skilling workers. In the next five years, more than half us will need some form of education in order to remain employable. The institutions that can adapt quickly to serve this market will be those that benefit from this opportunity.
Online and other technology-enhanced programs and courses likely provide the best opportunity today for attracting this emerging market of Americans in need of new skills and competencies.
Think about how your institution can educate while students are working. The ability for students to show value to their current employer and career while pursuing new skills is crucial.
Shift to a focus on being the lifetime learning partner for your students. Just granting one degree is too limited a view: students want long term value for their investment and will return if they are engaged well.
The challenging time we are in with a global health crisis presents opportunities for institutions to step up. We're all serving and supporting students at a distance. Think about what you've learned during this time that has made systems more efficient and flexible, and apply it for all students when we're back together again.
Explore educating the next-generation workforce at the RNL National Conference
Register today for the virtual RNL National Conference to see Dr. Susan Aldridge's presentation, and join hundreds of colleagues for this action-packed virtual event.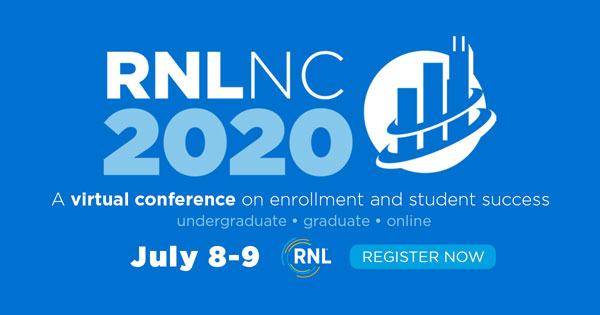 ---