enrollment
Diversifying Your Prospective Student Name Sources to Strengthen Your Enrollment Outcomes

The pandemic accelerated several factors that enrollment leaders have anticipated for some time: the coming demographic cliff, the change in the assessment landscape, and the proliferation of different learning modalities. We now find ourselves recruiting from a smaller pool of students who are less likely to have taken the SAT or ACT and whose approach to post-secondary education has been changed fundamentally by COVID.
The institutions I see thriving are those embracing this acceleration. They're adapting their plans and processes (both short- and long-term) and meeting students where they are from the very start of their search process. They succeed by pursuing depth and breadth as well as balancing curation and control. Our goal should be to supplement current efforts with intentional, incremental changes, rather than to supplant the current process entirely. A full-funnel engagement should be iterative and expansive, focused on achieving goals instead of chasing tools (no shiny-objects or magic bullets). In teaching and learning, this may mean making investments in hybrid and online classroom models; in student recruitment, it's about diversifying name sources, then engaging students and parents with omnichannel outreach.
Diverse name sources open doors to connecting with diverse students
While test-optional policies have increased monumentally over the last two years, many students (as well as colleges and universities) continue to find value in college-readiness assessments. For them, the SAT and ACT remain a vital component of their college admission process: their connection to higher ed through search remains a fantastic way to build relationships. In addition, the testing agencies continue to provide additional avenues for students to enter the search pool. Although the number of students may have declined from its zenith, enthusiastic students licensed from the testing agencies will most likely remain a large, qualified part of your campus's student search efforts for years to come.
However, we must seek out a breadth of other sources to supplement that pool of prospective college students. We're not simply trying to widen the funnel, but to identify unique prospective students based on a best-fit approach. Diverse sources open doors to connecting with diverse students, allowing us to grow in primary markets and expand into new markets—which is more important than ever with a shrinking population.
Diversify your channels to reach prospective college students where they are
After diversifying list sources, diversifying outreach channels is the next priority. Research shows that students unlock their phones 79 times a day. As digital natives in a digital world, they expect colleges and universities to navigate online spaces as effortlessly as they do. Oftentimes, this requires us to release some of the control of the communication process in favor of curating the conversation.
There's a strange paradox among this generation of students. At once, they are both extremely savvy about maintaining their privacy while simultaneously dismayed if the communication they receive isn't attuned to their interests, attitudes, and needs. Even though they may not fill out an inquiry card or scan a QR code at a college fair, they expect us to send them customized, personalized messages and to support them in cultivating relationships throughout the recruitment and admission process.
With all of this in mind, colleges and universities would be wise to continue to engage in traditional outreach (e.g., emails, postcards, and letters), particularly as we seek to connect with parents and families. In addition, however, we must maintain a social media presence, explore digital ad opportunities, engage in calling and texting, and optimize our websites. You have to be ready to engage students whether they click your link to schedule their appointment or fine you through Siri or Alexa instead. (Here's one example of how one campus created an award-winning omnichannel campaign.)
Embrace acceleration to move from anxiety to anticipation
Institutions that diversify sources and channels, curate more than they control the conversation, and embrace the acceleration will find themselves moving from anxiety to anticipation in the coming years. Building relationships early with best-fit students fortifies your connection throughout the funnel and leads to better recruitment, stronger applications, tighter yield, more robust retention, and stronger enrollment outcomes.
RNL runs an Innovation Lab with experts focused on identifying new student prospect sources, employing our leading predictive models, and connecting colleges and universities with best-fit students across all media. We invite you to connect with us to talk more about your campus' unique needs and how we can support your work.
How can you grow, diversify, and strengthen your prospective student pool?
Join us for a 30-minute webinar to learn how you can draw from a network of 4 million prospective students for your search efforts. You'll find out how you can get a jump on your competitors and increase your yield and ROI from search.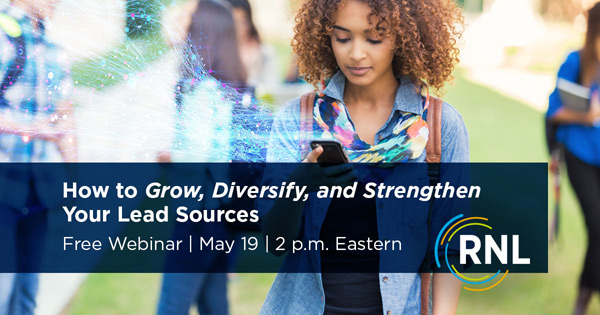 ---