enrollment
Creating Student Recruitment Messaging Across Channels
With information at their fingertips and a world that's always connected, today's students expect instant gratification and personalization when it comes to their college search. They want more specific content, geared toward their specific interests, delivered through the channels they are using. The most successful institutions embrace a radically different approach to student recruitment messaging that meets this generation on their terms—where they are, when they are there.
Content and messaging helps students to understand your key differentiating factors for your institution, what the programs will be like, and what post-graduate success looks like. It's critical to take the time to get messaging right, both by segmented target audience and by digital channel.
To best understand how to create messaging that resonates throughout multiple digital channels, it is important to first understand the consumer behavior funnel. The funnel can be broken into three sections: awareness, questioning, and inquiry.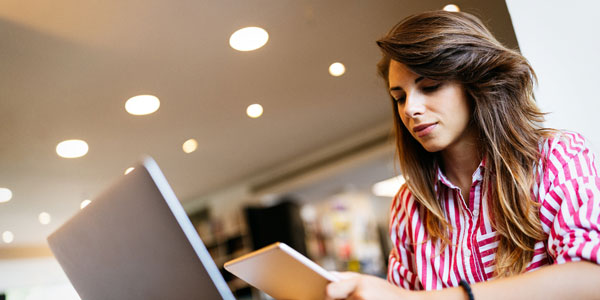 The Awareness Stage: Differentiating your institution from the competition

At the top of the funnel, the awareness stage is where you have your greatest number of prospective students, but also have students who are furthest from making an application decision. Some may not even know your institution or which programs can help them with their long-term career goals. Given that, you want to use display ads and social media ads to design a tailored digital marketing strategy that places your brand, at the right time, in front of prospective students to build awareness and trust—and ultimately keep your brand visible.
This is your opportunity to differentiate your institution and your programs. Tell students what they don't already know and keep it short, simple, and focused. In most instances, you have eight seconds to make an impression.
Because you are building awareness, your call to action should not immediately jump to APPLY NOW. Your imagery shouldn't be campus focused vs graduation focused; and your landing pages should bring them to a mobile-friendly, quick-hit information page with the opportunity to fill out a short lead form to get more information.
Channels such as Google Display Network, Facebook, Instagram, LinkedIn, and Twitter should be used to promote your brand, build awareness, increase visibility, and amplify interest for your institution and its programs. Think reputation, think specifics of the program, think about your standout differentiators: top ranked, fully online, best value.
The Questioning Stage: Increasing engagement by meeting student expectations

Students at this stage may now be aware of your institution, your programs, and programs benefits, yet they are still gathering details and information to decide which institution and program will be fit their specific needs and goals. They are closer to making an application decision, so think through what students are searching for in order to implement a strong search engine marketing strategy. You want to think about implementing retargeting for those that have visited your site and engaged previously, and you want to think about how you use social media and video to engage with students. (These are all things we do with clients using the RNL Demand Builder solution.)
Searching for an institution or program shows an intent to learn more and possibly apply. Therefore it is imperative to ensure that your campus and programs appear at the top of key search results. In comparison to optimizing your website to appear in the organic search results, Search Engine Marketing, or SEM, allows you to appear in the top promoted positions on search results based on bidding on keywords and phrases that are relevant to your brand or programs.
Students who search for your institution or program want to learn more and ensure what you have to offer meets their expectations. Though the information must be easy to find and easy to digest, providing details to the top questions is imperative as students compare their options. They will be looking for answer to questions like:
What does this institution or program mean for me?
What are the post-grad employment options?
How long will it take me to graduate?
How much will I pay?
Put yourself in the shoes of these students when you provide content for the answers: career options, average salaries, position demand, tuition and fees, time commitments, and so on.
The Inquiry Stage: Nurturing leads toward application

At this stage, students that are doing more research on your website are the closest to making an application decision. Leads driven from these channels will have the highest conversions. Given that, you should create an optimized website experience and strong lead nurturing strategy to drive the inquiry pool. Search Engine Optimization, or SEO, plays an important part in making sure you have success in this area.
Your webpage is your connection to students. When you are creating content for your landing pages, address these factors as they both engage students and contribute to your SEO strategy:
Focus on program benefits and outcomes
Include relevant search concepts and phrases
Optimize headings, subheadings, title tag and image tags
Create compelling meta description
Have visible and easy to understand calls to action.
Again, a different set of questions come from students that have already become aware, already considered, and are now ready to inquire. Students that this stage in the funnel and reach your website will have these have questions: How to apply? When are things due? When will I start? Who can I talk to? Think specifics; think deadlines; think processes; and think about engaging directly with the student. Ultimately, understanding how students think throughout their educational exploration will help to maximize impact while minimizing costs.
Talk with us about your student recruitment messaging strategies

What are the best ways you can engage more students as they learn more about your institution and make an application decision? RNL works with hundreds of campuses a year addressing those very challenges.
Let's talk about engagement strategies that will work with your prospective students. Ask for a consultation with our enrollment experts.
---