enrollment
Try It, You'll Like It: College Faculty Increasingly Embracing Online Learning
A 1972 Alka Selter commercial—often confused with a 1980's commercial for Life cereal starring "Mikey"—posited that if you "try it, you'll like it." I was reminded of this catch phrase last week when I read a new report that indicated that in just four months the proportion of faculty who rate online education as "an effective method for teaching" rose 10 percent—meaning that almost half of faculty now think of online learning as a valid form of instruction.

This reminded me of the 2019 edition of an annual report produced by Inside Higher Ed and Gallup (which has not yet been updated for 2020), which includes a table showing the ever-increasing penetration of online instruction at our colleges and universities. As of fall 2019, 46 percent of faculty reported having taught an online course. (One can only imagine how that line will rise sharply in the 2020 edition.) The 2019 report also documented that while 55 percent of faculty who have taught online courses agreed or strongly agreed that "online courses can achieve student learning outcomes that are at least equivalent to those of in-person courses," only 24 percent of faculty who had not taught an online class similarly agreed. Across all faculty, 38 percent agreed or strongly agreed with that statement.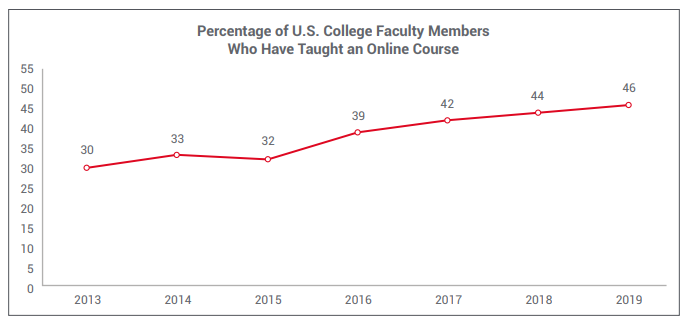 While in my experience faculty attitudes lag behind some ongoing trends, I have no doubt that the increased acceptance of online that the Tynton Partners survey documented and the data reported in the 2019 IHE/Gallop survey are near-perfect examples of "try it, you'll like it." Many years ago I worked with a college president who incentivized each faculty member who agreed to teach an online course. When she sought the funds from her board, she indicated that her strategy for expanding the availability of this innovative educational format was—you guessed it—try it, you'll like it.
Survey after survey conducted this spring documented the dissatisfaction of students with their hastily assembled remote learning experiences last spring. This is no surprise, since this was not what a vast swathe of students "signed up for." It has been challenging to see if there were any differences by student populations given that I have not found a survey that focused on any population other than traditional undergraduates. This is unfortunate, given that a 2017 ACE study (Post-Traditional Learners Manifesto Revisited) documented that they comprise only about one-third of all undergraduates today (far more fall into the "post-traditional" category of students of any age who are not enrolled full-time, on-campus, in day courses.)
When RNL polled graduate, online, and adult enrollment leaders this summer, their insights more likely reflect the attitudes of these student populations. Almost 60 percent of our respondents thought that the increased exposure to remote/online learning caused by the pandemic would increase interest in online education among students in these populations.

Neither our poll nor any other that I could find can definitively document the attitudes of adult and graduate students about online education in the wake of the pandemic, but what is clear is that despite students' disappointment with remote learning, they are turning to online education in numbers larger than ever. Simpson Scarborough has been documenting the attitudes of the one-third of the student who are "traditional" assiduously, and the findings of their August 2020 student survey indicate that only 17 percent wanted to return to fully classroom study in the fall of 2020. Thirty percent wanted to stay home and take online courses, and 41 percent wanted to return to campus but take online courses.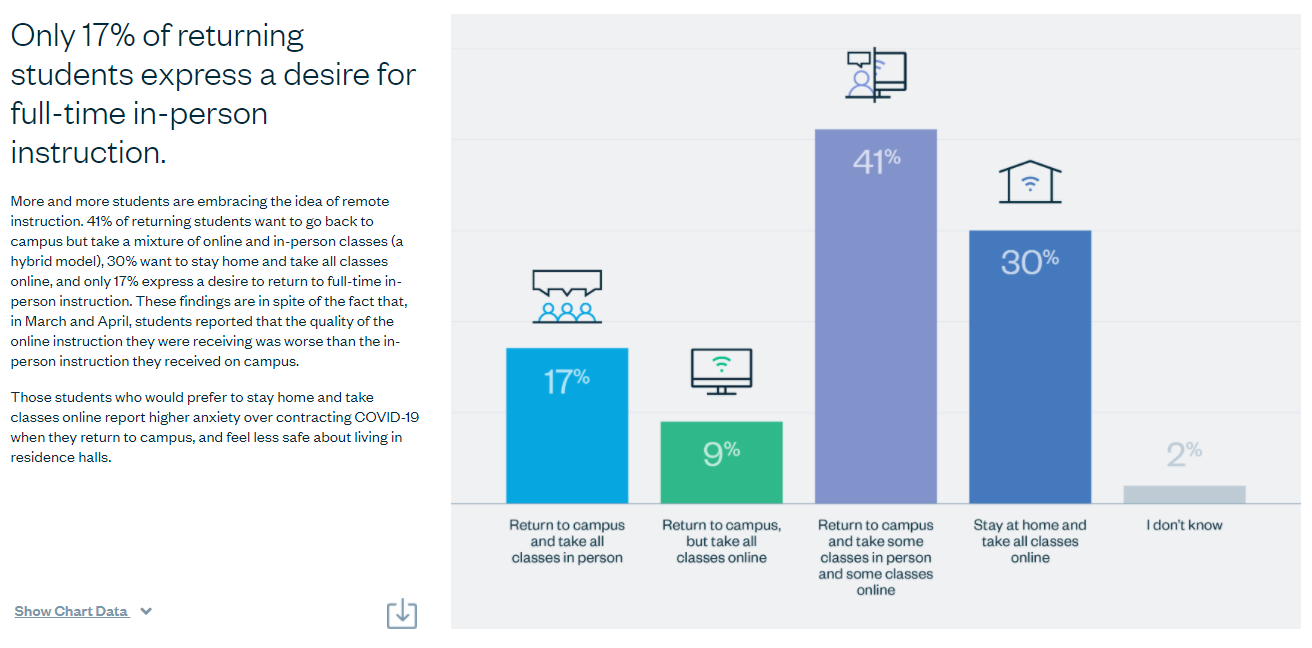 Although this doesn't signify that they like the format, it is a strong endorsement of the format and helps to explain why enrollment was down only 4 percent in total. These incoming freshman—who have not tried it—decided in larger numbers to take a year off (resulting in first-year enrollment being down more than 15 percent), but retention of returning students—despite all the disappointment and complications—was quite strong. In survey findings in 6-12 months, we may just see that my original premise holds: if they try it they'll like it.
Dive into our discussion of online learning in this RNL@Home
I discussed online learning with my colleagues Dr. Aaron Mahl and Brian Gawor in this episode of RNL@Home. We had a very detailed discussion of these survey results as well as online enrollment strategies for the post-pandemic higher ed environment.
Talk with our graduate and online enrollment experts
Ask for a free consultation with us. We'll help you assess your market and develop the optimal strategies for your prospective graduate students and online learners.
---