enrollment
5 key findings about college-bound high school students from the 2018 E-Expectations Trend Report
College-bound high school students have more ways than ever to learn about an institution. They can find out about any institution at any time with a few terms in a search box. They also have growing expectations of personalization and gathering information on their own terms in whichever sequence they choose. This means campuses have to be prepared to meet these expectations regardless of how or when college-bound high school students gather information during their college research process. It requires a robust digital presence where all of those pieces are aligned and focused on delivering a dynamic, engaging experience to students.
The 2018 E-Expectations® Trend Report from Ruffalo Noel Levitz and OmniUpdate dives into this topic in great detail—you can download the full report now. Here are five key findings from this year's study.
1) Students value resources across multiple channels
We asked students to rank the information resources that they use to support their college search. They had a wide range of digital, print, written, and video resources:

As you can see, college-bound high school students use a wide variety of resources in their research. Relying on a print piece, a web page, or an email message to get your point across is ineffective, you need all of your resources and channels to work together.
2) Cost calculators are more valuable than ever to college-bound high school students
The cost of college is a hot-button issue that gets more intense with each annual increase. Tuition information is the first thing prospective students look for on college websites. Our study shows that juniors and seniors rank cost calculators as essential to their search. Seniors actually rated cost calculators as their most valuable resource, even above websites.
It's also important for cost calculators to be mobile responsive. One in three college-bound high school students have completed a cost calculator on a mobile device.
They need to be fully customized so students can see all the available aid they have. One of the respondents summed this up very well: "I like seeing the net price calculator, but a lot of them are ranges and never include scholarships like the more prestigious President's or related scholarships."
3) Paid digital ads are on the rise and a great way to engage students
Two-thirds of students said they had seen a digital ad online. More encouragingly, 41 percent of seniors and 45 percent of juniors have clicked on an ad.

These digital ads don't just produce clicks, they also drive awareness, allow campuses to feature offers, and deliver more concise messaging.
4) Not having enough information is the biggest website frustration for students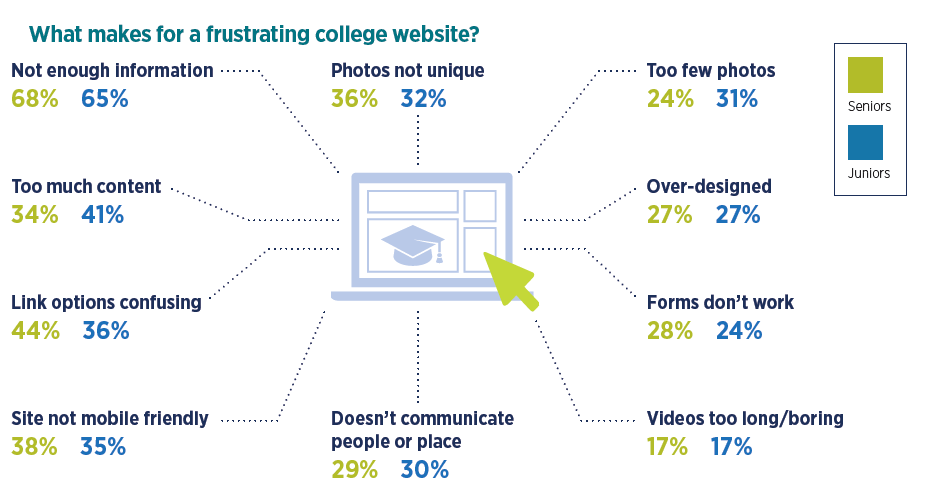 You will never be able to please all students all the time. But when asked what frustrated them the most about college websites, two-thirds of our respondents said not having enough information. As shown in the first takeaway about resources, college-bound high school students lean heavily on college websites. They rely on the sites to provide the information they need. Be sure that students can find clear, concise information on academic programs, cost and financial aid, housing, and other key concerns.
Concise is the key, because students also do not want too much content. Don't bury information in paragraphs or have web pages that are overly text heavy. Present the key information as cleanly as possible in just the right amount to answer students' needs.
5) Students watch videos to get a flavor for a campus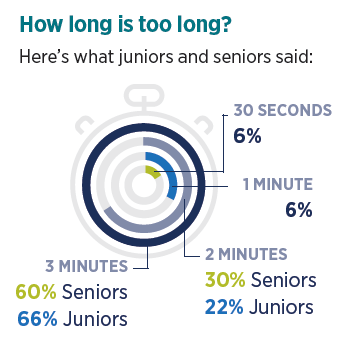 Three out of four seniors and 57 percent of juniors said they have watched a college website video. Their top three topics for videos were:
Current student experience (59% seniors and juniors)
Campus sights, sounds, and environs (55% seniors, 58% juniors)
Campus activities (54% seniors, 57% juniors)
As for length, students said to keep it short. Six out of ten said three minutes was too long, while nearly a third of seniors and a fifth of juniors felt two minutes was too long. Make sure that you keep videos concise and focused so that students will actually watch all the way through.
Read the complete E-Expectations Report
The 2018 E-Expectations Trend Report dives into a wide range of topics, including:
Web search and web experience
Social media preferences
Campus visits, virtual tours, and VR videos
Request for information forms
Email usage and receptivity
Texting
Download the 2018 E-Expectations Trend Report
For insights into parents, check out this post about the 2017 E-Expectations study.