enrollment
"Be Nimble, Be Quick": Winning in a Competitive Enrollment Environment
Findings from a recent RNL survey of almost 250 academic and enrollment leaders made me think of the children's nursery rhyme "Jack be nimble, Jack be quick, Jack jump over the candlestick." In order to successfully address each of the three most pressing core challenges in today's online and graduate enrollment environment, institutions need to be more nimble, more flexible, and move more quickly to get them out of the fire.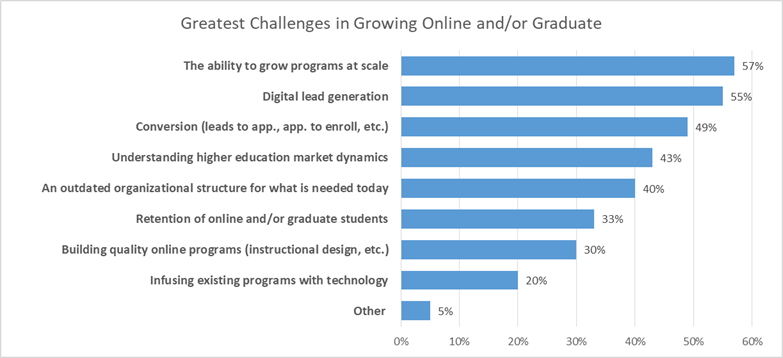 When you add in that almost half indicate they need a more complete understanding of the current market dynamics in higher education and 40 percent indicate that they are cognizant that their organizational structure is likely outdated for what is needed today, it is apparent that these are clear-eyed leaders who know what needs to be done in these highly challenging times.
Be nimble: making profound changes during the pandemic
Nimbleness is likely the key to all of it. How quickly can our institutions make deep and long-lasting change happen? For decades we heard about the challenges of getting the academe to move quickly, but then all of that conventional wisdom was turned on its head by the pandemic. We saw change happen overnight. Some was piecemeal, but in many cases it was profound and permanent.
Another piece of conventional wisdom was also borne out in our recent survey. The vast majority (89 percent) of the survey respondents indicated that they will focus on online graduate programs as a way to make up real and anticipated losses to traditional undergraduate enrollment, while more than half also included classroom graduate programs. This has long been an area—particularly at the master's level—that institutions have been able to be more experimental and entrepreneurial. Institutions as diverse as Boston University to East Carolina University have demonstrated real innovation at the graduate level over the last year (or more).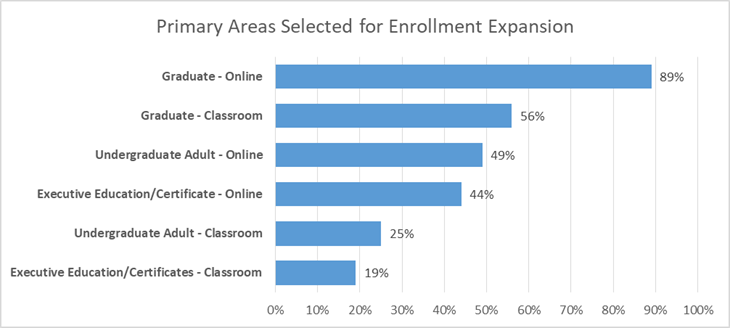 A growing number of institutions are also focusing efforts on the executive education/certificate level (particularly if categorized as "non-credit), which is often less hamstrung by academic processes and procedures. As Gen Z makes its increasing impact on higher education—with a greater acceptance of alternative forms of learning on YouTube, in MOOCs, and in boot camps combined with their greater skepticism about the value of a college degree—institutions that successfully compete with providers outside the education space for these non-degree credentials will benefit.
Be quick: the new timing of digital marketing
In order to prosper in online and graduate enrollment environment of the post-pandemic era, we need to have more serious conversations about being "quick." Triumphing in the digital marketing space AND converting more leads to enrolled students both require a new kind of timing as well as a willingness to experiment with things that are outside the norm in our higher ed world.
Digital marketing is a dynamic space. Because results can be tracked and reported nearly in real time, institutions need to analyze their metrics and then be willing to drop what doesn't work while trying more of what does—quickly and seamlessly. Being data driven without a will to also be experimental has made many institutions spin their wheels.
Converting leads to enrolled students has a more obvious linkage to speed. The sooner each response or decision can be made by the institution, the fewer prospective students will fall out of the funnel—increasing ROI because fewer will have to be replaced through costly marketing efforts. A friend of mine recently recounted that at one institution it took more than 80 days to move a student from inquiry to (just) acceptance. Stakeholders firmly believed that every step in that 80-day journey was necessary. When the strategic imperative became "speed," that process shrank to fewer than 20 days and enrollment went through the roof. That only happens when everyone on the team is committed, and that type of commitment is often borne of enrollment decline.
Jump out of the fire: embracing the new reality of online expansion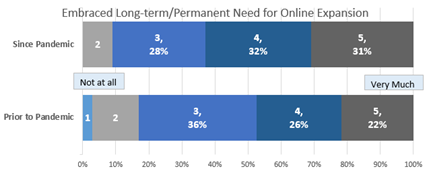 There is still a perception gap at many institutions about what will need to happen over the next several years to ensure that our institutions survive for another 100 years. We asked survey respondents to assess the extent to which their leadership had accepted the long-term/ permanent need to embrace online education—both before and after the pandemic hit. While we were pleased to see that the percentage that strongly embraced this reality had grown from 46 to 63 percent, almost one-third of institutions still have not. I cannot help thinking is that it is the 54 percent of institutions that had not embraced the reality of online education prior to the pandemic that had the hardest time last spring and fall.
How can you be ready for this online and graduate enrollment environment?
This is precisely what my colleagues and are doing with our comprehensive set of online and graduate enrollment solutions. We work with institutions to uncover the market data that inform program and marketing choices, create compelling digital marketing using that data, and ensure that institutional recruitment and enrollment processes move with the speed and personalization that all of us expect in the digital age.
We can do that for you was well. Reach out and we can schedule a complimentary consultation. We'll share what's working for other online and graduate programs so you can see how you can be more nimble, more quick, and more than ready for this increasingly competitive market.
What are your best enrollment strategies for graduate students?
Our graduate enrollment experts can help you take a data-driven approach to optimizing your enrollment. Let's talk about how you can exceed your goals and position your programs more competitively in the market.
---