enrollment
Are You Adequately Focusing on Social Media?
We have all witnessed a steady rise in digital connections across every industry and age group since the pandemic began. As we have come to see ordering groceries online, streaming our favorite TV shows, and video chatting with relatives as commonplace, it makes sense that everyone—from the kindergartners experiencing online learning to their grandparents taking a virtual tour of a vacation home—is becoming more comfortable initiating a connection and then doing furthering research online.
What does this mean for students considering graduate or online study and the institutions hoping to attract them? It means easy access to more programs (for the student) and more competition (for the institutions). Recent RNL research demonstrates that adults are taking advantage of the ease with which they can gather valuable information on programs of interest. Instead of focusing on one school that they are familiar with or is close to them, nearly three-quarters of graduate students are applying to multiple schools. This was simply not possible before the internet made this such an easy undertaking.
The savviest institutions are responding proactively. They are paying attention to these trends. In a 2020 RNL poll, graduate marketing leaders indicated that they were dedicating—on average—68 percent of their marketing budgets to on digital campaigns, with 48 percent spent specifically on digital advertising or social media. A 2021 survey of nearly 100 public and private institutions indicated that nearly 85 percent of institutions are including social media in their marketing efforts, 80 percent are including search engine optimization, and more than 70 percent are including online display ads.
On which digital media are adults spending their time?
We know that prospective graduate students are getting their earliest information about programs through digital platforms, but where exactly are they spending their time? ​
A 2022 RNL survey of 1,600 prospective online students indicates that almost 60 percent report social media sites as one of their earliest sources of information on online programs. This compares with 2021 research on prospective graduate students (considering any format of study) in which 64 percent ranked social media as among the most effective sources of program information. Other digital media also ranked high in both surveys (e.g., videos on YouTube, website ads) and digital methods surpassed the traditional forms of advertising like radio, television, printed material, and billboards.​
When asked to cite the social media platforms on which they saw information on either online programs (in the 2022 research) Facebook was the most common. In the 2021 graduate study, LinkedIn followed, while in the latest online study, YouTube was the next most frequent source.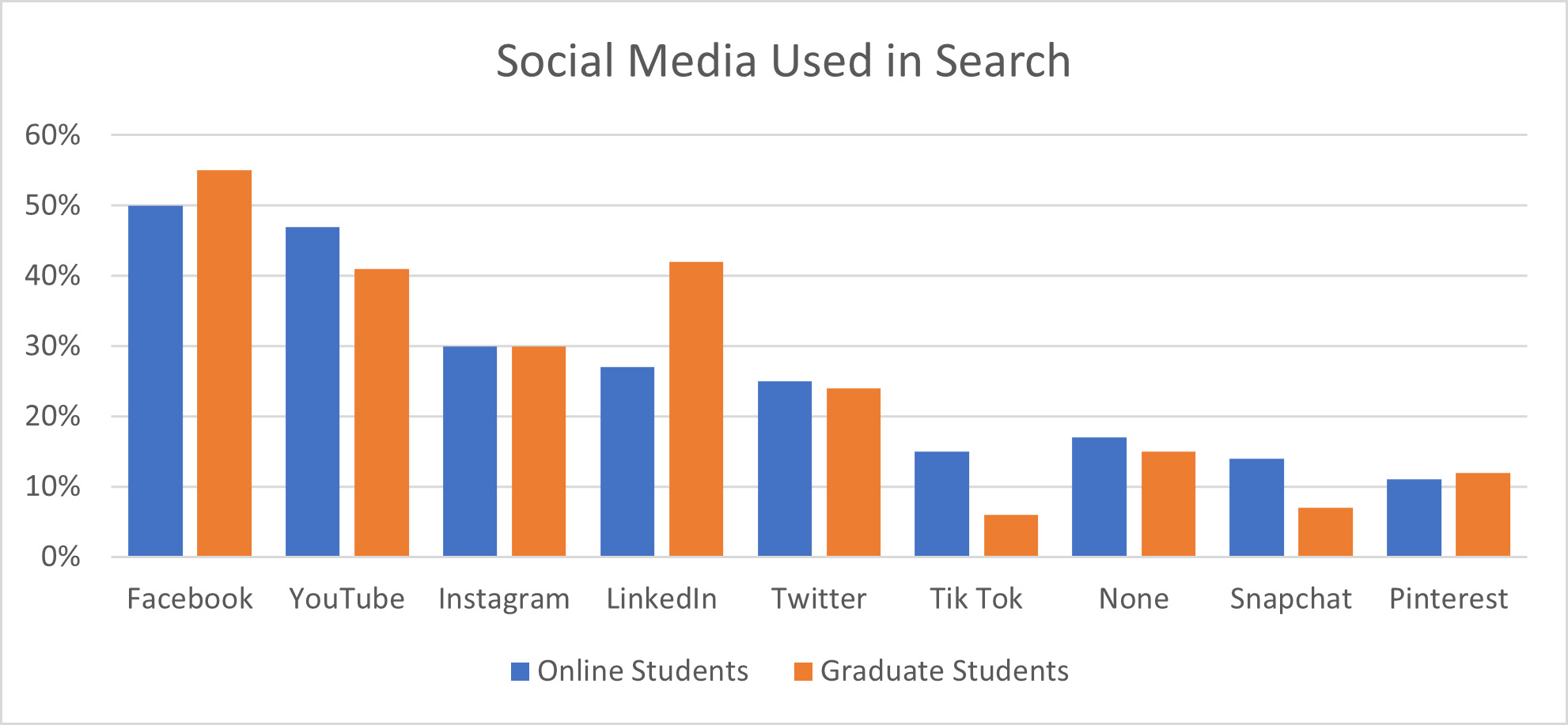 When we sought to learn more about how graduate and online students use social media platforms during their search, we also learned that digital advertising gets results: more than 70 percent clicking on digital ads for further information.
What content gets an adult learner to stop scrolling and engage?
The 2021 graduate research and the soon to be released online research are similar in their findings: nearly half of respondents watch videos on social media—and they prefer content focused on current students or successful graduates more than faculty talking about their programs. About one-third attended a livesteaming event, and they are least likely to sign up for a face-to-face event on a social media platform.  
It's natural to bring our own experiences with social media to the conversation about an institution's marketing efforts. If you have had a negative interaction with a brand online, you may worry about online engagement. That's why research like this should drive decision-making. And the research shows that prospective students are online and actively engaging when presented with information they see as valuable.
What's next for your institution?
Social media usage has risen significantly in recent years. Only about 20 percent of graduate or online students used social media to learn about colleges in 2018 (source: Aslanian Market Research) compared to 59 percent in 2022! Have you made a comparable adjustment to your approach to marketing adults?
Another important measurement is that our 2020 poll of graduate enrollment and marketing leaders indicated that almost one-quarter of all leads generated by graduate programs came from digital ads, and nearly every respondent indicated that their digital campaigns were anchored in social media. Knowing that more prospective students are responding to paid social media ads, is it time to revisit how your marketing budget is allocated?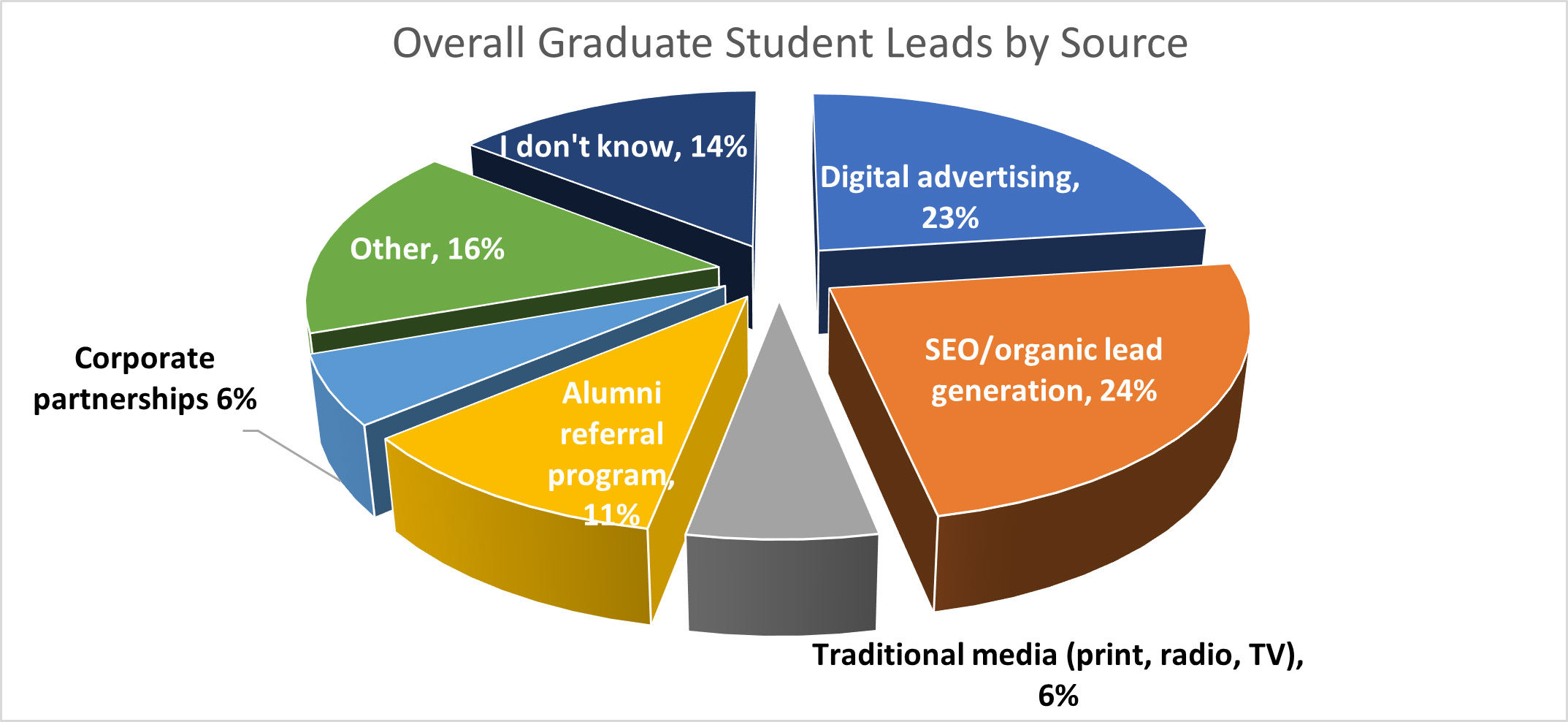 Prospective students are comparing your school's graduate and online programs against your competitors—both local and further afield—and they're using social media as a first and top source of information. Other colleges have picked up on this trend and have allocated their budgets to drive inquiries from social media. Is it time for you to join them?
I would like to thank Amy Jauman for her input on this blog.
Generate qualified graduate and online leads
---