enrollment
AI Chatbots for Enrollment and Fundraising: Why Campuses Need AL
Joshua Robertson
Senior Vice President, Product Strategy
February 13, 2019
RNL has launched AL, our conversational AI, or AI chatbot, for enrollment and fundraising. For those of you who saw our announcements or are seeing the growing buzz over the use of AI in higher ed, you may be wondering why we have launched this and how it fits within the broader strategic framework of enrollment and fundraising.
Why AI?
Do you have the budget to add an army of staff members for connecting with students and alumni? The answer is likely no, which is why artificial intelligence is becoming increasingly important for admissions and advancement. AI can deliver personalization at scale, solving challenges across the full student lifecycle. AI can help you engage engage students, parents, alumni, and others in a more personalized manner and act on key pain points/questions they have in real-time. It also allows you to learn more about your audience, enabling you to evolve your marketing messages based on real-data. That makes it easier for you to meet the expectation of personalization that students, alumni, and frankly all consumers now have.
Why AL?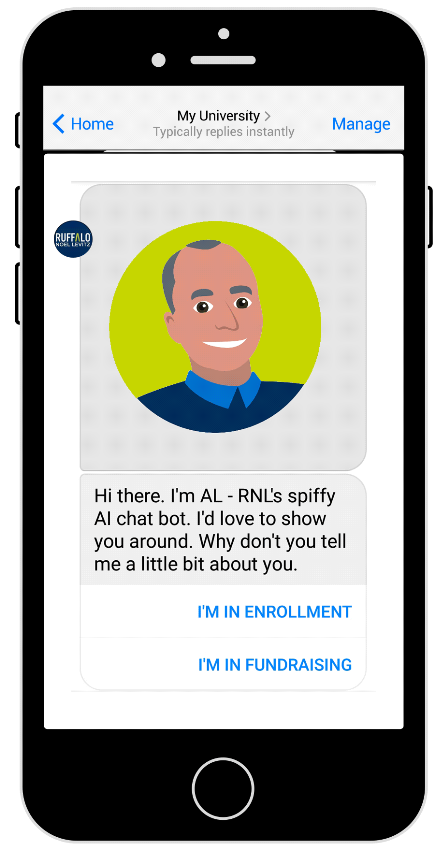 Engagement and conversion are primary objectives of all outreach with students and alumni, and much of that engagement now takes place via digital communications: your website, social media, digital advertising, and so on. AL, our AI chatbot and messaging solution, is the logical progression for how RNL is helping institutions make those connections.
Let me be clear: an AI chatbot is not a magic wand for enrollment and fundraising (spoiler alert: there are no magic wands for enrollment or fundraising). However, it is also very clear that AI chatbots have enormous potential to create personalized engagement while also freeing up your limited resources for connections that truly require the human touch. We have integrated AL into our full suite of omnichannel solutions, giving you a new channel to connect with your constituents and give them key information in a way that seems personal.
When a first-generation prospective student has a question on the application they've been driven to complete, the AI chatbot is there to help answer questions and to send follow up messages to those that don't complete their application. The institution can also see the type of questions students are asking, which can then inform their marketing communication strategy. When an institution is planning a giving day and wondering how they can keep up with the litany of questions, how to increase conversion, and how to thank donors in a personalized way, Al has built-in integration with RNL Digital Giving that allows for the chatbot to easily be embedded within a giving day or crowdfunding campaign. As for the name AL, it honors the transformative work one of our founders, Al Ruffalo, accomplished in the higher ed market, as well as to mark the continued transformation that RNL is building on our strong foundation of solutions.
Meet AL now to learn more about AI chatbots for enrollment and fundraising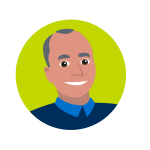 We have AL all ready to talk with you—stop by for a chat and see what AL can do. And keep in mind that AL is fully customized to your institution, so that your chat avatar and branding reflect your institution and reinforce the connection with students and donors.
This is also just the beginning for our foray into AI for enrollment and fundraising. The applications for this technology, and we will share more use cases over the next few weeks. So say hi to AL, and connect with us on AL's page to discuss how AI chatbots can amplify your multichannel outreach.
---