enrollment
4 Creative Ways To Leverage Texting To Increase Enrollment
This guest blog was written by Lauren Mack, M.Ed.. Lauren is the Cadence Product Marketing Manager at Mongoose, the higher education student engagement software company.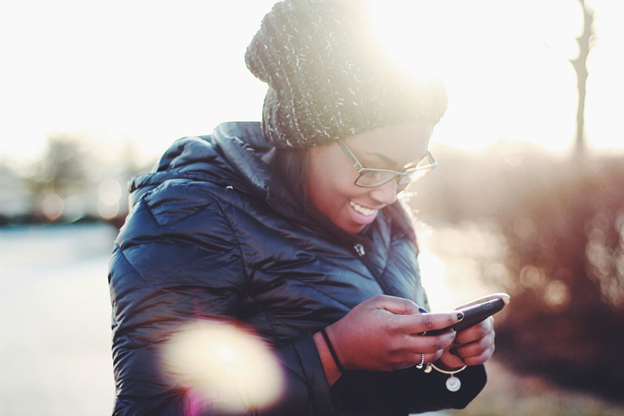 Today, there are so many ways to reach out to prospective students and their families. Email, phone calls, digital ads, direct mail…the list goes on and on.
While a strategic combination of these channels is valuable in your enrollment communications, the addition of a texting platform can add value by extending engagement in a personalized way so a student doesn't feel like just a number. For instance, Jacksonville State University saw a 16 percent increase in enrollment by implementing texting into their admissions strategy.
Wes Sullivan, associate director of undergraduate admissions at California Lutheran University, also said, "Over 50 percent of our incoming class said they chose us because we allow them to engage in text conversations with us." The inclusion of messaging to your communication flow gives you another way to keep students engaged and the easiest way to get messages in front of students.
When used strategically, texting can increase the likelihood that your messages are being read, while also checking on where a student is in their college decision-making process.
Here are four creative texting strategies you can use to increase enrollment:
1. Using Texts To Set Up Better Discussions
There once was a time when institutions would try to call every potential student. However, data shows that potential students prefer to text first.
Texting the student first to ask if they want a phone call can help increase engagement and allow you to have much more effective discussions with potential students versus a "cold call." Additionally, you can use texting to understand the student's specific needs and questions, ensuring the right person from your office is available to answer them.
2. Boost Your Email Engagement

Just sent an email to prospective students reminding them about an approaching application deadline? Using texting in conjunction with email can often help your team get better engagement and results.
Here's an example from Campbell University, whose enrollment department sent a follow-up text to students who they had not heard from and had not yet deposited:
"We've had a few students, and one in particular, who reached back out. She had no idea she had been awarded financial aid from us somewhere in the process. She applied, got accepted, but she started looking at other universities. She was so satisfied and happy with how her financial aid looked that she deposited at our university. We would never have reached that student without this texting platform" – Nicole Winget, J.D., Assistant Dean for Student Life
3. Have a Goal and Focus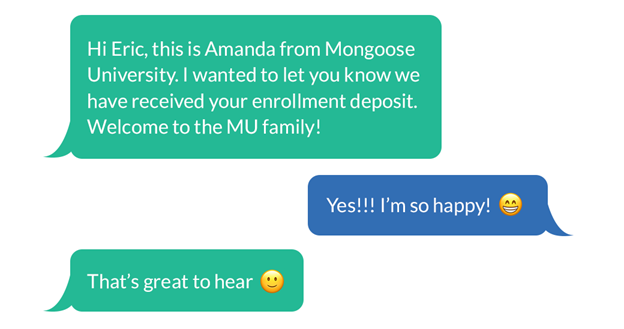 Texting is personal. While 80 percent of students want to receive texts from colleges, they do not want what they perceive as spam. (Hint: if they don't want the message, it's spam).
Avoid generic messaging and focus on important information that is helpful to potential students. Provide a clear call to action with next steps and content specific to their interests so prospective students don't just read your message, but also take action. Don't give them a reason to ignore your next text. The most recent RNL E-Expectations® Trend Report shows that 75 percent of seniors want to be texted after submitting their application and 74 percent wanted to be texted after being admitted. The juniors and sophomores in the survey also were are more open to texting before applying, while 67 percent of sophomores said they were open to receiving general information about academic programs and majors via text.
4. Integrate With Your CRM
You can integrate your texting platform directly with your existing CRM to create personalized, automated texts to the right potential students, at the right time.
Automating campaigns around scholarship notifications, application deadline reminders, and other activities can save you time, allowing your team to focus on personalized exchanges that will build relationships with potential students.
No matter how large or small your student body is, integrating a texting platform like Cadence can personalize interactions so students feel like more than just a number. Plus, with the right strategy, texting can set a great precedent for what a student can expect when they join your school – fully supported by a staff that truly cares about their success on campus.

Want to see for yourself how texting can increase enrollment?
Schedule a free demo of our texting platform, Cadence, and learn how texting can help your team reach its enrollment goals.