enrollment
Adult learners: Take a look at their views on Life and Career Planning Issues
Julie Bryant
Associate Vice President of Retention Solutions
June 29, 2016
Recent data released by the Bill and Melinda Gates Foundation indicate that adult learners―students who are 22 years of age or older in this case―make up 47 percent of the students currently enrolled in higher education. But what do we know about these students, how they perceive their educational experiences, and what they think are priorities for improvement?
The recently released 2015-16 National Adult Learners Satisfaction-Priorities Report provides an overview of the areas adult learners believe are important and their corresponding satisfaction levels with each area. The data are from 32,000 adult learners who completed the Adult Learner Inventory™ at 100 four-year and two-year institutions across the country between the fall of 2012 and the spring of 2015.
In general, adult learners show high levels of satisfaction, with 71 percent of adult learners at four-year institutions and 72 percent at community colleges indicating they are satisfied or very satisfied overall. Their likelihood to recommend their institution is even higher: 75 percent at four-year institutions and 78 percent at two-year institutions. While these figures are generally positive, they may not tell the whole story. There are still areas where higher education can be better serving adult learners in order to improve retention and help these students reach their educational goals.
How adult learners view Life and Career Planning Issues
The new national report identifies a variety of areas where institutions have room for improvement as well as areas where institutions are currently doing well. Let's take a closer look at the Life and Career Planning cluster of items. This group of survey items assesses how well an institution addresses adult learners' life and career goals at the onset of enrollment. The data from this cluster help an institution assess and align its capacities to help learners reach their goals.
The items in the Life and Career Planning cluster, shown below, have the largest performance gaps (the difference between the importance and satisfaction scores) for both four-year and two-year institutions, and the most room for improvement based on perceptions of adult learners: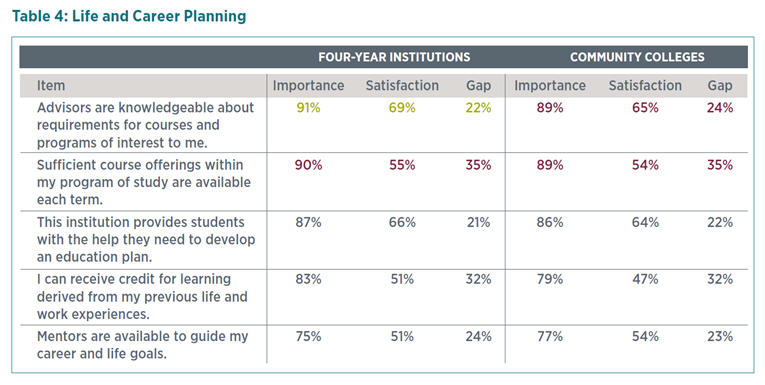 Items of high importance and high satisfaction are considered strengths and are identified in green; items of high importance and low satisfaction or large performance gaps are highlighted in red and are considered challenges.

For four-year institutions, the second item regarding sufficient course offerings appears in red as a challenge in this cluster (the other items are lower in importance and didn't qualify as challenges). However, satisfaction scores are notably low for all five of these items at both four-year and two-year institutions. The course-offering challenge item calls attention to adult students' desire for more options in the courses that are available to them each term. This is an issue across higher education for traditional-age students as well as adult learners. Community college adult learners also identify this item as a challenge.
For community colleges, advisor knowledge is identified as a challenge by community college adult learners, while it is perceived as a strength at four-year institutions. Community colleges often have more room for improvement when it comes to advising. By being attentive to course offerings and working with advisors to appropriately guide students through the process, institutions can be more student-focused in their services.
Download the full report and see the surveys that were used
I encourage you to download a copy of the full national report for adult learners' ratings of additional areas such as Outreach, Financing, and the Teaching-Learning Process to identify strengths and challenges in each category. Perceptions at the institutional level, as captured in the CAEL (the Council for Adult and Experiential Learning) Institutional Self-Assessment Survey, are also included in this study.
Institutions can use the combination of Ruffalo Noel Levitz's Adult Learner Inventory and CAEL's Institutional Self-Assessment Survey as part of the Adult-Learning-Focused Institution (ALFI) Toolkit to help campus leaders understand the areas where they need to direct attention and expertise to assist adult learners with successfully completing their educational goals.
Attend a presentation in Dallas July 25-28—or contact me directly
If you are attending the Ruffalo Noel Levitz National Conference on Student Recruitment, Marketing, and Retention in Dallas in July, I invite you to join my colleague Mari Normyle and me for a session titled, "From Access to Achievement: Improving Retention and Graduation Rates of Adult Learners." Learn more about the conference here.
Unable to attend the conference? Contact me directly at 800.876.1117 to discuss the Adult Learner Inventory. I am happy to answer any of your questions if you are considering an assessment of your non-traditional students. You can also send me an email or connect with me on Twitter.
---