fundraising
VSE Reports Record $47B in Higher Education Giving for 2018
Brian Gawor
Vice President of Research
February 14, 2019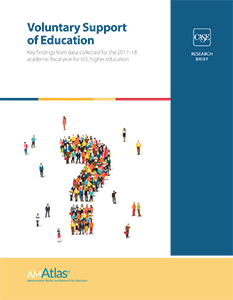 The Voluntary Support of Education survey, considered the definitive record of higher education fundraising, has once again recorded a record year for fundraising in 2018. Institutions received $46.73 billion in gift, a 7.2 percent increase over 2017. Results included:
An increase from every type of donor, including a big jump in the "other organization" category, which includes donor advised funds. We're watching this category as it grows, likely affected by both tax policy and the growing popularity of this giving method.
A jump in mega gifts over $100 million, which help fuel those record-breaking higher education campaigns we're all reading about.
Increases in both current operations (6.2 percent) and capital giving (8.6 percent).
As part of the AMAtlas Effort, CASE is providing expanded insights, including a first research brief with graphs from the survey. Read the full VSE press release and insights at CASE here.
Ann Kaplan, director of the VSE, will once again join us for a webinar to go through the results and talk about what the data means for our fundraising and donor engagement strategy:
What $47 Billion in Giving to Higher Education Means for You
Wednesday, February 27 at 2:00 p.m. ET
With Ann Kaplan,
Director of the Voluntary Support of Education Survey
---