student success
Understanding the priorities of nontraditional college students
Julie Bryant
Associate Vice President of Retention Solutions
September 5, 2012
Every year, Noel-Levitz compiles national data on the satisfaction and priorities of nontraditional students, and each year I am struck by how satisfied these students are with their educational experience in general.  However, there are still areas where institutions can improve the quality of the experience for these students.
This is the second blog in a series about our recently released national reports.  My last blog reviewed the factors influencing nontraditional students' decisions to enroll.  This blog takes a closer look at the 2012 National Adult Student Priorities Report and the 2012 National Online Learners Priorities Report. (Download them from the Noel-Levitz Web site.)
How do the satisfaction levels of adult and online learners compare to those of "traditional" students? To answer that question, I looked at data from students who took the Adult Student Priorities Survey and Priorities Survey for Online Learners, then compared their responses to students who completed the Student Satisfaction Inventory, which is taken primarily by traditional-aged students. (Note that some nontraditional students may have completed the Student Satisfaction Inventory in the traditional-student data sets.)
The chart below—with the satisfaction results categorized by institution type—shows that adult and online learners had the highest satisfaction scores: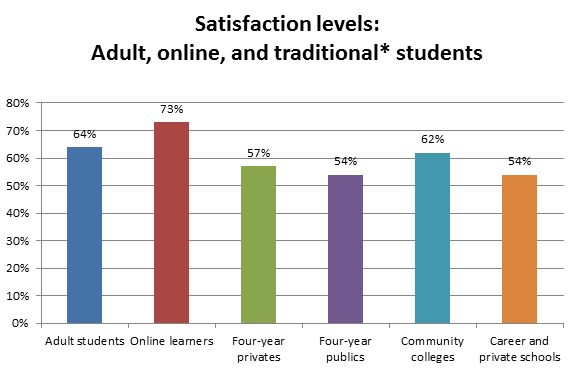 Nontraditional students also indicated higher scores when asked if they would re-enroll if they had it to do over again: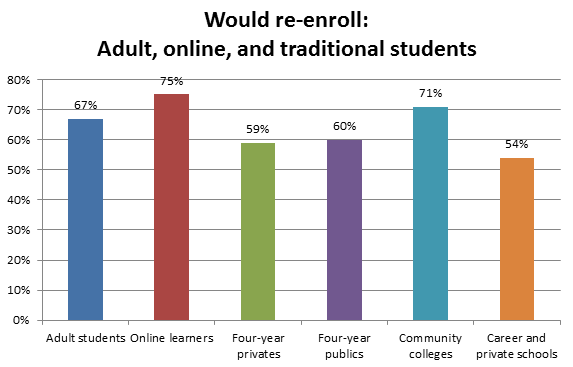 Students at community colleges were the only group who scored higher than adult students, and that is likely because there were more nontraditional students in that sample than the others. Even then, their re-enrollment interest was still behind online learners.
What could be driving the scores up for adult and online learners? As I have noted in prior discussions, nontraditional students often must work hard to balance their school priorities with work and family expectations.  Therefore, if they are not satisfied with their educational experience, they may not be enrolled at all, which may explain why those who are enrolled demonstrate higher levels of satisfaction.  Another good point on this topic was shared at our recent Noel-Levitz National Conference: nontraditional students may be better self-advocates who are able to speak up more for themselves in order to have a more satisfying experience.  It is also notable that both the adult learner and online learner data sets are comprised of higher percentages of female students (68 percent and 69 percent respectively), and women have typically had higher satisfaction scores than men in all of our satisfaction surveys.
While the summary scores reflect a positive environment for nontraditional students in higher education, there are still areas where institutions can work to improve the nontraditional experience.  The 2012 national report reflects the following top five challenges (high importance and lower satisfaction) for adult students (listed in descending order of importance):
Tuition paid is a worthwhile investment.
I am able to register for classes with few conflicts.
Adequate financial aid is available for most adult students.
Faculty provide timely feedback about my progress.
There are sufficient options within my program of study.
The top five challenges for online learners in 2012 were:
The quality of instruction is excellent.
Student assignments are clearly defined in the syllabus.
Faculty are responsive to student needs.
Tuition paid is a worthwhile investment.
Faculty provide timely feedback about student progress.
Both populations identified timely feedback as a key area for improvement.  These students want to know if they are meeting faculty expectations and they want to receive this feedback quickly during the term so adjustments can be made.  Convenience and time sensitivity are themes in the data sets for nontraditional students, which makes sense considering all that these students may be juggling.
Another consistent concern is the perceived value of the tuition.  I have talked in previous blogs about the importance of communicating the value of your institution's educational experience.   This is true for both traditional and nontraditional student populations.  Nontraditional students may likely feel the impact to their wallets even more directly than traditional students, who may have family support for tuition payments.  Be sure your institution doesn't take your adult and online learners for granted.  Establish a communication plan to reinforce the value of their experience and to connect the degree that they will earn to their future employment.
Both of these 2012 national reports further segment the data to look at separate responses for graduate and undergraduate students.  The National Online Learners Report also digs deeper into the different perceptions of the students who are enrolled primarily online compared to those students who are enrolled primarily on campus, but who are also taking online courses.  I encourage you to download the reports to gain a better sense of what is happening on a national level with nontraditional populations.
Is your institution appropriately serving your nontraditional populations?  Do you know the priorities and satisfaction levels for your adult and online learners?  Have you established a systematic assessment plan that incorporates all of your students—traditional and nontraditional? E-mail me your comments on what is working for you, or leave a comment here.
---