enrollment
Is your social media strategy focused on the channels that matter?
Ruffalo Noel Levitz
September 12, 2012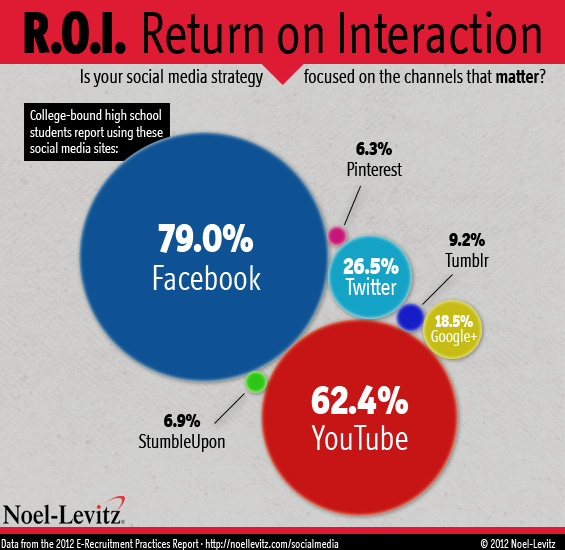 The graphic above shows the percentage of prospective students who are currently using each of the seven most popular social media sites, based on a national poll of 2,000 college-bound high school students conducted in the spring of 2012. The 2012 E-Recruiting Practices Report from Noel-Levitz compares these numbers to the social media practices that campuses report using, revealing some significant differences. (For more information on the use of social media by prospective college students, download the 2012 E-Expectations Report.)
Clearly, engaging current and prospective students online is becoming increasingly important for colleges and universities hoping to connect in ways that make sense to a younger generation. But how can your campus make the best use of limited time and resources when it comes to the ever-expanding world of social media? It's no secret that there are dozens of options, so how can you pick the right channels to reach students?
Ultimately, the right social media choices depend on specific goals set for your social media efforts. At the most basic level, you must first look at how much reach each channel offers—or how many prospective college students are using each site.
The key is to focus on the social media sites that have the greatest return. For instance, a higher percentage of all institution types reported that they are using Pinterest more frequently than Tumblr, despite more prospective college students using the latter site. Also, 17 percent of four-year private campuses and 11 percent of four-year public campuses reported using FourSquare despite only 1 percent of prospective student respondents reporting  they used it.
More importantly, while it can be tempting to jump on board the newest social media sites, it's important to keep in mind the relative effectiveness that each channel offers. It's better to target your resources on a smaller range of sites and maintain better interactions with students than to spread your resources too thinly.
If you have any questions about optimizing the impact of social media on student recruitment—and creating a balanced e-recruitment campaign—please e-mail us and we'll share what's working right now for campuses.