student success
The Case for Extending Your Student Success-Program Through the Second Year (Part 1)
Increasing second-year student success by extending support throughout the first four semesters of the student lifecycle is key for improving graduation rates. However, our research indicates that only 41 percent of four-year private institutions, 23 percent of four-year public institutions and 14 percent of two year institutions have programs designed specifically for second-year students.
We also know that considerable attrition continues to occur after the first year: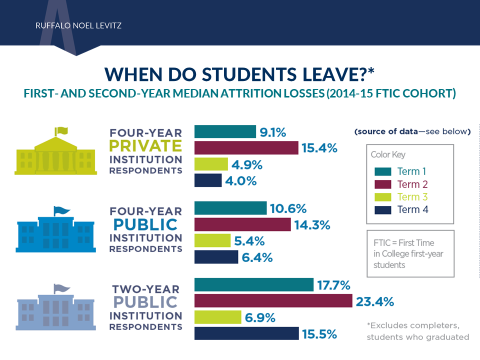 How can colleges and universities stem these losses and increase student persistence? By taking specific steps to increase second-year student success.
Earlier this fall, we hosted a webinar, "The Case for Extending Your Student Success Program through the Second Year." Our featured speaker was Jonathan Fries, director of Second-Year, Transfer, and Non-Traditional Programs at the University of Lynchburg (formerly Lynchburg College). Jonathan's message about the importance of paying attention to your second-year students, and his many examples of how he is using data to guide programs and practices, was so compelling I wanted to share the presentation with you.
Jonathan and his colleagues at Lynchburg developed an intentional second-year experience program that has seven elements. I am going to discuss the first four parts in this blog.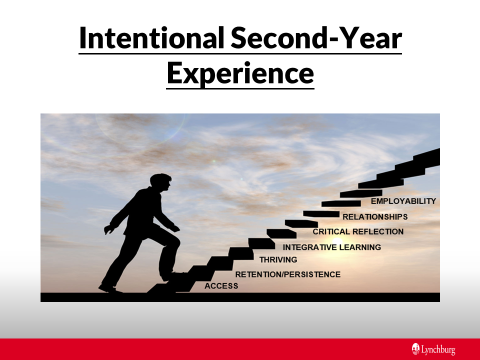 Step one: Gather data and research:
Jonathan uses the RNL Second-Year Student Assessment (SYSA) to lay the foundation for second-year initiatives.  By using the SYSA, he and his colleagues are able to tell:
Which students do not intend to complete their degrees at Lynchburg, or are undecided about their re-enrollment plans.
Who is considering changing their major.
The most important areas in which second-year students are asking for assistance.
Who are the second-year "emerging leaders"
As a result of these data, Jonathan and his second-year team conducted 1:1 meetings with students at risk for leaving before graduating, alerted advisors of students who are in the process of changing majors, developed programs that directly address the top priorities of second-year students, and expanded the leadership development program to capture these second-year emerging leaders.
Step Two: Build support and create partnerships
Jonathan and the other members of the "second-year student success team" have taken steps to use the data available to them to create partnerships to serve second-year students. Examples of programs they have developed (or re-purposed for this audience) include:
Bookend experiences to welcome second-year students back in the fall (S'mores Fun in Your Second Year) and a 500 Nights to Graduation Celebration in the spring.
Faculty-Alumni Dinners—A dinner hosted by an academic department that connects second-year students in the program with faculty and recent alumni from that program.
Second-Year Student Associates—"near peers" who mentor second-year students
Step Three: Educate the campus community (build[ing] 'buy-in)
To build consensus on the importance of investing in the success of second-year students, Jonathan and his colleagues at Lynchburg made sure that the campus community was aware of the historic retention patterns of second-year students, the profile of their second-year students based on SYSA information, and other institutional data as well as results of focus groups and feedback from second-year students.  Some of the results of these efforts include:
The articulation/addition of "Improving the success of second-year students" as part of the recently approved strategic plan of the institution.
The implementation of residential learning communities for second-year students as part of the plans for a new residence hall on campus.
Engaging with certain academic departments to improve the retention rates of second-year students in their majors.
Step Four: Have a strong assessment plan
The second-year student success team at Lynchburg embraced a strong assessment plan that has three phases:
Assessing the needs of second-year students (utilizing the SYSA).
Assessing the process (utilizing participation records, student evaluations of the experiences, and feedback from focus groups).
Assessing the impact (incorporating the Sophomore Experience Survey [Thriving Project] for institution level and national comparison data measuring outcomes).
Speaking of outcomes, Lynchburg is seeing a strong return on investment for these efforts. National data suggest that the benchmark for second-third year attrition should be about half of the first-second-year attrition rate. For example, if an institution loses 20 percent of their students after the first year, a reasonable expectation would be that they lose an additional 10 percent after the second year. Jonathan reports that they are on track this year to only lose 6 percent of their second year students. That improvement of 4 percentage points translates into more students, greater revenue, and the potential for improved four-year graduation rates as well.
Watch the webinar and learn how to strengthen second-year student success
I will share the other three steps in my next blog, but I encourage you to click here to watch our hour-long webinar, "The Case for Extending Your Student Success Program Through the Second Year."
And if you'd like to learn more about how to increase success among second-year students, see all the details about the Second-Year Student Assessment (SYSA), or email me.
---