student success
Second-year college students report dissatisfaction with advisor access and financial assistance
Ruffalo Noel Levitz
March 22, 2011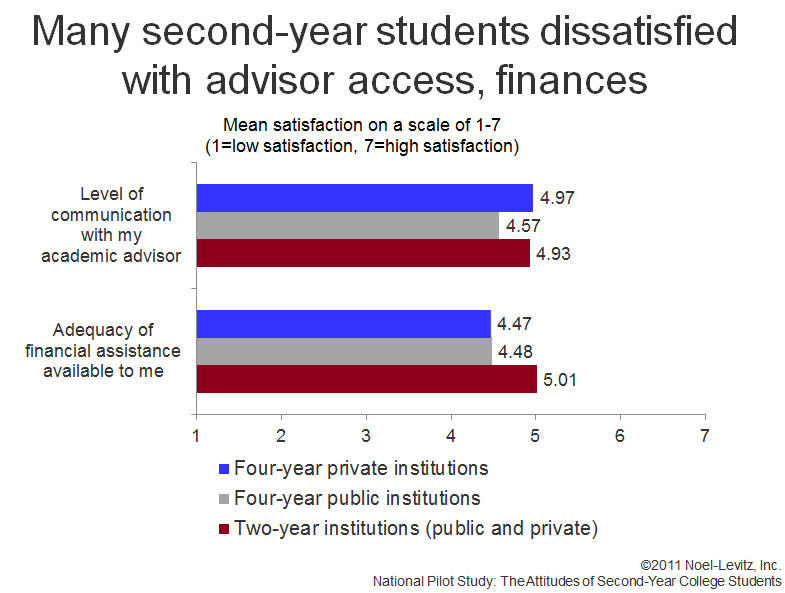 The above graph shows two areas of dissatisfaction among second-year college students: the level of communication with advisors and the adequacy of financial assistance, as reported in the Noel-Levitz national pilot report, The Attitudes of Second-Year College Students.
The satisfaction scores shown here, 4.47 to 5.01, were the lowest of more than a dozen areas of second-year student satisfaction measured using a seven-point satisfaction scale, where 1 = low satisfaction and 7 = high satisfaction. The items measured took a broad look at the student experience, encompassing many dimensions of academics and social life. At the other end of the spectrum, for context, students gave the highest marks to "My overall experience as a student at this institution," (5.71 overall, across institution types) and "Degree of academic challenge in my classes here" (5.70 overall, across institution types).
In another finding from the same study, more than half of second-year students (69 percent) indicated they expected to study more than they did their first year, while nearly a third (29 percent) reported they expected to study "about the same amount as I did last year."
For details and a copy of the report, please e-mail Jo Hillman.