enrollment
Nearly 20 percent of college enrollment decisions made in final weeks
Mari Normyle
Assistant Vice President for Retention Solutions
October 16, 2014
When students wait to enroll until the last minute, it matters. These delays often influence not only college enrollments but also retention and completion. Do you know how many of your new students wait to decide until the final weeks before classes? Nationally, nearly 20 percent of students do this. Here are some breakdowns: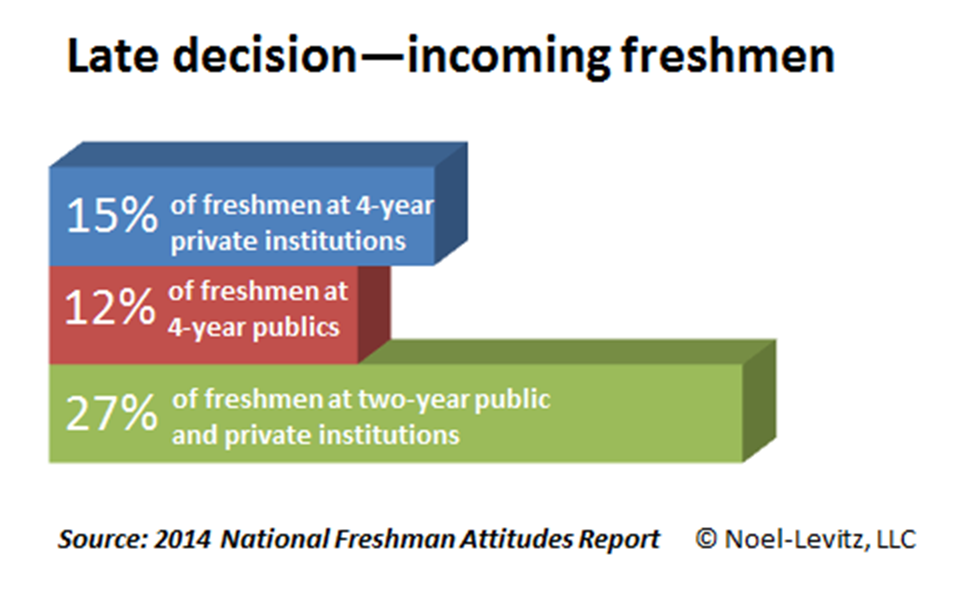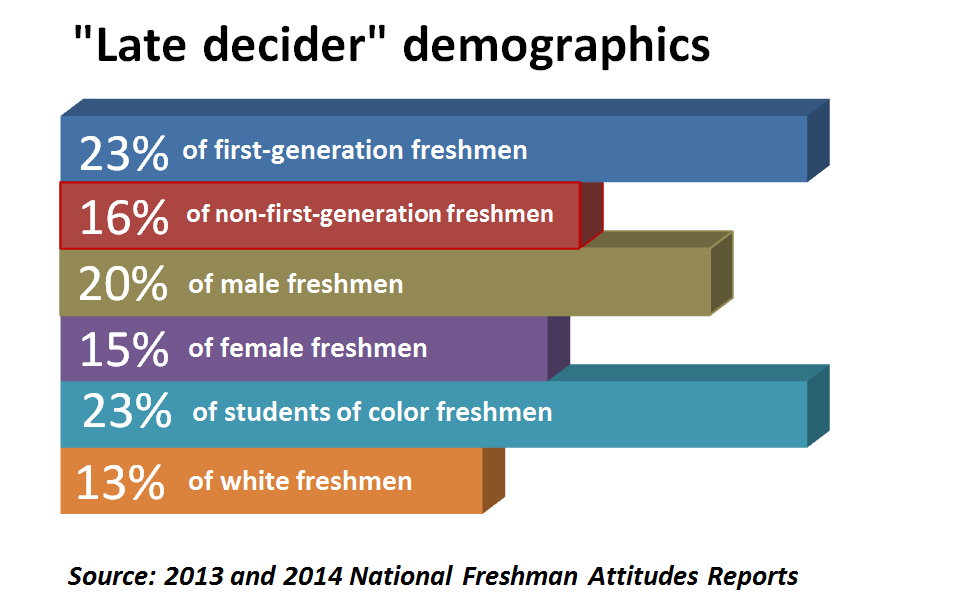 Above: findings from Noel-Levitz's 2014 National Freshman Attitudes Report indicate that 15 percent of students at four-year private institutions, 12 percent of students at four-year public institutions, and 27 percent of students at two-year institutions wait to make their college decision until a few weeks before classes begin. Across sectors, there is also evidence that greater proportions of "late decision" enrollees are first-generation, male, and students of color.
With some modest fluctuations, "late deciders" have generally held steady over the past five years among incoming freshmen at four-year public institutions and at two-year public and private institutions. However, these students appear to be declining at four-year private institutions, dropping to 15 percent in recent years after hovering at 18 to 22 percent from 2006-10.
Join us November 19 for a one-hour webinar: Building Student Success Strategies Based on Students' Motivational Needs. When a student delays an enrollment decision, it can signal a lower level of motivation. At this webinar, we'll share examples that illustrate how to make student motivation a central part of college completion programming for your campus. We hope you will join us. For more information, email us or call Noel-Levitz at 1-800-876-1117.

---