fundraising
How to Motivate Student Fundraisers
Molly Mendoza
March 4, 2015
Being a student phonathon caller is not an easy job.
Last night across the globe, RuffaloCODY student callers dialed the phone over 700,000 times to ask alumni to donate.
Sometimes no one answers.  Sometimes too many people answer.  Sometimes they get yelled at, and many times they hear new versions of "no." It's the reality of fundraising, and it can be discouraging.  Students don't receive any sort of commission for this kind of work and they could easily be swayed to work at a campus job where they make the same wage for essentially sitting behind a desk doing their homework.
That's why student motivation is such huge component of managing a university's phonathon.
Many institutions can't fit student raises or monetary incentives into their budget, so managers have to be creative.  Games, prizes, raffles, awards and various forms of recognition seem to be the universal "motivators" in call centers.
We all know that not everyone is motivated by the same things.  But what came as a surprise to me was that monetary or "thing" incentives don't actually work for all employees. Especially those whose job requires cognitive skill, like student fundraisers. Here's how three other motivators described by researcher and author Daniel Pink might apply to your call center:
Purpose
My most successful and long-lived callers are the ones who can really comprehend how much of an impact they are making.  Change your management mentality from "if you raise $1,000 you'll get a prize" to "if you raise $1,000, you'll help a student (maybe even yourself!) get that much closer to paying for their tuition."  Our purpose for asking donors for money is to help students get an education. Shouldn't that be the same purpose for callers to get a donation?  You don't have to do this alone. Hosting guest speakers during calling shifts from the university's faculty across various departments to carry this point home has given our students a different perspective on how substantial their job is.
Autonomy
As a manager, we get tempted to hover over our employees sometimes, especially if they are newly-hired or having a bad night.  Although we coach during every shift, it's crucial to let callers have some autonomy.  It may seem unreasonable and impossible to offer "genius time" to part-time student employees.  Here's an example of a win-win:  callers decorated numbered envelopes during shift and I hung them on the wall for our Refusal Countdown.  It gave the artistically-inclined callers a creative outlet while at the same time created a motivating and eye-catching wall hang for the center (For every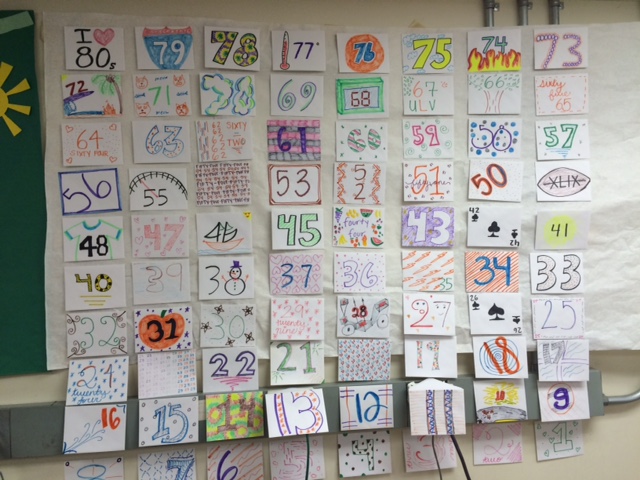 donation they got from our Refusal segment, they got to take a numbered envelope off the wall.  About 20% of the envelopes had a message on the inside saying that they won a prize).  We do coloring projects for the holidays, like decorating hearts to hang from the ceiling for Valentine's Day.  Anything that provides students with a creative outlet but keeps their focus on the next call and the phones still dialing can work. Stress relief is important, especially in an environment where you face a lot of rejection.
Mastery
Daniel Pink calls this the "urge to get better at something."  The problem with this motivator is that not every student fundraiser has the desire to get better at fundraising.  Not every student caller is motivated by the same thing.  Some are competitive and like challenges and games, some are genuinely philanthropic, some use the job to build their resumes and some are just there for the paycheck.  Ideally we try to hire students who are competitive, seek achievement and development, or are goal-oriented and we will cater our interview questions around those qualities.  These callers are successful because they thrive off of public recognition of their performance.  In our call center, we have leader boards that list top performers for the week, caller-of-the-month, and other endless competitions based on who raised the most dollars, pledges, etc.
Spread your motivation out
Making sure that you have different forms of motivation operating in your center. Students are all different and they change over time.
Our job is to listen to students, engage them, and find the motivation that helps them grow. They'll show us the results the next time an alumnus says "yes" during a great call.
Find out what student callers said about the most challenging and motivating part of their job in the RuffaloCODY student caller survey.