enrollment
How Are Campuses Adjusting Their Enrollment Strategies During COVID-19?
Scott Jeffe
Vice President, Research (Graduate and Online)
March 25, 2020
Since the COVID-19 pandemic required colleges and universities to close their campuses, RNL has received numerous requests from enrollment managers looking for any insight about how institutions are responding to the new reality of COVID-19. In order to provide some much-needed information and guidance, RNL's market researchers created a short survey that we sent to our enrollment management audience—those working with undergraduate, graduate, online, or adult learner enrollment, as well as campus leadership. The survey will be in the field until Monday, March 30, and we encourage you to participate.
Here are a few things we have already learned from more than 400 responses about how campuses are adjusting their enrollment strategies during COVID-19.
Extending the decision deadline: Among four-year private institutions, 44 percent have extended their decision deadline; 34 percent are considering extending it. Fewer four-year publics have already extended the deadline (28 percent), but 50 percent are considering doing so.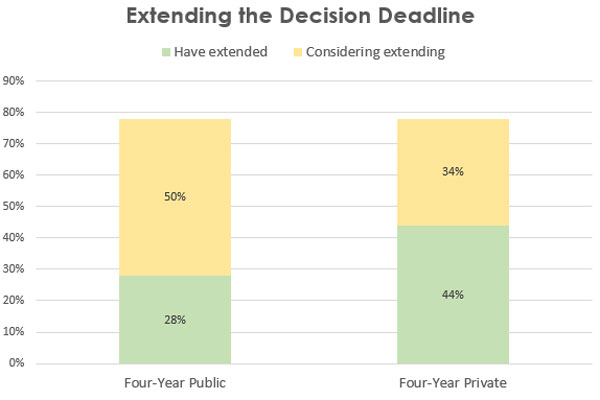 Revising goals for 2020: Slightly more than one-third of both four-year publics and privates said they have or plan to revise their goals for 2020. That number jumped to 46 percent for two-year publics.
Making up enrollment shortfalls: When asked which student populations are most likely to contribute to mitigating enrollment shortfalls, almost half of all types of schools indicated that they still see traditional undergraduates as one of the best populations to help minimize declines. Four-year publics are also looking to transfer students and online students for enrollment boosts, while four-year privates indicated graduate students and online students would be their best populations to counter enrollment losses.
Moving online: When asked the extent to which they have quickly set up (or expanded) online delivery as a result of COVID-19, the vast majority of institutions reported moving their programs online (90 percent of four-year publics, 85 percent of four-year privates, and 80 percent of two-year publics).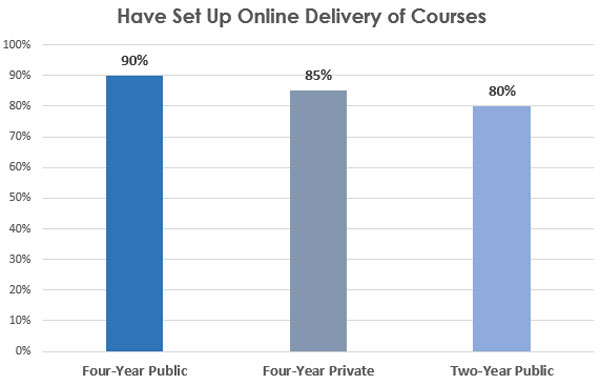 Still time to participate in our survey on adjusting enrollment strategies during COVID-19
RNL will present full findings at an online forum as soon as data are finalized. Among the other topics that will be included in the summary report will be how institutions are communicating with prospects, how institutions are communicating with newly admitted students, changes in the utilization of digital communication channels in support of social distancing, and more.
Please consider participating in this important research. Your responses will provide insights for colleagues nationwide who are trying to manage this unprecedented crisis.
Take our COVID-19 Survey
---