enrollment
Using technology more strategically in college direct marketing
Pegi Anton
Vice President
March 21, 2013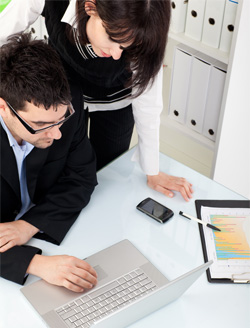 Part five of the series, Five principles of a successful prospective student direct marketing campaign
Read part one: Building the right list for campus direct marketing
Read part two: Communicating with prospective college students at the most strategic time
Read part three: The importance of the offer in college direct marketing
Read part four: Building the right list for campus direct marketing

Read the follow-up: Applying the lessons of college direct marketing: A case study
In the first four parts of this series, we've learned how to take a college direct mail campaign from the list to the creative. In this concluding post, I want to discuss something that affects all four of those steps: choosing the right technology to help you execute your direct marketing campaigns.
For many campuses, the search mailing process used to consist of sending a printed single self-mailer and perhaps a follow-up postcard. The results could be easily tracked through a manual response sheet and a student information system (SIS).  Today, a new technological landscape of multiple channels to grab a student's interest has added complexity to the set up, execution, and tracking of search results.
In my first post, I discussed one of the most effective technologies for qualifying list purchases as well as your prospect and inquiry pools: predictive modeling. Once you have your list and you're ready to create and send your communications, there is a wide array of options that can challenge even the most savvy campus marketers (social media, video, text, chats, and so on). However, there's one technological tool that's reliable, trackable, and used widely by students, one that should be the cornerstone of your marketing technology portfolio: e-mail.
Keep e-mail a significant part of your communication flow
With the advent of social media, my colleagues and I on the Noel-Levitz Direct team always get questions about whether e-mail is still relevant to high school students. The answer is an emphatic yes! According to the 2012 Noel-Levitz E-Expectations survey of college-bound high school students, 62 percent said they used e-mail to research colleges, making it the third most important resource after printed mail/brochures and search engines. (The death of print marketing may have been even more exaggerated than the death of e-mail.) Moreover, 82 percent said they used e-mail at least once per week, and 97 percent said they opened e-mails from colleges they were interested in attending.  Given these responses, e-mail is arguably one of the best tools in your direct marketing arsenal.
Make your communications mobile friendly
While e-mail is still very viable for direct marketing, the spread of mobile devices has changed some of the dynamics of e-mail communications. The 2012 E-Expectations report found that two-thirds of college-bound juniors and seniors have regular access to mobile devices. This means that many students are viewing e-mails—as well as landing pages, Web sites, and social media sites—on mobile platforms. Your copy, designs, and programming have to take this into account, and designing for mobile screens is imperative whatever the age of your prospective student.
In a world where more and more students interact through the brief content of status updates and tweets, it's a good idea to use an economy of language in creating your e-mails and landing pages, regardless of whether students are reading via mobile devices or on PCs. Remember that college direct marketing campaigns are part of a process to gather inquiry and applicant information. The goal is to get the prospective student to declare legitimate interest as smoothly and easily as possible. You can obtain more information once the response is secured with follow-up cultivation communication and "tell us more about yourself" surveys.
Avoid the spam label
One other major difference between print mail and e-mail is deliverability. If your e-mail campaign gets flagged as spam, your carefully crafted and designed e-mails could go straight to junk folders or blocked altogether. Be sure to use software that scores e-mails for spam so that your e-mails get to your intended audience.
Server reputation is also very important. Too many e-mails reported as spam may result in major ISPs delaying or not sending your messages or possibly even blacklisting your server. Remember this could impact the rest of your campus constituencies that may share this outbound e-mail server such as athletics and alumni/development. This is why using in-house resources to send solicitations to prospective students who have not yet inquired is rarely a good idea.
Synchronize your creative approach, messages, and technology
To create a harmonious experience for students, your creative approach and message must match the technological platform you are using. Think of how the creative, message, and response process fit together. Take e-mail for example. Look at your subject line. Would it make you want to open your e-mail? Does the subject line fit in a mobile browser? Does the subject line match the message in the e-mail? Does the call to action make you want to take action?
Likewise, if a student clicks, does the landing page continue that experience in terms of message, action, and design? You need to make sure that students who do click on an e-mail go to a useful page and have clear direction on what to do when they get there. Otherwise, you risk stranding them on your home page or another page that offers no clear benefit to them. (My colleague Michael Lofstead offered very helpful landing page strategies in an earlier blog.)
Track, track again, and track some more
Tracking is perhaps the most useful technological innovation that is sadly under-utilized. One of the biggest advantages of moving to more electronic forms of communication for marketing is that you can track targets much more directly than you can through print or other forms of direct marketing.
Once your campaign has launched, be sure you are tracking all phases of communications. Analyze results by:
List segments
E-mails sent
E-mails delivered
E-mails opened
E-mail links clicked
Landing page visits
Responses completed
Students who applied
Students who enrolled
Tracking these can pinpoint success and challenges in your direct marketing campaign. You can also analyze these results by funnel segment to reveal potential challenges to moving prospective students toward enrollment.
How could you best use these and other technological resources to target students and engage them? E-mail me and I will be happy to discuss strategies for picking an optimal mix of technology tools.
---