enrollment
The graduate student funnel: 11 top-rated practices to recruit and enroll master's students
Ruffalo Noel Levitz
October 11, 2012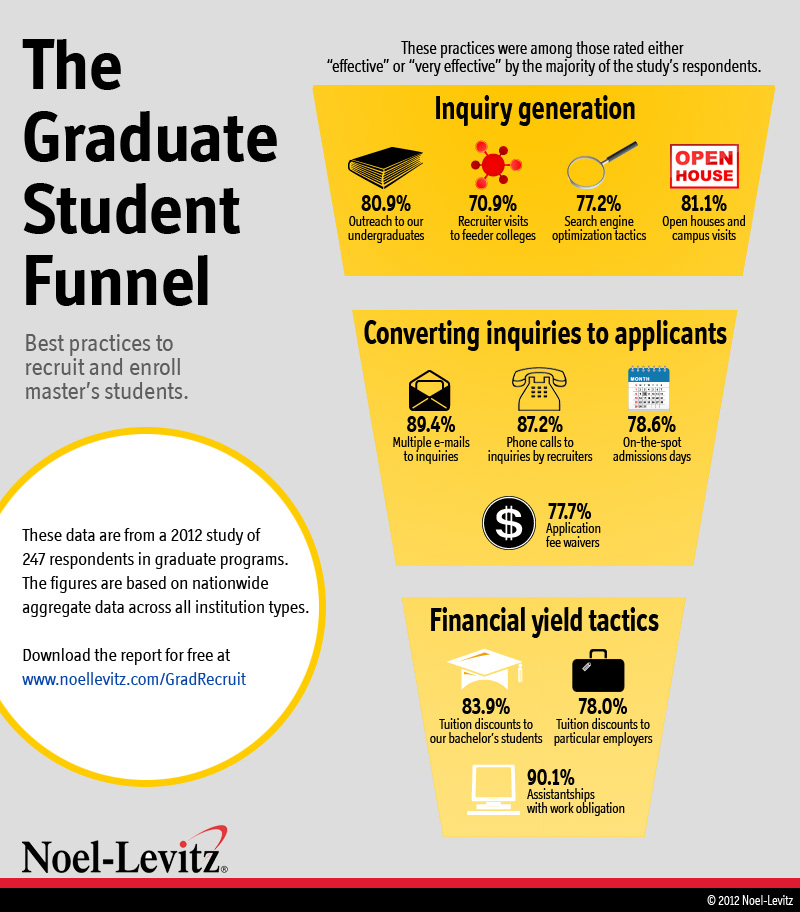 How can your campus build a strong graduate student population? We are seeing an increased interest from colleges and universities looking for ways to strengthen their graduate recruitment efforts, especially in light of recent decreases in new graduate student enrollment across the nation.
The above graphic shows the findings of a recent Noel-Levitz report on graduate marketing and recruitment practices specifically for master's programs. This graphic highlights 11 practices that were frequently rated either "effective" or "very effective" across all institution types.
The 11 practices shown are mapped against a traditional student enrollment funnel to allow us to examine which practices are particularly effective as prospective students move toward enrollment. This approach allows graduate professionals to analyze their process more granularly to identify specific actions to take to improve graduate recruitment efforts at each stage.
For example, institutions that are having trouble with converting master's program inquiries into applicants may look at these practices and decide to implement or increase the number of on-the-spot admissions days for master's students—a practice that 78.6 percent of respondents rated as being "effective" or "highly effective."
The report from which the data are drawn, the 2012 Marketing and Student Recruitment Practices Report for Master's-Level Graduate Programs, asked graduate professionals to rate the effectiveness of 80 recruitment and marketing practices. In the report, the results are segmented by four main institution types: private doctorate-granting, public doctorate-granting, private master's/baccalaureate colleges/special focus institutions, and public master's/baccalaureate/special focus institutions.
Developing strategic recruitment and marketing plans for graduate students is becoming more important in light of recent reports from the Council of Graduate Schools that showed, for the second year in a row, a decline in the number of grad student enrollments. These two years of decline come after seven yearsof increases, and may indicate a continuing reversal in those trends.
Want to discuss ways to strengthen your graduate recruitment and marketing efforts to enroll more students? Please send us an e-mail and we'll help you identify opportunities on your campus.