fundraising
#GivingTuesday Live Blog – 2016
Ruffalo Noel Levitz
November 28, 2016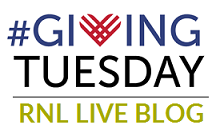 Our Giving Tuesday 2016 Live Blog is now complete. For the fifth annual #GivingTuesday, our team of fundraising experts and giving enthusiasts shared:
The best strategies for engaging donors on #GivingTuesday—and any giving day.
The coolest, most interesting ideas and developments we saw during the day
Our own giving passions as we made our #GivingTuesday gifts.
To find our more about strategies mentioned in these posts, drop us line to speak with a RNL consultant about our suite of customized giving solutions which can help take your giving program to the next level.

If you see something you like, and want to find our more, drop us a line at ContactUs@RuffaloNL.com.