fundraising
Friday update: year end fundraising appeals, and the best of 2017
Brian Gawor
Vice President of Research
December 8, 2017
Here are some great stories about year end fundraising
From around the web:
  

doublethedonation.com

(Dec 6 2017)

The end of the year is a crucial time for nonprofits. After all, over 25% of total charitable giving takes place between Thanksgiving and New Year's.

If you're not sure how to kick your fundraising strategy into high gear this holiday season, we've got the tips you need! Just check out MobileCause's fact-packed year-end giving infographic below to learn everything you need to know.

Fundraiser Ideas and Fundraising Events

(Dec 5 2017)

*Learn More About Fundraising > Boost Year End Giving: 19 Tips For Your Holiday Party A significant amount of donors wait until year end to give to non-profits, and it can be difficult to get their attention and stand out with everyone else asking for their gifts. End of year is also the season to convert prospects in the holiday spirit into new donors.

NonProfit PRO

(Dec 7 2017)

These December days seem to be flying by so quickly. People are making their holiday preparations—decorating the house, planning parties and buying gifts for their loved ones—and that doesn't include always include donating to charity…

Michael Rosen Says…

(Dec 8 2017)

As year-end approaches, you are probably working feverishly to raise as much money as possible for your nonprofit organization. Unfortunately, you might be making some mistakes that could cost your charity enormous sums of potential donations. Here are just five common ways you might unknowingly short-change your organization at this special time of year…
Spotlight: RNL Year in Review Webinar
What happens when you talk with over 3,000 fundraisers and review $1.6B in fundraising results? One great year for RNL research!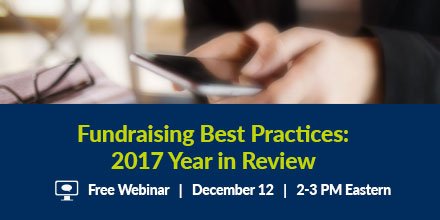 Tuesday, December 12 | 2-3pm Eastern
Even though overall giving is up, fundraisers still face serious challenges. Donor counts remain down for many institutions, and many fundraising leaders are looking for new ways to engage their donors and channel their philanthropic spirit back to their institution.
Join us for this webinar to hear how you can meet these challenges. We'll review the best research from our 2017 archive on emerging trends and tactics, which includes insights from over 3,000 fundraisers. You'll leave with new ideas to boost your fundraising results in 2018. Register Now >>>
Recent Posts
---