enrollment
Early FAFSA filing: What have we learned?
Roberto Santizo
Senior Consultant
June 9, 2017
This post is adapted from an article in the current issue of University Business.
What have we learned about early FAFSA filing as of mid-2017? Let's begin with a quick review.
In an earlier post, my RNL colleague Todd White examined FAFSA filing rates nationwide for the 2017-18 academic cycle. The post used ED data on FAFSA filing to compare current data to the previous year based on the number of weeks after filing became available (i.e. January 1, 2016 compared to October 1, 2016). White reported the initial findings showed a 27.4 percent increase in FAFSAs in the first four weeks of filing. This increase in filing, combined with a 12.4 percent drop in FAFSAs rejected during that period, resulted in a 34.1 percent increase of completed FAFSAs. Furthermore, a review of a group of RNL campus partners who were tracking FAFSA filing rates showed that by early January, the average parent income for admitted students with need for 2017 was $89,541, which was a 10 percent increase from the 2016 figure of $81,335. Average EFC for the same groups of students was $12,134 in 2017 compared to $10,444 in 2016, a 16.2 percent increase.
Where we are today with early FAFSA filing
Although filing rates slowed (the early lead mentioned above had disappeared after eight weeks of filing), it only took until the end of March to have as many filers in 2017 as at the beginning of June in 2016. Moreover, by May 5, 2017, there was a 15.8 percent increase in filers compared to June 3, 2016 which translates into more than 291,000 additional students.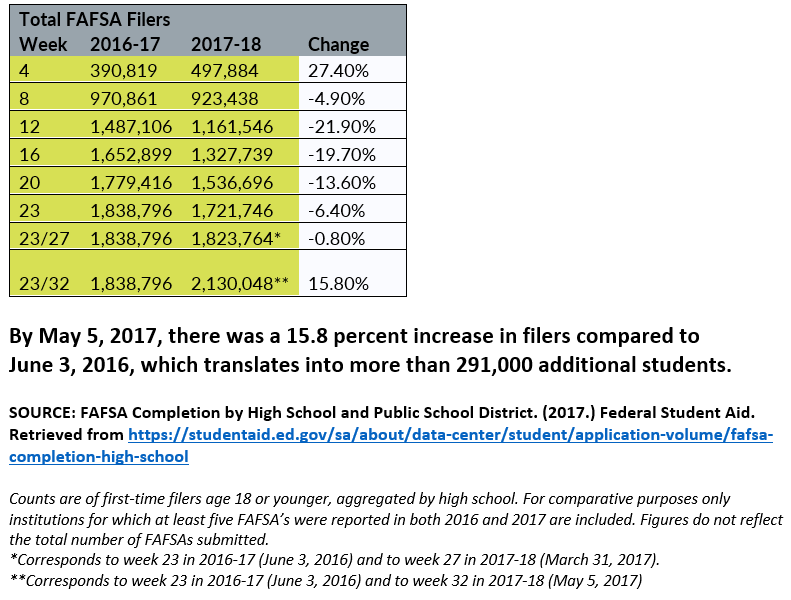 Is early FAFSA filing helping low-income students?
A recent publication by the Institute for College Access and Success showed that the burden of college costs is much greater for students from low-income families, contributing to wide college enrollment and completion gaps by income. Underrepresented minorities are also disproportionately affected. In this first year of early FAFSA filing, have students—especially those from under-served social, ethnic, and economic backgrounds—been able to take advantage of the early FAFSA filing and extended decision making period?
In an effort to answer this question, a preliminary review of FAFSA filing rates of students admitted to a group of RNL campus partners showed that a larger percentage of students filed FAFSAs through April of 2017 compared to April of 2016 (as shown in the table below). Interestingly enough, the actual number of students has increased for both Pell and non-Pell eligible students. However, the percentages from each group have remained almost unchanged in both years. Further research will be necessary to determine the extent to which lower income families took advantage of early filing.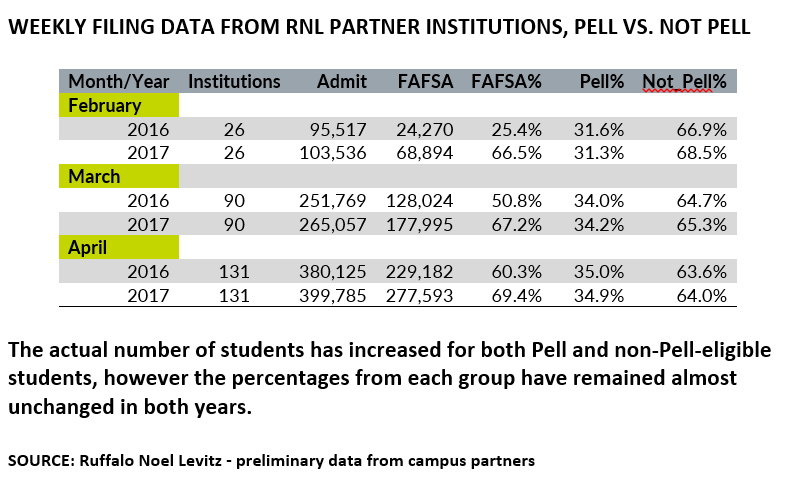 Specific steps to build enrollment
Having such a large number of students filing FAFSAs two months earlier in 2017 than in 2016, as well as the increase of admitted students filing FAFSAs at RNL's campus partners, would suggest there is a desire among a significant portion of prospective students and their families to get earlier information on institutional financial aid. College and university enrollment leadership should respond by providing earlier aid awards to applicants who take advantage of this opportunity. At the same time, communications plans should be carefully reviewed to ensure that messaging on affordability and value appear earlier in the recruitment cycle. In addition, earlier aid awards will mean longer periods to fill with yield activities, making the case for the institution's distinct advantages, engaging students, and responding to their interest in return on investment, academic programs, housing, and campus security.
Now is also the time to re-calibrate trends for enrollment targets, including applications, admits, deposits, and enrollment. Keep in mind that, in the long term, carefully leveraging financial aid funds to create affordability will help advance initiatives like early FAFSA and will improve access to higher education for all who wish to pursue it.
Let's dig deeper in the coming months
More analysis is needed to fully understand the effect of early FAFSA and to identify for the nation as a whole exactly who took advantage of early filing. In addition, as the 2017-18 enrollment cycle comes to an end this summer and recruiting begins for fall 2018, it will be important to determine what was learned from campuses that took advantage of early FAFSA by packaging earlier. Did the socioeconomic profile of their freshman class change? Did they see any other advantages? The answers to these questions will determine whether or not early FAFSA filing truly benefited those it was intended to help.
Questions? Want to discuss your early FAFSA strategy with an expert?
Email me or call 800.876.1117 to confidentially discuss any questions you may have regarding how your institution is working with early filers and affordability to build enrollment. We'll be happy to share with you how campuses similar to yours are responding to students' concerns about costs as we listen carefully to your situation.
---