enrollment
How can colleges and universities better serve transfer students?
Ruffalo Noel Levitz
February 8, 2012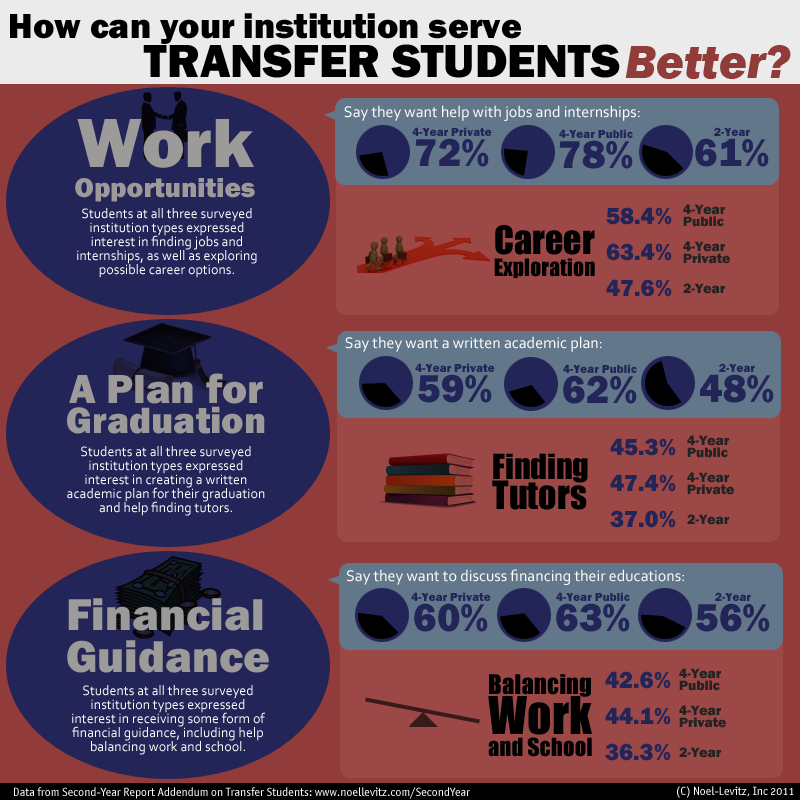 What do transfer students want from their new institutions?
We attempt to answer that question in our new report, Transfer Students: The Attitudes of Second-Year College Students. This report is taken from a cross-section of transfer student responses from the main Attitudes of Second-Year College Students report.
This infographic highlights findings from three key areas: finances, academic plans, and preparation for work after graduation. In general, transfer students across the board asked for assistance and guidance in these areas.
As Janene Panfil pointed out in her recent blog on this report, transfer students bring a unique perspective to campuses. Having already been through the enrollment process, they have a different set of expectations than students enrolling at a campus for the first time. While this report offers some solid findings on their needs, it is always wise to survey your students to understand their specific strengths, challenges, and expectations. (This report was compiled based on responses from the Noel-Levitz Second-Year Student Assessment.) If you have any questions about how you can survey your transfer students, please e-mail us.