student success
Trends in Student Satisfaction
Have you stopped to think about the changes in higher education that have occurred over the past ten years? These include:
More media emphasis than ever on the cost to attend college, student debt, and the question of whether college is "worth it".
Smartphones have become a daily tool for students, parents and campus professionals since the first iPhone was launched in 2007.
Technology has also changed the nature of how students engage with the campus, with "campus run-around" now including online components like navigating websites to find information.
Enrollment in college by those 25 and older has been steadily increasing in the past decade and more students are taking at least one of their classes online.
The safety and security of college students has also become a bigger issue in the last ten years and institutions are under greater scrutiny in this area.
Shifts in Student Satisfaction and Expectations
Against this backdrop, the 2019 National Student Satisfaction and Priorities Report examines how student expectations and satisfaction levels have shifted in the past ten years for six populations:
Students attending four-year private institutions;
Students attending four-year public institutions;
Students attending community colleges;
Adult undergraduate student at both four-year publics and privates;
Graduate students at four-year publics and privates; and
Online learners at four-year and two-year institutions.
Each data set includes three academic years: fall 2006 through the spring 2009 compared against fall 2016 through spring 2019.
Summary Satisfaction Across Time and Student Populations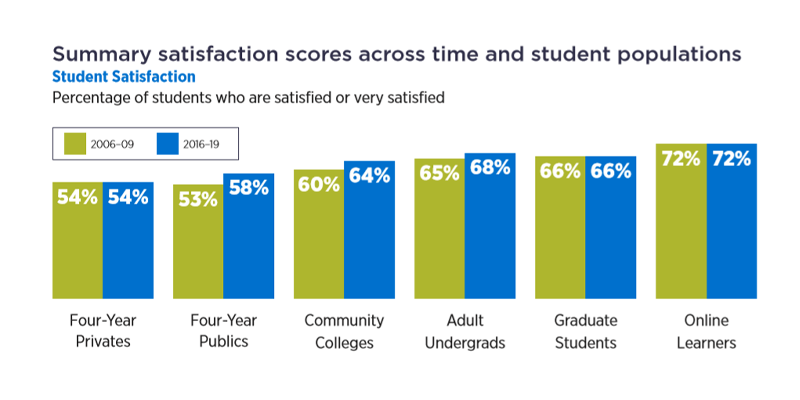 Student satisfaction has increased for students at four-year publics, community colleges, and adult undergrads. Student satisfaction has remained the same for students at four-year privates, as well as for graduate students and online learners across the ten years.
A Few Observations on the Satisfaction Trends
This year's report includes many interesting findings, including:
Expectations for adequate financial aid have maintained their already high importance scores, with satisfaction levels improving for most student populations over the ten year span.
Faculty providing timely feedback also reflected consistently high importance scores, with satisfaction scores up for all populations.
The item "Security staff respond quickly in emergencies" had some of the biggest gains in satisfaction scores, along with increased expectations.
Students were also much more satisfied with career services being available to help them, along with slightly higher expectations in this area for some populations.
The expectations for "Tuition paid is a worthwhile investment" actually declined for most student populations, with four-year public and adult undergraduate student populations reflecting nice increases in satisfaction on this item (the other populations had smaller improvements, but were still more positive).
I encourage you to download this year's complete report to see the specific data points on each of these items and to see how your institution's sector has seen shifts in expectations and satisfaction scores across the past ten years.
Why Student Satisfaction Assessment is Important
Staying aware of student satisfaction on both the campus level and national level helps campuses to stay aware of student expectations and where institutions are meeting or failing to meet those expectations. Being a student-centered institution can help with student success efforts to keep students enrolled and with achieving graduation outcomes. Many institutions regularly assess student satisfaction and are working to improve the student experience. Campus that don't make changes are not just standing still, they are falling behind, as other campuses proactively work to respond to high priority areas.
Do you want to learn more about assessing student satisfaction and monitoring trends over time? Contact me.
---