student success
How satisfied are online learners in college courses?
Julie Bryant
Associate Vice President of Retention Solutions
September 15, 2011
Online learners are a fascinating student population for higher education. By all reports, their numbers are growing annually as more students choose to study 100 percent online because of the convenience it offers or to take a course online to supplement their on-campus programs. But what do these students expect from their online programs, and how satisfied are they with their online experiences?
The 2011 National Online Learners Priorities Report helps to answer these questions. The data, based on more than 99,000 student responses from 108 institutions between the fall of 2008 and the spring of 2011, indicate that online learners place a high priority on the institutional reputation and the value of their tuition dollars, as well as on convenient enrollment services. In fact, students cited convenience as the number-one reason they are enrolling in online programs. That reason was followed closely by flexible pacing for the program and work schedules.
The report shows that institutions have opportunities to improve student perceptions about the quality of online instruction. This is not to say that online faculty are not doing a good job, but there may be continued opportunities for dialogue about how best for faculty to teach and students to learn online. Students also have high expectations for faculty being responsive to their needs and providing timely feedback on student progress. There may be an expectation in the 24/7 world of online learning that faculty will respond immediately, even in the middle of the night! This finding also illustrates how campuses can use satisfaction-priorities data to manage student expectations. Knowing that students have a rather unrealistic expectation about faculty availability, a campus could establish more realistic parameters at the beginning of online courses, while also reminding online faculty of the higher expectations these students have for speedy feedback and timely communication.
This year's report includes separate data for those students enrolled primarily online versus students enrolled primarily on campus, as well as online students enrolled as undergraduates compared to students in online graduate courses. The table below reflects the percentage of students indicating that they are satisfied or very satisfied with their online learning experience for each data set.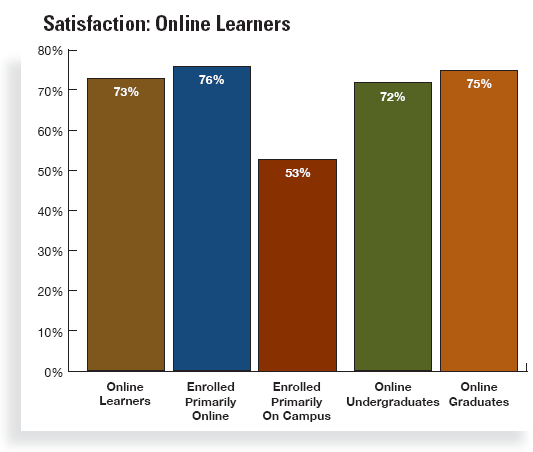 What is obvious from this chart is that one group, students enrolled primarily on campus but taking at least one online course, are the least satisfied with their experiences. What is different about the experiences of these students that are impacting their overall perceptions?
Also this year, Noel-Levitz has partnered with SmarterServices to conduct a preliminary study on whether there is a connection between online student readiness and online student satisfaction (available at the same link as the Online Satisfaction-Priorities Report). The study is based on 1,560 students from five institutions who completed both the SmarterMeasure™ Learning Readiness Indicator and the Noel-Levitz Priorities Survey for Online Learners™. What we found is students' individual attributes (academic, help seeking, time management, etc.) and their life factors (time, resources, skills, etc.) are predictors of overall student satisfaction. What I found especially interesting was what does not play a significant role in student satisfaction with online learning: learning style and general technical competency. The data in this report do not support an assumption that only visual, solitary learners will be satisfied with online learning programs, or that individuals must have strong computer and Internet competency to be satisfied with online learning.
What do you know about your online learners? How are you improving your services to this growing group of students and how are you being responsive to their expectations? I welcome your thoughts on this subject in the comments below or via e-mail.
This is the first in a series of blog entries on the 2011 National Satisfaction and Priorities Reports now available from Noel-Levitz.
---