enrollment
Using Market Data in Academic Program Prioritization
"How can we affordably assess market demand of various new program ideas?" This has been one of the most common questions I have been asked over the course of my higher education career. While I have been able to answer how to assess market demand for new programs, the affordably part of the question had always been the most difficult aspect of the question.
But answering that question became much easier for me after I came to RNL three years ago and gathered a team of experienced enrollment, marketing, academic, and research professionals to think through the affordability issue. We also have figured out how to tackle a common addition to the question: "…and we need this done quickly!".
I recently presented a webinar on how do academic program prioritization research affordably and on time (and developed an accompanying guide as well). The first two (of three) components of this RNL Program Prioritization and Positioning research is completely derived from a creative and unique use of publicly available data (you can read more about that in the guide you receive along with the webinar recording).
Here is a recap of what we covered in the webinar.
Keys to foundational research for academic program prioritization
I like to use a set of driving analogies when thinking through that foundational research:
Landscape
Do you know how easy or difficult the terrain will be to travel? Is there a demographic cliff coming? Is there a wave of new interest in an academic area that you were not considering?
Road Map
Do you know how to navigate the landscape or terrain? Is there a path forward that makes sense to your program, your school or your university?
Mirror
When you look at your institution what do you know about it? Do you know if your programs are aligned to the path you want to take? Do you know what your audience thinks you are good at?
How do these translate into actionable research? Here's my approach:
Landscape: Quantitative assessment of the demand and supply characteristics confronting each program. While IPEDS (and similar data) can be misleading if used to assess one program, when it is used to compare multiple programs, and then compare that data to national trends, the power of those findings is significantly amplified.
Road Map: Qualitative investigation of specific competitors aimed at differentiating your program in a crowded market. The more common approach to competitor analysis just doesn't cut it. You need in-depth information on specific programs with which you will compete.
Mirror: Primary market research to ensure you know what your audience thinks of you and how you can best (better) serve them. The first two phases will set the scene, but many institutions also want to know what their "audience" (or audiences) think about them as a provider.
Watch the full webinar and read the best practices guide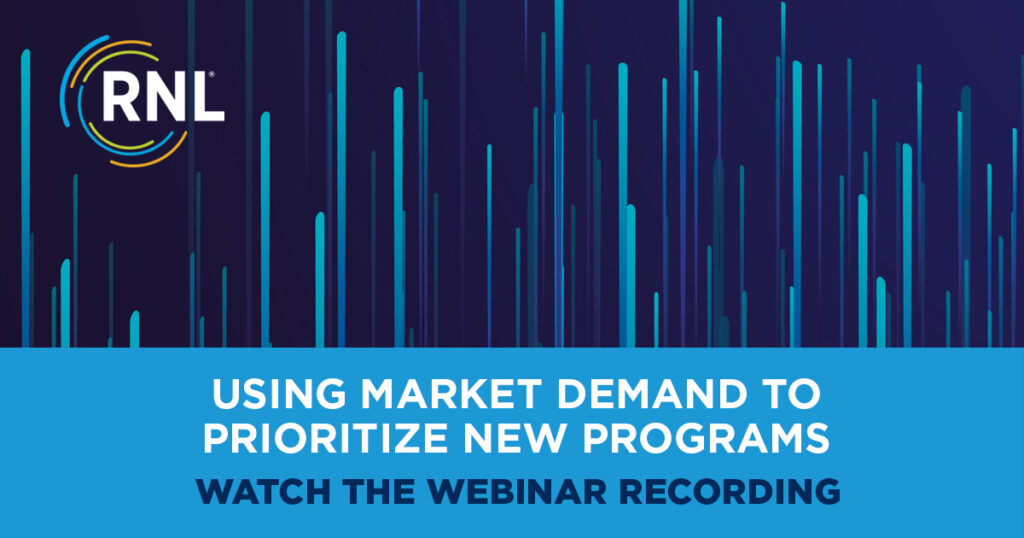 Watch the on-demand webinar here and you will also gain access to the accompanying best practices guide for academic program prioritization .
If you'd like to discuss how this type of approach could work at your institution, sign up for a complimentary consultation with an RNL expert today.
---