enrollment
Transform and Own Your Success: Navigating Toward Growth in Online Education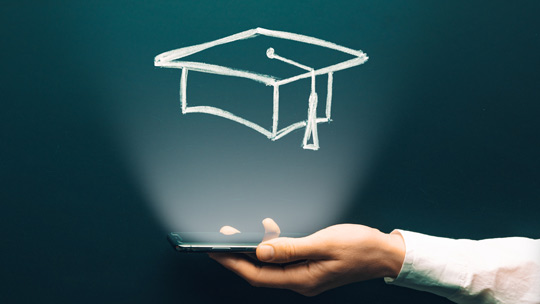 "Fifteen years ago, online education was something for-profit schools did and was otherwise an experiment at privates and publics. As an experiment, leveraging vendors to whom you relinquish a lot of control and revenue, but who mitigate almost all of the risk, was likely a good idea. However, in the last several years online education has become an integral part of how institutions deliver education. When IPEDs reports that more than 30 percent of graduate degrees are awarded from online programs, that's no longer an experiment." – Greg O'Brien, Chief Growth Officer, RNL
Online education has become mission critical to enrollment growth. IPEDs data indicate that, year over year, all net enrollment growth since 2012 has been derived from fully online and partially online students. Institutions can no longer wait to expand their online footprint—and they can't farm it out to an opaque vendor from whom they can't learn how to do it themselves.
RNL's new "Transforming and Owning Your Online Success" content series will provide institutions with a step-by-step approach to expanding their capacity and expertise to offer online programs. Through webinars, infographics, blogs, articles, and a culminating "how-to" white paper in early 2023, the series will bring together RNL experts and practitioners who are making a success of online programming. We're thinking of each piece as a learning activity. Our "courses" will include:
Market Research: Planning and prioritizing programming using market data.
Instructional Design: Transforming content into best-in-class online curriculum.
Faculty Support: Developing your faculty – how to help faculty get comfortable teaching online.
Staffing Patterns: Staffing up for success – moving from understaffed to fully functioning teams.
Digital Marketing: How to get the most bang for the budget you have.
Student Success: How to support your online students from first contact to graduation.
Accountability: How to ensure you are compliant with all the regulations.
Our first event will be an overview webinar, Getting Organized: A Planning Checklist for Success. In the webinar, RNL experts and an institutional partner will walk attendees through all the moving pieces associated with growing online programming. Attendees will be offered a planning document that will help them think through where they are, what they want to do themselves, what they want to off-load to someone else, and how to maintain ownership of it all.
Watch this discussion with online enrollment expert Greg O'Brien
Greg O'Brien is RNL's Chief Growth Officer, co-founder of Noodle, and has taught at institutions such as Southern Methodist University and Harvard Extension. He has presented on a number of key online enrollment topics in RNL webinars. Watch this 10-minute video above to hear his insights on the direction and growing importance of online enrollment. And then be sure to sign up for our first webinar in the Transforming and Owning Your Online Success series.
---