enrollment
Preparing to Succeed With Your Annual Marketing Plan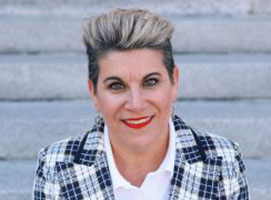 Reena Lichtenfeld facilitates the development of dozens of annual marketing and recruitment plans each year. She has helped large and small, public and private, and perhaps most importantly centralized and decentralized graduate and/or online operations create both a plan and a process that lives on years after her work is done.
Reena recently participated in a webinar—Prepare to Succeed—focused on how to begin and then how to get the most out of an annual marketing and recruitment plan. You can also watch the webinar to gain access to the institutional readiness self-assessment.
What are the greatest challenges in a successful annual marketing and recruitment planning process for graduate programs or online programs?
Reena D. Lichtenfeld: One of the biggest challenges is what I call the "data challenge." This is most often a lack of the types of enrollment trend data or other historical data that underpin almost everything in an annual marketing and recruitment plan. There are many reasons for these gaps; institutions may be changing their CRM, they may not know precisely how to get the right data out of their CRM, or they may not have a CRM at all.
Institutions that have not been collecting these data (particularly conversions of inquiries to applications, applications to enrollments, etc.) have a hurdle to get over that other institutions do not. In my work with institutions on the development of these annual plans, there are a bunch of things that we can work on together to simulate these data, and build data collection processes that will live well beyond my time with them, but it is definitely a hurdle.
Trend data are not only important for goal setting, but also of critical importance to the first phase of an annual planning process. This is because before you do any planning or goal setting you need to understand your situation both from an internal perspective and an external perspective. Performance data helps you do that.
The neat part of the work that I do is that while we may have to build some processes and find alternative data sources in the first year, the institution will start the next year with these in place and ready to start on year two, having learned all that I can teach them!
What are some of the things that institutions without robust enrollment trend data can do to gain some understanding needed for successful annual marketing and recruitment planning?
Reena D. Lichtenfeld: First, graduate and online enrollment leaders can make a decision to develop data collection systems ASAP. We spend a lot of time at the beginning of an engagement talking about how the institution can develop a data informed culture that extends well beyond graduate and/or online enrollment. It is interesting that the response to this discussion is usually almost a craving for this, but a lack of understanding about "where to start."
Enrollment leaders also need to make a realistic assessment of where they are from a data perspective. What do they have, what don't they have, what don't they know if they have or not? What is missing completely? This audit of current conditions provides the first of many roadmaps that can be developed the first time around, and then they'll be closer to done the next time around. This is step by step process and stakeholders are wise to realize that they won't get there overnight, but each affirmative step in collecting and then applying data is a step in the right direction.
Another thing that we often talk about is the use of data that DOES exist that they may not even know exists. Where? In their own institutional research office. I wrote a blog last year about how to "make friends with your IR team" which digs into all the useful data those colleagues have, and how you can put it to use in your planning.
Here are a few examples of how some of these existing data can be "repurposed" to inform annual marketing and recruitment planning: You could look at data on deposits of commits and compare that with census enrollment data to get your first trend. You could look at your own census data and compare it with regional or national trends that can be accessed from IPEDS/NCES and see how you compare. There are so many things to do to get started. These are just a few, which make more sense in the "doing" than in the explaining.
How are annual goals best set to be realistic and achievable?
Reena D. Lichtenfeld: You won't be surprised to hear me say that the best goals are informed by the trend and historical data we have been talking about. Understanding what conversion rates have been over several years at each stage in the funnel are the key to setting realistic goals in your annual marketing and recruitment plan.
If you don't have these data, you may know some of the sources from which you are most often recruiting students. You may have feeder schools, you may have institutions with which you are regularly competing. You can use data and intelligence like this in setting your goals in year one. You can also lean on an expert who has done this many times to help in that first year.
If you DO have the trend data, look at those conversion rates, average them over the last several years at each stage – and be as granular with those stages as you can be. Get your averages together and work backwards from an initial idea of a goal.
Another critical element is that goal setting needs to be at the program level. The annual marketing and recruitment process goes well beyond the overall strategic enrollment goals (e.g.: to grow graduate enrollment by X percent or by YY students over the next ZZZ years) in its granularity and it is important that you set a goal for each program that you hope to grow (or otherwise maximize enrollment in).
Goal setting is also enhanced by understanding what is going on at other institutions in your region and at your competitors specifically. While they may not want to share their conversion trends with you, there is a good deal of information that you can get from IPEDs on (at least) degree production over many years at the program level among your competitors (if you know how to access it).
This is just the start of the discussion, but I hope that is helpful.
Watch the full webinar and take the self-assessment
Want to learn more about creating a result-oriented, data-informed annual marketing and recruitment plan? Watch the webinar, take the self-assessment, and talk through your results with an RNL Enrollment Consultant.
---