fundraising
Young Alumni Philanthropy and the Covid-19 Pandemic
Co-written by Dayna Carpenter, Senior Consultant, Fundraising
Originally this post was meant to discuss the broad findings of our recent young alumni philanthropy survey, conducted in collaboration with the Schuler Education Foundation. As lead researchers and consultants on this year long project, we were excited to share broad insights from the young alumni we surveyed. We were honored that more than 40,000 alumni from the years 2002-2017 took the time to share their opinions, passions, and interests with us.
However, like most of the country right now, our thoughts are filled with the global pandemic. While looking through our personal social media accounts and having conversations with friends, we realized our research findings were being demonstrated in real time with our young alumni peers.
As universities scramble to make decisions that will have an immediate and lasting impact upon the wellbeing of their students, faculty, and staff, many development shops are left to wonder how they can help.
We have been inspired by the fantastic ideas implemented so far: from offering housing and food assistance to those who have been displaced from our campuses, to asking alumni and friends to direct frequent flier miles and vouchers to help get students home.
Nearly 9 out of 10 young alumni are philanthropic
What our research revealed is that institutions have a valuable resource for virtual community building: their young alumni. Our research revealed more than 87 percent volunteer and/or make financial donations. This group of tech-savvy and passionate alumni build communities through digital platforms—those same platforms that are now crucial to engaging your campus community in our new world of social distancing.
How can young alumni help?
First, young alumni are engaged and volunteer in their community, with over half of all young alumni in our survey reporting that they volunteer. As in-person volunteer opportunities are postponed, this group may be eager to help with digital engagement. With a deep understanding of social technology and community building, they can serve as advisors for best practices and help spread information as university ambassadors. With their aptitude for navigating social platforms and building communities online, they can help distribute important information, updates about campus, and even just check in on students, potential students, parents/families, and older alumni.
We recognize that fundraising during a crisis often does not feel comfortable, but we also know that our population wants to help where they can, this includes young alumni. Three-fourths of our survey respondents reported making financial contributions to nonprofits. However, this generation is extremely impact-driven. Their top two reasons for donating are the direct impact of the cause on their family, friends or themselves (44 percent), and if the cause clearly showed the impact of their gift (42 percent). If you engage them now, you need to demonstrate how their philanthropy will make a difference.
Where do young alumni focus their philanthropy?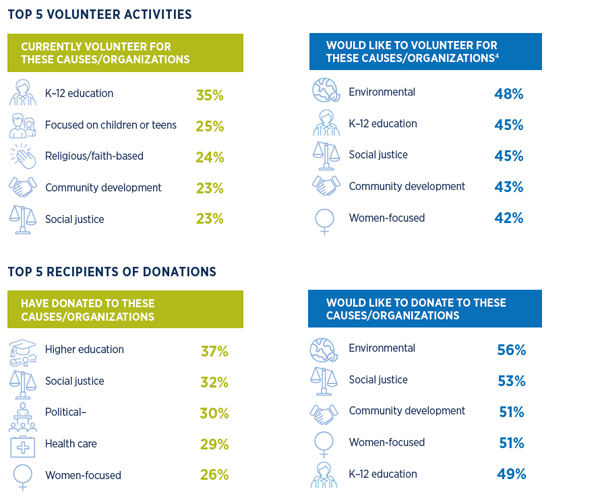 Related to impact, two of the top causes young alumni donate to are higher education and healthcare. They also expressed interest in donating to community development. These behaviors and attitudes position them to help current students who face economic instability or emotional trauma during this crisis. As discussed earlier, this group is social-media savvy and can help advance crowdfunding campaigns that will help current students have access to the resources they need. We know that the decisions being made from campuses are having an impact on their students, but we must show that to be successful.
How can you draw on the power of young alumni philanthropy?
Here at RNL, we recognize that we are "building the plane as we fly" during this global pandemic. But as this research shows, you can draw on the passion, compassion, and dedication of your young alumni if you can direct their philanthropy to areas of demonstrable impact. We would encourage institutions to engage this group of people to assist in the upcoming transitions to come and to support current students, faculty and staff.
See all the findings in the 2020 National Young Alumni Survey, or reach out and talk with one of our fundraising experts.
---